by Pixeleen Mistral on 20/02/07 at 6:25 pm
Sun honcho John Gage joins virtual protests
by Onder Skall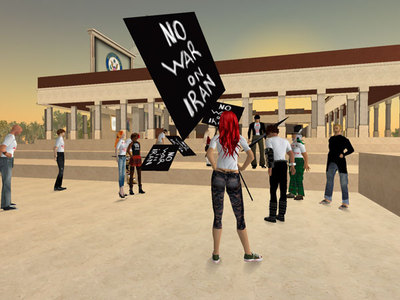 February 20, 2007, 14:45 SL Time – Capitol Hill sim
Protesters from a wide variety of groups converged on the Capitol Hill sim today to speak out against the proposed attacks on Iran. Word spread from one group to the next organically, and suddenly the sim went from completely unoccupied to full in less than fifteen minutes. Shirts and signs were created and handed out on the spot, and chants of "Bush is a criminal!" and "no war on Irani children! no war on Palestinian children!" filled the chatlog.
Plot Tracer of the SLLU covered the details for me: "i think it is important that all people unite against the warmongering US President. It is important that those Americans who stand for peace and goodwill tell him to backdown. It is also important that the US's real friends tell Bush he is wrong. The children of Iran are innocent, just as the children of Iraq are. No to war and no to any more of US imperialist adventures in the Middle East."
Soon members of SL Capitol Hill arrived to observe the situation. One member said: "It's nice to see the park getting used."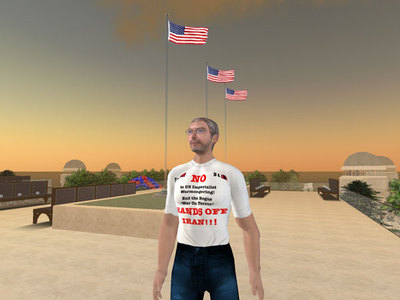 John Gage dons an anti-war t-shirt
When asked why he was here today, Anit-Ban leader Cochise Collas simply said: "I am against war and afraid the US will attack Iran." I think he was going to say more but a dog and a bear came charging through at that point dancing to an infinite-looping "La Cucaracha". That's protesting SL style!
Amid the bizarre spectacle of a Second Life protest, one person that caught my eye was John Gage from Sun Microsystems. I asked him what brought him here: "I didn't plan to be here, but I come here often [...] Years ago, I was one of the organizers of Vietnam Moratorium…we had 400,000 people on the Washington Monument grounds, and had a significant impact on Nixon. Dan Ellsberg has said that it helped stop the use of nukes on vietnam….we should do the same here."