by Pixeleen Mistral on 26/02/07 at 12:57 pm
by Ebenezer Pixel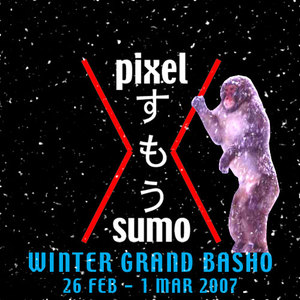 It happens only once a season and 26 February kicks off the Winter Pixel Sumo Grand Basho. The event is actually 3 separate events: matches East, Central, and West. A winner will be declared at each event and at the end of the 3 events a grand champion will be chosen.
Over L$ 500 is up for grabs as well as 12 points in Pixel Sumo. First event is Monday, 26 Feb at 6 am at Pixel Sumo Dohyo. The second event is Thursday 1 Mar at 3 pm at Artificial Isle and the third event is at 7 pm at Pixel Sumo Dohyo.
All are welcome to come and compete and take a chance at becoming the next Pixel Sumo star. For complete rules on the event, go to the rules link at Pixel Sumo Banzuke.