by prokofy on 24/02/07 at 4:46 pm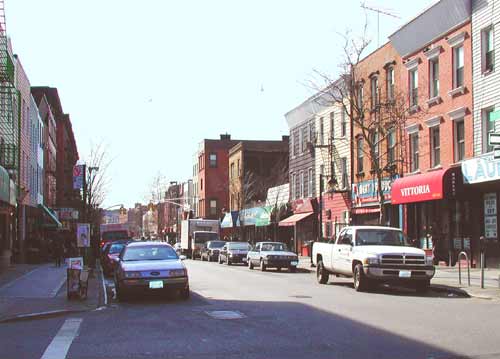 Photo by Brian.
By Prokofy Neva, Dept. of Planets, Worlds, Universes, Multiverses, and A Metaverse Just One Stop Away
When Jerry Paffendorf, futurist of the Electric Sheep, put out the word about a Metaverse Meet-Up and said it was in Brooklyn, I checked my immunization records, got out my passport, and put on some extra leggings, because I'm one of those Manhattanites that tries never to go more than a 20-block radius out of their village.
But it turns out the Metaverse is only one stop away on the L, a train I had come to fear as a young person when I once boarded it and found a man tarred and feathered and ranting and hurtling toward 8th Avenue. Yes, tarred and feathered.
But it turns out that where Jerry lives is sufficiently populated at all hours not to feel as if you might get mugged making your way along the cold, windswept mean streets with dilapidated storefronts and tacky low-rises toward a boarded-up construction site which is the address Jerry gave in the email. I figured this was a Vernor Vinges situation where I had to put on a wearable, rez, image, imagine, um…do something…like figure out that he meant another address down the block.
What can I tell you about the Metaverse? The Metaverse, like all things human, is mainly in men's minds. And I do mean men — the room was almost entirely male, geeky, 20-30-40 somethings, a few with girlfriends that seemed a bit overawed or bored, with a few important exceptions, like our hero Urizenus, whose companion easily proved that Uri hit the one out of ten jackpot in Ann Arbor, and with whom I had a credible critical discussion of Chomsky that I'm not sure Uri would have approved of.
What else can I tell you about the Metaverse?
Well, in the Metaverse, I was able to convince Adam Reuters to buy me a drink by asking inworld about 3 times, plugging him in real about 2 times, and finally putting my arm around his shoulder and saying we had to have a talk "man to man" about all these great tips I was giving him that weren't, well, paying off in any monetarize-my-time-online sort of way. He readily conceded to get the brew, and patiently sat through one of my really dull RL work stories with a faux-interested expression before he rounded me up to go back into the room where all these kids were filming us.
Kids today film like this: they stick a camera right in your face. And I mean, if you are eating a vegetarian Thai spring roll, the zoom in on the springroll and pan up from there, without a word. They don't talk. They don't ask questions. Even when they interview with a formal stand-up, the most they do is tell you to keep your heads closer to the person you are arguing with and hardly ask a question. They don't frame. No editorializing or concept. Just film the Maintenant. This is the Maintenant school of film work. I just made that up, yeah, that's fake. But it works. I mean, you don't have to be French and have ever seen one clip of Truffaut to make up a fake French school of film in Brooklyn — who's to know?
So there we are, filming the Maintenant, which is for something called "Nerd of the Week" made by these people making a film about Nerds. My vote was for Eric Rice/Spin Martin who was also on hand, looking nearly alike to his avatar (as I do) and allowing me with a bemused irritation to cadge clove cigarettes. Spin Martin now has playing cards. Collect 'em all! They're actually from my neighbours in Alston, the Neo-Realms Fishing people, who for some reason, made trading cards of people. I love this idea. I want stats though. I want like "12098791234710298479047 blog words published to date" or something.
The other thing I could tell you about the Metaverse is that in the Metaverse, the owners of the Thai restaurant start flickering the light on and off to get you to leave because you aren't buying anything more and they want to move in new customers. So off you go out in to those cold Metaversal brutal streets again, past the place that supplies nearly all the calories and sustenance for the Metaversal workers, the Something Pizza place.
The Metaverse's apartment is…how should I put it? Not one of those places with shall we say "a woman's touch". There are a bunch of grubby batchelors coming to and fro and making stuff and just pinning junk up on the wall. It was funny to me to see the very newspaper where I was featured, the New York Times, pinned up on the wall, I'd thrown it away ages ago. "A Virtual World, But Real Money". Of course there's the noir narf-narf sensibility indicated by a screensaver blown up from somebody's laptop on the wall that shows a scene from an old Herald story about bloodied, hacked-up snuffed out furry whores courtesy of W-hat. The picture hovered over the scene with a red glare making the congealed, cold pizza from like…not today…even more…what it was.
In fact, when Jerry asked us to put up ideas on white paper all over the room, among the ideas I put was: get the guys down at the pizza joint to take Lindens. Virtualize them. Make them a little store. Put a vendor in it and keep paying it and stuff, and teach them how to enter SL and then cash out their Lindens later. In fact, in the process of Metaversizing the area, I'd definitely start with that place. In fact, to vary the palate, I'd get the grumpy Thai people to set up an account with maybe a little cheaper for bulk monthly orders and get them on board.
Yes, Henry Jenkins' book about culture is on the top of all the books next to the toilet in the johns. These boys are not Hustler readers. Also, lots of boxes of ecchinea! They stay healthy! Well, I did put this in the gossip category.
Well, let's see, did we discuss ideas? That's why I came. And yes we did. It was a bit hard because Jerry's sim is a bit overloaded with 40 people and I am not sure the tempers were hugely improved by him running out of the better brew and offering….Bud. Yes. Bud. In the Metaverse. I mean. We need a new Metaverse here.
OK, on to the ideas. You'd like to think this congregation is something like the Left Bank or Jack Kerouac and his gang or something like that — and it is, kinda, except, well…There's something basically at work in the Metaverse that isn't very much appreciated, but is a miracle in its own way.
That is, that people who don't like each other very much — or even people who can't stand each other, are not in each other's little niche, or long tail, or group, or clique — still have a medium or a matrix to exchange ideas. These ideas may take the form of insults. Or they may take the form of curt hellos in RL. Yet somehow, while muted, the person may be on your radar and you might cautiously pay attention to them. I had a few people come up to me fearfully and not reveal their names but said they read my blog and then scurry away. Jerry introduced me to some new young guy trying to get a job and said, "Here's Prok who will criticize you" lol.
And I guess that's part of what doesn't quite work for me, the feeling that the Metaverse, as it is now, isn't about ideas or art so much as it is finding jobs for a lot of IT guys. And that's ok. They may create ideas on the way to zealously hunting down their next jobs. It tends to give the place a feeling of cynicism and not of wonder, however.
I mean, to me, as much as I try not to be naive and gullible and dewey-eyed, it still comes as something as a shock to sit and hear someone talk about making Metaversal sims, events, happenings, etc. all day every day in Second Life, There, and other online worlds, and to take a kind of blase, even sort of derisive take on it. I guess they get that way, fiddling with the little pieces of it in finicky programs all day. It was funny to me to see how Walker and Glitchy had the most fun all evening playing old T-Rex songs from a laptop and trying to name them.
I mean, the one really, really shocking thing to me about the Metaverse here at its inner core, so to speak, is that the computers and the hook-up are from hunger.
I mean, my aunt has better high-speed internet access than this, and she's 75. It's not only the speed, it's this effect of crappy little Macs and discount PC laptops scattered around and not even *on*. You would think, in a RL from SL kinda place, they would be Always On. But nobody could care less. I'm probably the only person who logged on to SL from there for 7 hours lol. I think part of their attitude to the world-ness of SL in fact is explained by this simple fact: they have a lousy connection and a lousy set-up.
Oh, I don't think that's the case for Eric/Spin — he is one of those guys that has so many gadgets and knows how they all fit together and such that he probably has a ne plus ultra hook up. But…
OK, what did Walker say? I'll leave Walker and others to parse this better than me, but there were a couple of things that struck me.
First, Walker is now obsessed with something called "twitter," that evidently involves just posting little tidbits and finding others posting tidbits like birds on a wire. Not sure I need another game addiction, but there it is. Walker is fascinated to think of the three-dee vision of the blogosphere, with posts from all nations materializing, humming, hiving, thriving, and soon probably able to be searchable and aggregatable and stuff…
So my question is, but why do you want pictures of people's cats? And Walker, puzzled, said, well you don't, but you do want to see the cat of that person you know. As if the thing is really more of little device to keep friends and family even more in touch than email, cell phones, pagers, and IMs can already keep them in touch just about every minute of the 24/7. Ever get in an elevator and have some twit say, "Yes, I'm in the elevator now. I'll be upstairs in a minute. Yeah. Well if I break up, it's because I'm in the elevator."
The other thing he talked about, which got some feathers ruffled in the room, was that the Metaverse that we all know and love in fact was going to be designed and made and inhabited by people who are 12 years old now. They will make it all different than we planned because they've been immersed in media and user content since they were weaned. One old guy raised his hand and said that he still thinks you can learn more about people's cognition and whatnot by what they do with building blocks, you don't need to get too fancy. Being an old guy myself, I raised my hand and asked why we couldn't play, too.
Well, again, to me, the Miracle of the Metaverse is that the people making the Herald don't have to particularly plan anything, or even like each other, or not even enjoy spending time with each other (I happen to like hearing them talk but I suspect its not mutual : ). They can just come on in this shared soup and just mix and stir.
I know everybody wants the Metaverse to be a Better World. I think we could be happy enough if it is just Not a Worse World. That is, if it even makes a matrix through which, using the features of anonymity, as well as bans and mutes, and the sort of wierd head space you get into, which is sort of like hour 7 of a LSD trip or like being up all night even having taken Nyquil, and use that as a kind of tool to make people at least hear the twittering on the line.