by prokofy on 17/03/07 at 11:30 pm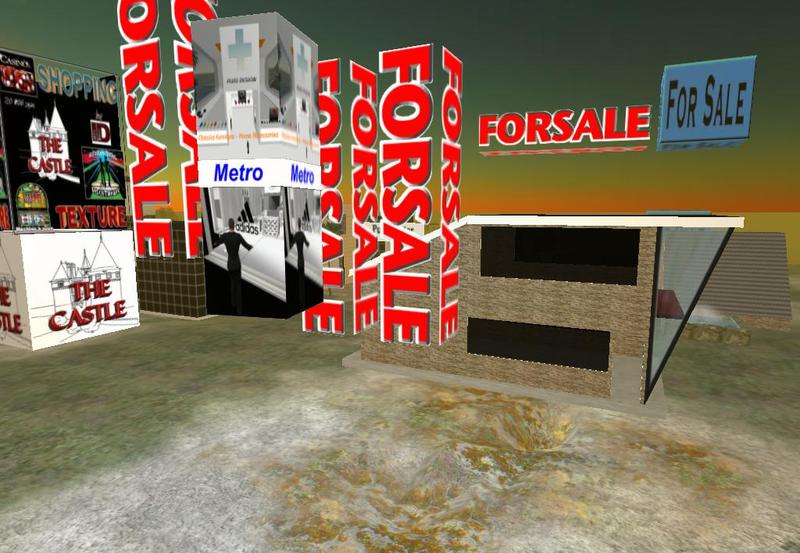 Prokofy Neva, Dept. of Virtual Estate and Inworld Business
Remember how Philip Linden used to tell us that big business would never put up billboards in Second Life? That these wealthy corporations coming into SL wouldn't be *need* to put up billboards because they'd just stay on their own islands? Remember how he said in interview after interview that this would never happen?
Think again. In Shimmer, in Tuliptree, in sims all across SL, there are large, high, blindingly bright, ugly spinning signs advertising American Apparel, Adidas, Reebok, Toyota Scion, Ibranz, Dell, Sun Microsystems, Circuit City, IBM and even Reuters, CNET, and Linden Lab itself. How can this be?!
Remember the saga of the "Bush Guy," who was able to spam up hundreds of sims with an "Impeach Bush" texture that generally found support as a political message but was hated for its owner Lazarus Divine's spam, extortion, and blight? Each parcel was set to sale for outrageous sums like $50,000 or $250,000 Lindens for a tiny 16 m2 or 64 m2 — and if you didn't enjoy starting at a huge, spinning, brightly-lit sign, you could move, sell out your land for a huge loss to a liquidator, or buy back your view for an extortionist's sum.
Once the Lindens caved on permitting that kind of annoying sign blight and extortion on a 16 m2 or 64 m2, they enabled scores of greedy businesses to become notorious for using this tacky technique to get away with the spamming of sims where they don't live or work. The cluster of ugly 16m2 to be found especially on high-traffic sims have until recently been cluttered with porn, club, bank, and store ads only from inworld businesses.
We didn't think that big business would *bother* with billboards. Why try to reach a few hundred people a week walking across a sim at best, when they have many other ways of getting the same eyeballs in real life?
That was before they apparently decided to make use of the services of Metro owned by Alex Potato, an avatar who has already sparked protest and controversy for his buying up of land to chop it into tiny parcels, upon which he places large, bright, annoying spinning signs with textured ads. Nobody Fugazi, who found his sim uglified by the signs, asked the question a month ago, "Who Pays Alex Potato?" when he was surprised to find an ad — of all things — for Governor Linden's Mansion. A texture for Radio Linden was also seen on the Tuliptree kiosk.
Among the companies featured on Metro seen by the Herald in Tuliptree and other sims are Adidas, Circuit City, IBM, Dell, Reebok, Ibranz, Toyota Scion, American Apparel — all big RL companies that have entered SL with such a splash, their rollouts getting enormous press coverage.
Some have sunk back into obscurity as finicky SL avatars flew away from their dull and empty fairgrounds, and headed to more fun venues. That may explain why they're resorting to mainland networked resident ad networks.
Or are they? When I contacted Troy McLuhan of the International Space Museum, one of the textures shown on the spinning Metro kiosk, he was puzzled. He had no recollection of placing such an ad, and pointed out that he didn't have a big budget for ads as a non-profit organization. Other than some friends who put up signs or notices, he didn't appear to have the kind of ad campaign for which Chrischun Fassbinder's Mr. Lee's Hong Kong (for sale everywhere for $9435) and and Bart Heart's Estates (for sale for his birth date, $12374) are infamous. Do any of these big companies featured on Metro realize that their ads are appearing in the way they are, on land set to sale at outrageous prices to extort purchases to buy back the view?
While the big corporations may have thought it was supportive of the inworld economy to use inworld networked advertising, they may not have realized how these ads are deployed — aggressively, defiantly, and without any mitigation despite outraged protests from those who own the bulk of the land on the sims. It's the hallmark of the 16m microbarons, as they are called, that they don't own any larger properties on sims that they've essentially devalued with their presence. While the old real estate adage tells you to buy the view if you are concerned what might appear in it, the realities of virtuality mean that there are no local government sign ordances, and people are able to deploy signs at whim.
The spinning ads appear anywhere, not just at high-traffic venues like clubs or hang-outs where people are expecting to see commercials; and not just at the roadside. They appear in the middle of water; on prime waterfront; on beautiful hillsides; on snowy mountains — all over Second Life, often in areas that all the other sim owners have made residential.
There's no zoning in Second Life on the mainland, and anybody who manages to grab a small parcel, or chop up a bigger parcel and sell all but the 16m2, can make himself a supreme nuisance by putting up a sign even where only a few people will see it — but where they may be induced to pay anywhere from $500 to $50,000 to get rid of it.
Alex Potato's sign in Tuliptree is set to sale for $49,500. As Nobody's fairly-well covered blog and Flikr photos of these major corporate ads have been posted for a month without any change, and without any of these companies pulling their ads from Metro or issuing DMCA takedown notices for unauthorized use of their logos, we have to assume they've are following a conscious policy to allow unscrupulous microbarons to do their dirty work for them, deploying ugly spinning signs on sims where people don't want to pay fantastic sums to buy back the view from their already-costly SL land.
Queries to some of the major businesses represented on Alex Potato's signs have been sent, and as it's the weekend, we are unlikely to hear for a few days, but we await some attention to come.