by prokofy on 26/03/07 at 10:54 pm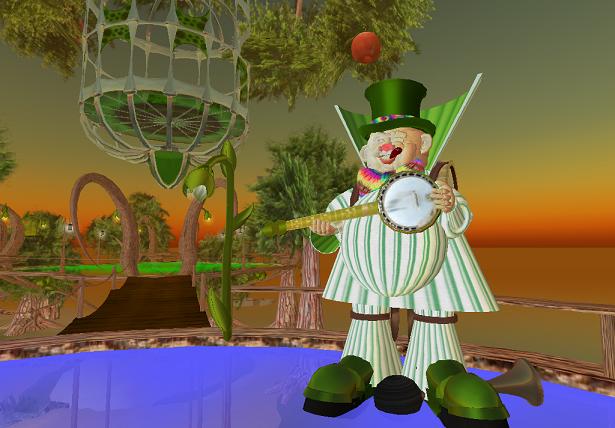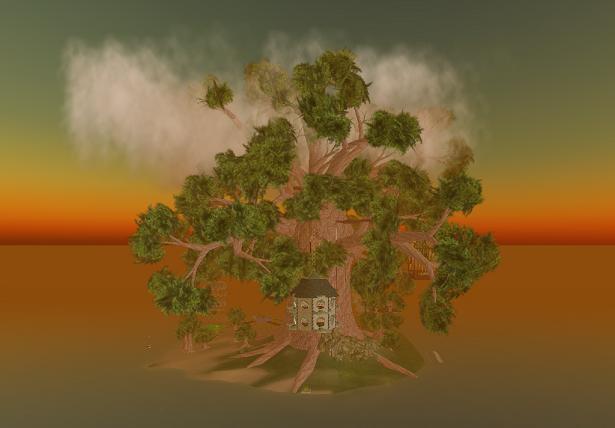 The Magic World of Leo Burnett; Big New Tree of Media Life
By Prokofy Neva, Virtual Corporation Watch
The big corporations that have entered Second Life are a rough analogy to the Medicis of medieval Florence – avidly (avariciously) engaged in commerce, yet sponsoring art and architecture. I haven't worked out all the analogies yet — perhaps it is Linden Lab that is the Medici family; perhaps the metaversal development giants they incubated are the Popes…well, you figure it out, (but read something other than the Wikipedia entry – oy) — how about PBS.. Amici degli amici . Draw what analogies you will, but the way the story works: Linden Lab opened the beta in 2003, they nurtured (purposely or accidently remains to be analyzed) a group of top programmers, designers, and graphic artists from among the resident population, and these people either went on to become Linden staff or run the most successful businesses in SL — and then spun off eventually to form their own metaversal development companies like Electric Sheep Company or Rivers Run Red.
These gentlemen-explorer companies brought in by the sherpas don't likely perceive themselves (yet) in the role of patron of the arts, nor do they see the art as the jobs themselves, but that's because the old model of static works of art and the patronage system is being reworked. They're likely only forcusing on the urgent job at hand of getting as many eyeballs as possible for their brand and perhaps haven't risen to consciousness of their greater historical mission — when they do, somebody is sure to use the hackneyed term "synergy" but that's what it will be about.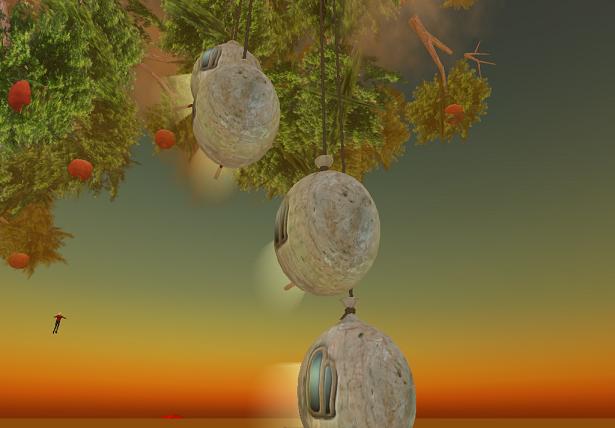 Leo Burnett, the advertising agency famous for the Jolly Green Giant, the Marlboro Man, the Pillsbury Doughboy and Tony the Tiger, hasn't put a big footprint onto the Lindens' servers or garnered much media attention — even some of it a bit critical for seeming to be looking to boost business after losing some key accounts. But it's all the more effective in SL for the lower-key approach.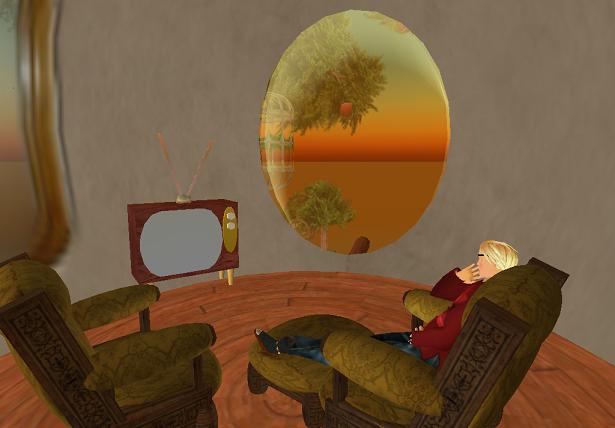 The grey miniature TV with nothing on it inside the convo pod inside SL with the streaming virtual world outside beckoning is a metaphor for the whole thing.
The build on the Millionsofus-owned island complex is stunning and a delight for avatars to visit. Pick up the cool big Leo Burnett pencil to fly around like on their web page, and hit the Time-Tunnel like transporters — it's the coolest teleportation experience in SL. The island is put together by Foolish Frost and Versu Richilieu (who has taken the name Versu Millionsofus as well) who figured out from their in-depth inworld experience as builders that to make avian avatars comfortable, you need a) trees and things to perch on and b) larger-than-life props that give a detailed magical flavour when viewed from afar but which you can still enter and sit in comfortably, like these "conversation pods".
Evidently the Leo Burnett creative directors thought SL would be a place they could bring together their geographically-dispersed 2,400 "creatives" as they call ad men. The mammoth tree is easily a new SL Seventh Wonder of the Virtual World; Frost had prototyped it earlier on an island, calling it the "Tree of Life," and of course its first iteration was in Botany's Grove as a home for him and his RL wife in SL. Full disclosure: it was then purchased by me for the SL Public Land Preserve; Frost is also the builder of the Ravenglass Hall Tower and other monuments. But that's just it — inworld commissioners like me couldn't expect to go on sustaining people who spend so much energy and time in SL that they need to be paid RL wages — and then some.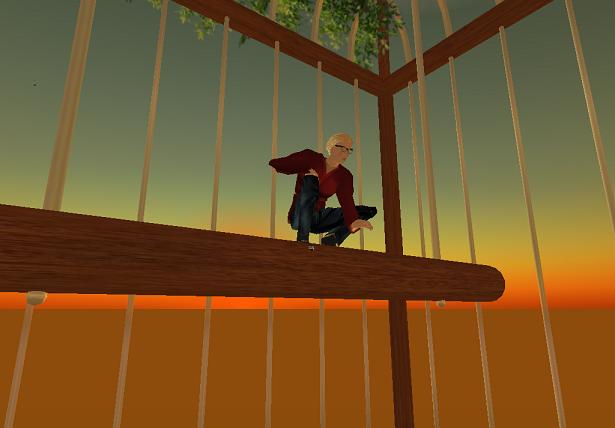 The Gilded Cage of Second Life.
The prospect of a corporate-funded and corporate-designed world doesn't sit well with some — but the alternative is to have governments or foundations, which bring their own bureaucracies. For now, the acceleration and competition in the field mandate the wealthiest and most adaptive: corporations. And "adaptive" is a peculiar thing to say, given that the old media dinosaur giants now are dying, their old ad agency dancing partners staggering along with them without ad sales, with the advent of the Internet and people fleeing old forms of media for new. Yet the old media is what is buying new media (Rupert Murdoch got MySpace; Viacom's MTV got Laguna Beach in There) — the money has to come from somehwere. That's what's Virtual Worlds 2007 is about — filling up the dance card of the old dinosaurs with some of the bright new media stars.
How else could it be done? For a time, the Lindens tried subsidies like a kind of National Endowment for the Arts — giving awards for higher ratings, which presumably came from recognized quality in building; grants for events, which presumably included things like art shows or architecture contests; and dwell payments for the most traffic. Instead of the programmers and artists they wished to sponsor, however, the Lindens ended up with a lot of clubs, socializers, and land barons. They removed the struts, but they also had to give up the idea of continuing to nurture and incubate inworld content creators — feting the inner core — if the thing was to scale and grow to millions and spread across countries and be used widely not only for entertainment or at, but business, education and just plain everyday life, they had to find a powerhouse of finance, knowledge, experience, personell. I used to think they could find this in the individual, the ordinary crowdsourced person with extraordinary skills or ambition who bootstraps himself or herself to glory through the platform from Peoria. There's still some of that — but it went in a different direction. The Lindens decided to stop making a world. They decided instead to make software. Somebody else has to make the world. Most people in it don't make it. Do the math.
Today, our best builders, designers, even events managers are snapped up either directly by corporations or their sherpas in the metaverse. They stay close in the Lindens' orbit, as Glenn Linden's report on developers reminds us.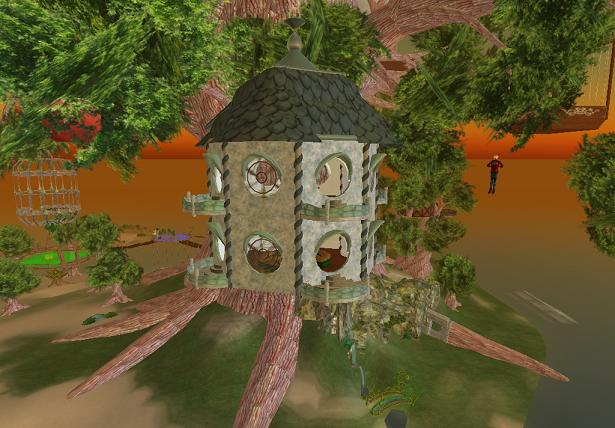 The roots of today's metaversal companies lie in the resident population first nurtured by Linden Lab and indigenous virtual developers.
Millions of Us led by Reuben Steiger (formerly Reuben Linden) is one of those top companies — if I had to pick a few of the people who stand out like the young version of a some-day future Walt Disney, he would be one, as would Jerry Paffendorf or Eric Rice or Raph Koster. Walker told us at the Metaverse Meet-up in Brooklyn that the Metaverse (I never like calling it that) would be shaped by kids who are now 12, but first, they will all become the customers of these men — and of course women, like There's Betsy Book — but this is decidedly a man's world at this stage.
In the storm of patter about Twitter, some overlooked gems in the paragraph-based blogosphere are Tony Walsh's notes from SWSX — i.e. his coverage of this panel with Steiger, Koster, Book, Mark Wallace, and Corey Bridges.
Reuben makes a point that I'm not even sure he has the luxury to live by, let along most high-wire acts in SL with big-name companies, but it's interesting.
"We've learned lessons from failure. We found that we don't just build corporate experiences, in one of our campaigns we might get a lot of traffic in Second Life, but lots more in the press and via blogs. Our company gets paid to cause trouble/chaos. Chaos is leaving creations open ended so that users decide where these things go. For example, Pontiac built a dealership and gave away their land to residents of Second Life for car-related businesses. That's very chaotic and unpredictable," he says. Of course, that was the announced plan from the begininng — and giving away land and sustaining people's builds and businesses is a ready-made template for success in SL if you pick the right people. I'm not sure how that translates into "chaos" — but for a big, unsure company unsteady on its feet in SL, suddenly becoming a mini Medici is probably pretty chaotic.
"It's very unscripted, we tell corporations that they write the first half of the first scene–the audience writes the rest," says Steiger.
Of course, before the audience (visiting residents to sims) can utter a word, the book is already framed and written by the conceptualizers and the builders. Thus, when you land in the Film sim, site of a launch of a campaign by Hammer and Coop, you are transported into a gas station in a flat state like Nebraska, complete with a pile of tires and some tired coffee. The invitation to the event, which I didn't even happen to open until much later, was a work of art: a giant frosted and sprinkled donut flew up, looked for you, its owner, and when you clicked it, delivered a Ninja trainee jacket (I'm still wearing mine), pants, and a car that you wore and drove around like Fred Flintstone.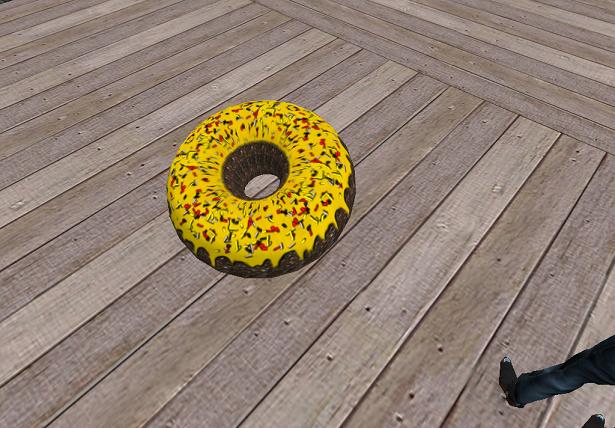 When I got an IM from Reuben to come to the event, I was apprehensive because it had sounded complicated — watch a film, be in a Ninja contest, do this, do that, win this prize. It also sounded like one of those annoying events you endure on the first day of your Club Med vacation until you figure out you can ditch the bunny-hop lines orchestrated around the pool and go snorkeling. I wasn't sure if Reuben was desperate for bodies for his event (we've all been there in SL) or looking to actually make some of that chaos he claims to seek by inviting someone like me.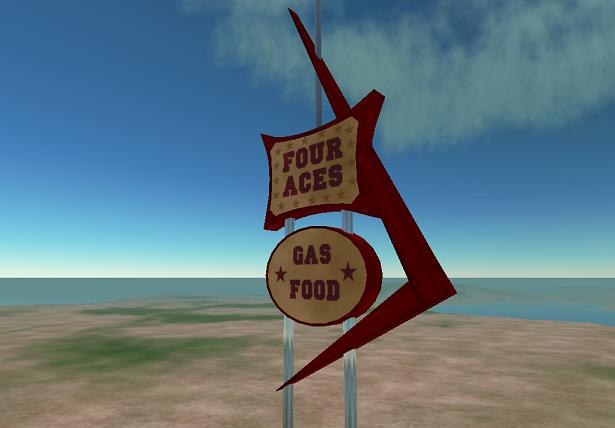 Soon after I landed, Hamlet materialized in his Tom Wolfe Whites, then dematerialized before he could be challenged to a duel; he only wrote the infomercials. I took some extraordinary pictures, one of myself and a gas station attendant near the pump, which I captioned, "The Most Important Man in the Metaverse," who turned out to be Reuben (tragically these screenshots were lost in a computer crash). An acquaintance IM'd me in commiseration, as a girl droned out the information about the Ninja matches. "Boy, they sure know how to vacuum the fun out of things, but the build is cool."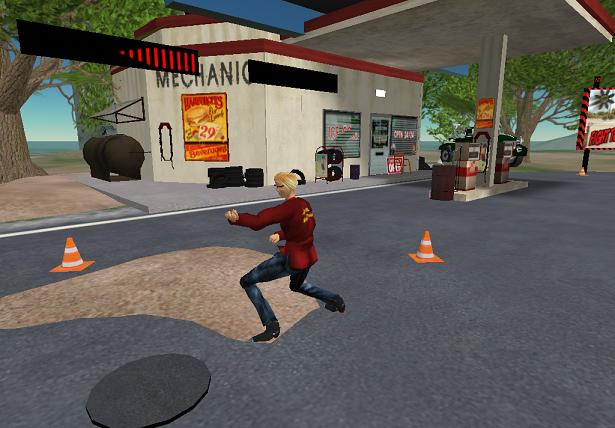 Still, it *was* kinda fun to best Chris Millionsofus in a Ninja thingie, though this happened accidently before I could even figure out what to click on; then a girl defeated me and I slunk away in humiliation to wonder what it was that you need to make these events work better. Well, think of all those fat wives and dour burghers that the Medici-funded artists had to paint or sculpt just to make a living to be able to do their *real* work.
Maybe the concept isn't even to have events, but to have interactivity that is asynchronous, a story that builds over time you access when you can (without the painful embarrassment of public defeats or lag) — but in fact after this event, you could still go and Ninja and have some of the donuts. You set the Four Aces Garage, as they called the build, as the backdrop in your own personal SL narrative, and away you go. It actually took me several weeks of being bombarded with group messages to figure out that this particular company was selling not a movie (there was some cheesy 70s-style Kung-fu movie shown as a parody, I think), but a car. The word "car" was never mentioned anywhere, and in fact, despite there being miles of flat desert to race on, no driveable cars (just this "Mini Coop" to wear). This was probably somebody's idea of indirect and subtle branding — it probably works. I am not taking off my Ninja jacket.
Big roll-outs with their old-media stories and numerous hits, which build the "Millions of Us" in SL that Reuben named his company for; then events inworld to "build community". Well, it's not there yet, but it's on its way. They've built the set and given you the props: now you act in the movie. Come challenge me to a kick-box before they take the build down.