by prokofy on 29/03/07 at 2:13 am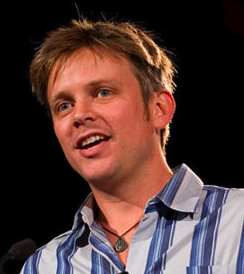 Prokofy Neva, Kremlindenologist
So I walk into the 55th floor of the Millenium Hotel and I see it…The Hair. Our Hero's Hair is Holding Up. Relieved, I shake Philip Rosedale's hand and ask him how he's holding up, but the message has already been telegraphed to me: gelled, sturdy, stellar, architectural — thank you very much. Philip's hair, if it could talk, would describe what it's like being the Cat in the Hat holding up all those sims, a rake, a plate, a cake…So…how many sims is it now? He gives me a figure..it's different than the figure Joe Miller gives later, you know, I don't think they really know, it's *almost organic* this stuff and out of control. 7800?
If you can imagine it's possible — Philip's hair is *even more amazing* than it was at SOP II and SLCC I, which is when I first was exposed to the construction. People in New York don't do that kind of thing to their hair. I mean, you just never see it. Walk around, look. So this is So California. And…it's like…so cool and perfectly constructed, with just the right amount of mix of "bedhead" and "tousled bad boy" and "mad scientist". Gazing out over the sterilized wound of downtown, I couldn't help thinking of that time Nikola Tesla shorted out lower Manhattan with some experiment on Houston St…Philip looks more than ever like he stuck his hand in the socket and still finds it interesting…
If I needed metrics about The Hair, there was always Spin…a very *glum* Spin as it turned out, when we reassembled at Cory Bridge's behest in some lower floor restaurant. Spin, who — were in not for Philip — would have been put on the A-list for constructed hair. But with the competition being what it was, he was sitting, head in hands, lamenting. God know, his wife knows how much time he spends in the bathroom every morning trying to get That Perfect Look. And then Philip has to come along…He consoled himself by trading faux newscaster voice bits with Corey. Did you know that everybody on TV has a California accent? People in California are just so damn *happy*. I mean, I'm sure they have earthquakes and fires but they don't seem to get stuff like 9/11…so they really cheer you to death. That's why it's so hard to talk to Philip. He is always on, upbeat, amped, positive.
I just find that I have to argue with him more and more. He tells me he went on a tour of the stock exchange and studied the FOREX for tips on the Lindex, and I had to scold him and remind him of my negrate, one of only 7 delivered by residents in the time that system was in place, in June 2005, when he GOM'd the GOM. I said until his LindEx went back up to $4.25/US $1.00 US $4.25/$L 1000 where it used to be under GOM's exchange, I would leave the negrate on him. As it's only back up to about US $3.70/L1000 today as we speak, after some severely lean times in those years, I can't remove it. I'd settle for $4.00 — I'm reasonable. "Philip, try to imagine, I used to earn something resembling a minimum wage at $4.25 if I earned let's say 1000 an hour, but now it's down to $3.70," I explained. So he starts arguing that no, it was only at $4.25 "for like 10 minutes". That's not true. I remember those heady days when we constantly cashed out certainly no lower than $4.00. "OK, put it back up to $4.00 then," I say — because of course *they control it*.
"Stop depressing our wages — Supply Linden is printing millions of dollars and devaluing our work," I complain. He disagrees. See, he's the argumentative one, even though any College 101 student knows that if you print money, you get devaulation of the currency — and that's devaluation of labour. "No," he explains, fresh from his tour. "It's all these new people coming in and buying." But…if there are more buyers…then…it would have more value…except…Supply Linden is printing Lindens like Yelsin printed rubles before the krakh in '93.
"OK, Philip," I concede. "You have these new people that you don't want to have expensive rubles Lindens when they come in, so you have to keep the price lower. It's like demanding of immigrants they have to pay $10,000 US to emigrate and not $2,000. OK, I can see that."
Then comes one of those bizarre Metaversal Moments where the Entropia guy comes up to pitch his world, Philip introduces me as "more famous than me," I tell Philip he has the Google cred, then yammer about the $50,000 sale of Amsterdam to the Entropia dude (!) telling him we're almost at their level.
Looking at my long-time townhall sparring partner, and one of the rare recipients of the Prokofy Trifecta Negrate Certificate with his absolutely metaversally architected hair, I had to realize we were now worlds apart. The Digital Divide.
If before, we were kind of on the same server — it was a small pond — now, he's got the Fortune 500 in his pocket, so to speak, and I'm just a fanboy. I remember that very first heady day in Second Life in 2004, when in my first minutes in SL, I happened to hit on the town hall with Philip Linden, where he talked enthusiastically about "Buddy the real estate developer" — he had decided to encourage realtors despite the hate of capitalism in his inner core — who would pick up newbies in the Welcome Area and take them away in helicopters to see new real estate (!). Nobody in their right mind inworld in the business would try to sell real estate by flying people around in 'copters, especially now, with the lag, the sim seam issues, the red lines. Of course, now Philip's dream is ostensibly realized by Coldwell Banker, which promises to show people land from their copters…
What is this feeling like, I try to think? Remember when you're like a junior in high school? And you have this boyfriend who's a senior? And you went out with him in his senior year, but then he goes off to college? And he finds much more sophisticated Older Women. Then, he comes back home during the Christmas holidays, and earnestly tells you that he hopes you'll always be the best of friends and he has the highest regard for you…And looking in that formerly innocent high school love's eye, you realize he has Had Intercourse out in the world. It's an unmistakeable look. That's the look of the Lindens now…of course, they may be jilted by their new-found corporate Older Women and be back looking to go out next summer during the vacation, but for now, they hope we'll always be the very best of friends…oh, and while you're out? Can you pick up their dry-cleaning and drop it off Tuesday? Thanks!
Philip's talk was pretty much as Uri reported it, but you have to picture the contrast: this sea of suits, and middle-aged guys who look pretty much middle-aged, who have really, really polished Power Points and such, and then Philip, who kinda just goofs on it all.
"How many here are the opposite gender in Second Life?" was his opening question (Uri may have missed this). I happened to be sitting right down in front in the second row, right under his gaze from the podium. I froze. I sure didn't want to be the only one raising my hand…but as I looked out at the sea of suits, there weren't any other hands. It was damn wierd to be asking this. I didn't raise my hand. Was it really *appropriate*???
Then, all that stuff about the engineering. A really long childhood story about looking in a computer and realizing that the patterns on it, when you drilled down and expanded them in size, could cover the earth's surface. It was another wierd computer story from Philip. Where was it going? When would it end? Could it get MORE wierd? It could not…And…he then said the bit about how they engineered all this stuff…then they realized, hey, they got all these people. NOW what? What to do with them?
I'll say.
That burned, I have to tell you. First, the Intercourse. And now…this. It's not even really the case, although it's maybe a story they have begun to tell themselves now that they have to justify their exit from worlding and retreat into platforming. If you read all those miles of old townhall scripts, you see how engaged Philip was, in fact, in every little worldy thing, prim counts and taxes and lag and land costs…
Seeing him then standing by himself without even a soggy meatball, I said, "When you started out…did you ever imagine you would some day be on the 55th floor of the Millenium Hotel with all these people?" I asked Philip, gesturing to all the business types from corporations (the CEOS actually didn't seem to come, it was middle managers, but the companies were big). "Well, of course, I imagined I could be on the 55th floor of the Hilton," Philip began exasperatingly literally, explaining that he'd been in downtown Manhattan hotels before…but of course there was 9/11. I pointed out below the building where my job used to be before it was pulverized and…received one of those long California stares they must develop from driving out on the freeway so much.
"But did you think there's be all these Fortune 500s?" I elaborated. Then Philip said something like "It's not that I engineered for it…but I always wanted Second Life to be for everybody, and that would mean them, too." He then earnestly embarked on an explanation of how avatars could be corporations…a corporation *was* an avatar in fact…a body…a group of bodies that formed something so very like an avatar…I was reaching for more of this boiled shrimp on a stick…but got only the limp Thai chicken on a stick…Help…
The first time I met Philip in the WA in Dore, long ago, I marched up to him, because I felt like I had spent a lot of money on his game already (hah!) and he and his Lindens didn't really seem organized. "What qualifications do you have to do this job?" I asked. It was because I felt that he was a government official, but that we had no way of electing him or bringing him to an account. Boy, was I naive!" I remember saying even on the Herald ages ago that we could only have one attitude toward the Lindens — that they not get in the way, that the attitude toward somebody like Philip shouldn't be any different than to the guy in the short red usher's jacket who was taking the ticket at the movie theater…
"I have a degree in physics and I'm an entrepreneur and I've learned by doing," he said. I didn't feel it was the most sterling of recommendations, but I proceeded to buy another dozen or so sims over time, and put more investment in Philip's pet rock in the sky than many of the big businesses have, when you think of it, at least in terms of numbers of sims. Some day I should put out a book in samizdat, "Letters to the Lindens," with all my voluminous correspondence to them and their answers…
The feeling I always had about Philip and other Lindens and some of the other people I got to know in SL was something like my brother as a child. Hours and hours of almost-silent parallel play, in that childhood headspace where you build and create and devise and innovate and keep making something for hours at a time, feeling the presence of the other person there, close, but not intrusive. That lasted for a good long while; today it's out of kilter, and I don't know what would bring back its balance.
You know, I don't even know if Philip makes a profit yet, and I bet it doesn't even matter to him that much, personally. There's a feeling of nearly cult-like zealotry still coming from him about how he has to get this thing out to as many people as possible. "It's a great leveler, like TV was," I commented. I was thinking of McLuhan who used to describe the blue box as a reducer, all the events, even the Vietnam War, became on the same level as a detergent ad spot…SL reduces yet it amplifies…I would even argue it's an amplifier (hot medium, not cool medium).
I'm reminded of this goofy interview he did where he talked about Second Life as truth serum, which got him a Valley Wag of course:
THR: What is it about Second Life that lends itself to community building?Rosedale: The reason it's interesting is the nature of the conversation you have, the debate — it's different. It's a different way of communicating. It's not like chat because there's an extremely strong sense of personal presence. Chat and forums have a certain laws of physics to them that encourage a certain form of discourse. Blogs and comments on blogs are subtly different. Second Life is really much closer to how we're talking right now, but where we're both on truth serum basically. It's like Burning Man, it's like taking a drug. Both of us are here, but we're much more comfortable with each other. Technology temporarily made us insular in the way we consume media. But rapidly it's going to go the other way. With Second Life, you go to a drive-in theater, and there are 40-50 people. Half of them are not from the U.S., a quarter of them don't speak English. And they're all watching a movie or TV or whatever someone wants to present.
We've all heard Philip's by-now well-hackneyed story about how SL is "better" because you're on amazon.com browsing a book, and you're with 27 other people, but you can't see them or know them. But with SL, especially once they get HTML on a prim cooking, why, you can all fall through a trap door on the Internet and land in a kind of glorified chat room together, ostensibly to form a "community". That 6 of the people are there by mistake because they clicked on the wrong link and wanted the toaster (paging Pella Tully! help!) or that 12 of them may be all wrong for you anyway, or that 6 of them may be griefers and hackers or that 2 might be interesting but…how long can you talk about a book you meant to browse for about 45 seconds??? all of that somehow falls away, with the magic of the Truth Serum… (We already had this discussion down in the piece about Pella's talk at CNET).
Philip made much of saying, as Uri very astutely captured, that if he could be anything in the world, he'd be himself. Well, who wouldn't want to be a CEO of a multi-million dollar amazing software company famous all over the world and with hair like that lol? But he didn't even mean that. He meant the mad scientist and truth serum boy.
The question *I* wanted to ask at Philip's talk as this: who is the most important person in the room right now?
Here we had 600 of the most important media people in the world, old and new. I mean, sure, Rupert Murdoch wasn't there and all of that, but line staff and middle managers are more important for how stuff gets done anyway, and there were *enough* of the higher ranking ones that we could accept the premise for rhetoric's sake.
I tried to think who *was*. I wasn't even sure of all the people there.
I don't think the most important person in the room was Philip Rosedale — I mean in terms of what will come next — and I think he'd be the first to say so. Because what comes next isn't like "about" Second Life even if it happens to *occur in* Second Life.
Then who is the most important person?
Jeffrey Yapp? Matt Boswick? Steve Youngwood? Betsy Book? Colin Parris? Reuben Steiger? Jerry Paffendorf? Eric Rice? (not unless he works on that hair!)? Sibley Verbleck? Justin Bovington? James Bower?
"Somebody will make everything."