by Pixeleen Mistral on 17/04/07 at 10:30 pm
by Omega Groshomme, war correspondent
"Altittude 100,speed 85,coming in under fire" the pilot shouts – I am on the drop ship of the Alliance Navy being flown into "the woofer" AN's newest sim and HQ, a hot LZ, to meet Admiral Herbst and oversee his soldiers and training. The pilot doing his best to level out before hitting the deck and keep his horizon – tracer fire coming in from the N/NE striking the ship and wounding 1 AN soldier provide cover fire.
Everything slows down as I wait for the land under my feet – I look around to see a wasteland of bunkers and concrete buildings on both sides, projectiles flying to either side. It feels like a life time before we touch down. Struts on the deck and soldiers rushing the wounded and myself inside under heavy escort. Through 2 blast doors we run until they close, we are safe from fire but can hear the event unfold above us – the snap of bullets and the clap of grenades – the cry of the wounded. Enemy fire soon dies down and all is calm, AN on patrol back and forth through the bunkers and Raptors strafe building to building. We return topside to get air and enjoy what daylight was left.
Jim Herbst: Recruits and Cadets! Line formation!
Jim Herbst: Form up on Munro.
Jim Herbst: Ellison, Foyston, form up with the other cadets
Jim Herbst: Recruits, which of you has finished orientation?
Few soldiers need to catch up while others are dismissed and put on gaurd duty…
Jim Herbst: alright, rest of you can be on your merry way if you wish, but if you want to come, feel free to.
After a quick debrief Admiral Herbst hands the formation off to Alliance Marine NCO Architect Jarrico who will be leading the recruit orientation.
Architect Jarrico: All cadets, remove your weapons and other non essentials
Jim Herbst: Jarrico, take the ones who are coming down to the Auditorium for orientation.
Jim Herbst t: Ludd, escort the Reporter there.
Architect Jarrico: All cadets that are doing orientation, please follow me
Mazer Ludd: Will do, sir.
Mazer Ludd: Follow me please.
Off we all go, in line formation to the orientation room – I'm under heavy escort not that I am complaining after the helo ride. Couple turns here and there and here we are, out the small corridor a big stage in front with seating all behind. All AN are ordered to be seated and are handed field manuals – yes i assumed myself we would see DI's in the faces of the potential and the muzzle flash on the shooting range with the smell of sulfur – but have to start small.
The orientation covers basics of chain of command, rank, orders, KOS, and rules of engagement — with a test at the end. About an hour goes by while I am snapping pictures and shooting the shit in the corridor with Engineer Ludd, Admiral Herbst and Meia Cosmos – then it happens – at first I thought it was only small arms fire but then — the clap of explosions above us, shaking the walls and dirt falling from the cracks of the ceiling.
All AN soldiers run out to begin engaging a couple members of SL commandos and Army SL (not to be confused with SL Army). I am covered and placed behind a formation of rocks. Its quiet for a minute or two and then fire erupts again. 2 men on parachutes come in opening fire and the horizon lights up with tracer rounds from both sides. Squad of opposing soldiers armed with m16′s and grenades begin a small guerilla assault against a front line of AN soldiers and marines.
Meia Cosmos – a marine for the AN – is closest to me on the rocks. She has a tripod mounted 50 caliber anti light armour gun cocked and locked. A soldier tries to advance out of a small building and across a road to a concrete bunker and she opens up (tat tat tat tat). The soldier – what's left of him – lays lifeless. When we think its going to calm a small humvee come from a ditch with the top gun blazing towards up, Meia opens up but it isn't enough. Out of the clouds a small wedged shaped ship known to the AN as the Raptor, strafes the humvee putting it into retirement.
All soldiers are put onto patrols and some on post. I proceed below decks to the office of ANM Junior DI Architect Jarrico.
Omega Groshomme: Wow,ty,was getting crazy out there…
Architect Jarrico: Our enemies never seem to hold up for us, even when we were holding a large meeting with several other combat groups concerning a form of the SALT-talks
Omega Groshomme: Well seeing your groups organisation and frontline fighting,i actually feel safer myself…
Architect Jarrico: Yes, we put all of our cadets through a rigorous series of training programs, one of which you had seen earlier, and is considered one of the easier sections of training. I personally teach most of the combat-critical lessons with both classroom professionalism, and hands-on experience. In order for every marine cadet to pass training, they must go face-to-face with with a squad of full-fledged Marines in a combat scenario, such as search and destroy or search and rescue. In each of these scenarios, one cadet has to take charge and lead the others against the Full Marines while completing a series of objectives. We have had …many… dropouts because of the length and/or difficulty of the training.
Omega Groshomme: Wow,i must say i am highly impressed,and especially with what i saw outside,which is still going on
Architect Jarrico: Considering the multitude of our enemies, it is really expected, here in the AN. I mean, if not for the brilliantly placed bunkers and cover, in addition to our extensive training, we would be thoroughly beaten nearly everytime, only because of the danger of being overrun. Our rules are very restrictive when it comes to Rules Of Engagment. We do not av-fly under any circumstances and attempt to make the playing field as fair as possible for the opposing force, whenever they attack. Sure, every once in a while, someone jumps the gun and tries to camp the telehub, but they are quickly reprimanded, and pulled back.
Omega Groshomme: Well that has surely been proved today. When soldiers are engaged in combat what would your job be at that time?
Architect Jarrico: I would usually be coordinating defenses from the bunker under the flight line, since that bunker offer an excellent range of sight, although lag would sometimes prevent me from actually engaging whomever is attacking. Since I am usually the highest ranked marine on the battlefield at anytime, I would also be responsible for the mistakes of those under my command. After most attacks, we usually debrief marines down the hall from this office, and go over ways to improve defensive efficiency.
Omega Groshomme: Its good to see a group,knowing what their doing. Many say the mercz are better trained,whats your response?
Architect Jarrico: I personally have not watched any of their training sessions, but I acknowledge that they have a training program nearly on par with ours from what I have seen in combat, but I cannot really make a statement with any foundation.
Omega Groshomme: Ah is see,well i do thank you for you time and do hope to see more of you and the training soon.
Architect Jarrico: Thank you, I do thank you for stopping by.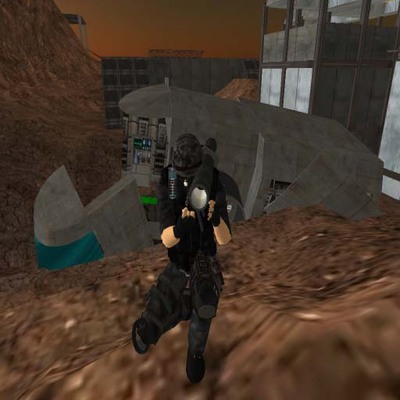 I go to the mess hall and grab a bite to eat. I ask Admiral Herbst where the training was originated and who is most involved. The answer: ANMD Combat Eng. Mazar Ludd.
I catch up with Eng. Ludd near the blast doors to go outside and convince him to give me a few moments of his time before heading out on patrol.
Omega Groshomme: So i hear your the father to the AN training program?
Mazer Ludd: Yes, the first military training program in SL.
Mazer Ludd: Back from while the AN was still in the sandboxes.
Omega Groshomme: Wow,what does your training include?
Mazer Ludd: We needed a way to weed out who was good and who was bad before they joined the real group. We started with an application form, but that still gave us some bad apples. So while I was reading a book called "the war with earth" I thought, let's add a second part where they get taught everything they need before they actually become a real soldier.
Mazer Ludd: We started this out with an orientation like the one you were in, several classroom lectures, and a written test.
Mazer Ludd: Soon, we realized that you need to give cadets field experience, so we phased out the classroom (except the orientation) and moved them to the field
Mazer Ludd: After the orientation stage, they choose which division they want specific training for.
Mazer Ludd: Marines, Fleet, or Pilots
Mazer Ludd: Each division has it's own specific training phases and stages, which you can get more info from a DI on.
Omega Groshomme: This orientation is a great idea,as well your methods of training.
Mazer Ludd: We've had well over a year and a half to refine our methods
Omega Groshomme: But with war coming we must ask,what are you doing to prepare these men and women for battle?
Mazer Ludd: Well, I've never really sat in on fleet and AD training, but I know a little bit about modern MD training
Mazer Ludd: First we start with basic maneuvers
Mazer Ludd: How to utilize cover, weave between bunkers and buildings
Mazer Ludd: then we move to the Tarzan course where they put their movement skills to the test.
Mazer Ludd: After that we move up to more advanced stuff like assaulting a fixed position
Mazer Ludd: But the real icing on the cake is the final exam. Always my favorite. It's the Cadets' first real taste of combat against the MD volunteers.
Mazer Ludd: The final has gone through a few evolutions, but the basic premise is the same: assault a fixed position controlled by AN Marines
Mazer Ludd: sometimes we throw a plane or two in.
Mazer Ludd We currently insert them via paradrop or hike
Mazer Ludd: We used to do all kinds of things such as orbital drop insertions, I loved those.
Omega Groshomme: Very impressive. Thanks you for your time and answers,i hope to catch you later on in the training.
Mazer Ludd: No problem.
So far the group Alliance Navy is doing a great job training their troops. From the paper to the pavement the AN is preparing for the worst in the war with the Merczateers. We will be checking back with the AN soon so keep a look out.