by Pixeleen Mistral on 07/04/07 at 8:11 pm
by Pixeleen Mistral, National Affairs desk
While Azno Simons seems particularly eager to comply with the Linden lab staffers attempt to clean up at least the gambling aspect of Second Life – other metaverse casino owners have a different perspective. Mr. Simons may be a unique case, since he more interested in advertising his web-based gambling empire than running a serious in-world operation. I visited a few more conventional SL casinos to get reactions to the Linden's casino ad-word ban.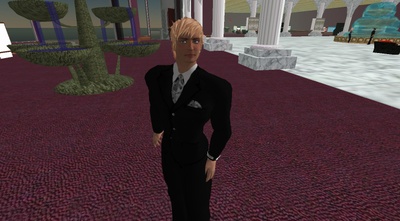 the FBI cannot touch Anthonymark Alcott
Anthonymark Alcott owns the "Casino World" sim, and I caught up with him earlier today for comment on the Linden's actions. Mr. Alcott said, "I am UK citizen so FBI can't touch us". This does raise the issue that non-US citizens are out of bounds for the FBI – although the Linden Lab servers are not.
Mr. Alcott told me that rather than advertising the casino, he will run ads for other parts of his club. When I pointed out that his sim has the word casino in the name, Mr. Alcott said, "they can't change that. We could call it rape club. It doesn't mean anyone is going to be raped here, it is just a name". Fair enough – let's hope Robin Linden agrees with that analysis.
Over at the Gold Rush Casino, I spoke with Malarwen Hall who was overseeing a large group of gamblers and asked if she thought any changes were in store. Ms. Hall told me, "I do not know, I think LL should move overseas".
Perhaps a change of venue for the Linden servers would make sense – if the Lab intends to continue to "Your World, Your Imagination" mantra to it's logical conclusion despite widely varying RL laws and customs. I'm really hoping we don't all have to start wearing burhkas everywhere in SL because of some Saudi Arabian law . Maybe the Lindens can send any concerned Saudis over to one of the Gorean sims and let them admire the Free Companion's veils? Once they are enslaved they won't be able to leave Gor anyway – problem solved.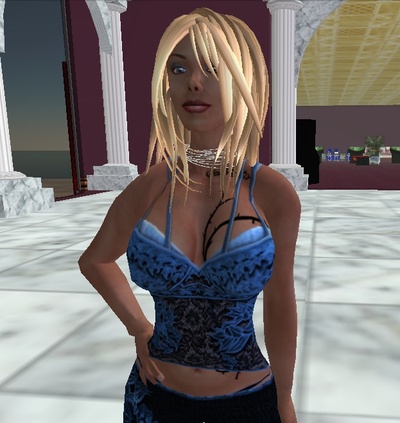 Jarla Lean wants to work in a "Palace"
Back at Casino World, I asked Jarla Lean – one of the escorts/dancers on duty – what she thought. Ms. Lean suggested that all the casino owners change their business name to "Palace". This could be a good solution to the problem. Just as the ageplay community has now morphed into the "roleplay" community, present day casinos could become palaces – that ought to keep the FBI guessing. Some suspect the Lindens are still trying to work out what happened to those ageplayers – so this approach sounds promising.