by Pixeleen Mistral on 15/04/07 at 10:06 pm
by Rhinestone Bling, business reporter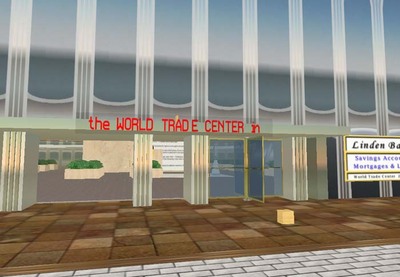 …coming soon to a metaverse near you
Friedman- SL Entrepreneur LukeConnell Vandeverre is gambling despite the recent Linden discouragement of the practice. His brand of gambling doesn't involve cards or dice, however, it involves stocks and buildings; namely, it involves his holdings in the Second Life World Stock Exchange and SL's version of the World Trade Center.
"I predict that within 2 months of completion [The World Trade Center] will be one of the most visited locations in Second Life with an average visit time of 15 minutes," Vandeverre said. He is so certain of this, in fact, that he is betting 12% of his SL company, Hope Capital Ltd., as well as the good will of some of his investors on this prediction.
Tower 1 of the World Trade Center was reproduced in scale by Brautigan & Tuck Holdings and then purchased by Vandeverre's Hope Capital Ltd. on April 7 for two million shares of HCL stock, estimated by Vandeverre to be roughly 12% of the company. The stock used to purchase the building did not come from existing stock, but was issued especially for the sale, significantly diluting the available HCL stock. The controversial part of this transaction is that Vandeverre made this move without consulting the HCL stockholders.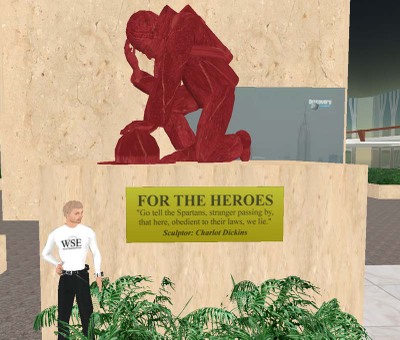 virtual symbol, monument, and investment
Shaun Altman, founder and CEO of Cyberland and the founder of the Metaverse Stock Exchange, which merged with the World Stock Exchange in February, is the single largest stockholder in HCL. He was not consulted about the transaction. "My only reaction so far is that I'm very disappointed that the CEO couldn't manage to keep his largest shareholder in the loop on something like that. I definitely feel that any changes to the share float should only be done with a shareholder vote."
"Depending on the bylaws of the company, and the state or country in which it was chartered, if this were a real life situation, Vandeverre would be in for some serious interrogation at his next board meeting, and would more than likely find himself under investigation by someone like the SEC," says Hammer Flanagan, a real life stock analyst. "The fact that HCL's headquarters happens to be located across the street from the building he bought, sitting on a sim owned by the people he just gave significant interest in his company to, would be enough to bring scrutiny."
To complicate matters, Hope Capital is publicly owned and traded on Second Life's World Stock Exchange, and to complicate matters further, the World Stock Exchange is owned by Hope Capital. Currently, Hope Capital shares sell for roughly $3 lindens per share, so in terms of real money, at the current exchange rate, Brautigan and Tuck received roughly $26,000 US for their building. Brautigan & Tuck Holdings is a partnership between IntLibber Brautigan and Tavi Tuck. BNT owns over 12 sims in its new continent of Ancapistan, Friedman is one of them. Both Brautigan and Tuck are currently listed as members of the Board of Directors of HCL.
One of the things that is potentially lost in this is that the building in question is a model of the World Trade Center. In giving a tour of the building for this story, Vandeverre stressed the importance of the SL World Trade Center as a symbol and a monument. The lobby of the building features a video that is a touching tribute to the buildings, from their construction to their destruction, as well as a statue dedicated to the firefighters who lost their lives there on September 11. Using the building as a memorial is clearly at the forefront of Vandeverre's thinking. "These buildings represent the achievements of mankind, the world and their resolve and ability to recover from such tragedy," said Vandeverre. IntLibber Brautigan, builder of the project, was touched personally by the events on September 11th as a friend of his family, John Ogonowski was the pilot of Flight 11 which crashed into the North Tower of the World Trade Center in New York City at 8:46 a.m.
Whether the building will be a financial success is the matter of some debate. Vandeverre is certain that it will not only become an SL fixture, it will do so quickly. The building has twenty floors, and "each floor will be leased to real life companies at $70 USD per month, on completion the WTC project will generate reasonable earnings for Hope Capital and will achieve a return on investment within 5 months, therefore increasing shareholder value. Based on an average of 70 visitors staying an average of 15minutes each we can accomadate for 3066000 in unique visitors each month," he says.
"I'm not so certain people will put their businesses there," said Beverly Winkler, a real life employee of one of the companies formerly housed in the World Trade Center. "It's like a shrine, a memorial. With wide open real estate available in Second Life, why would a real life company take the risk of an uncertain public perception when they could start fresh?"
Which is, exactly, the gamble that HCL is betting $26,000 on.