by prokofy on 24/04/07 at 11:21 am
Prokofy Neva, Dept. of Worlds, Planets, Multiverses, Simulated Proofs of Concepts, and Badly-Thought-Through Soviet Central Committee Planning by Game Companies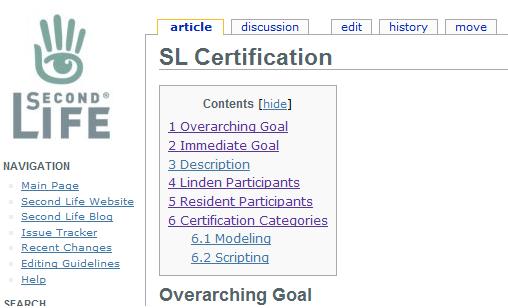 Once again, without any real public discussion, Linden Lab took one more step closer to becoming like its evidently envied competitor There today, as it instituted a new "Certification" system to issue what amount to licenses to top, skilled creators, putting them at a pinnacle of privilege in the inworld market of goods and services.
The online community There is often blasted for having a clearance process for developers to submit content. Now residents in SL, if they want to appear as "company-approved" and "possessing the top, acknowledged skills" will have to become "certified" in a process that will be run by 4 Lindens and and still-to-be-determined group of residents fanboyz who can sign up fast enough on the wiki.
This system is likely to generate enormous amounts of controversy, but there will be "no place to put it," as the forums comments are likely to be locked; the wikis are likely to be moderated, with discussion content (like my initial protest there) likely to be wiped as "not positive," and the blog will likely either tap out at 100 comments claiming a "wordpress glitch" or will simply be removed by Lindens.
The four Lindens in charge of the program are Glenn Linden, who is already known for running the elite developers' community insiders' list; a new Linden named "Heretic Linden" who represents if anything, not heresy, but company conformism with this program; Blue Linden, who manages the Teen Grid but also now the "volunteer system" (although this brief is unclear, given the removal of Live Help); and Eric Linden, one of the longest-running Lindens with viral marketing virtual-world cred as the author or owner of most trees and other Governor Linden builds in Second Life, who is already known for other FIC institutionalizations like the Bedazzled contract for Wells Fargo and the making of machinima such as Bells and Spurs.
The residents who will run it are not yet clear, though dozens have rushed to sign up including SL Viewsmaster Oz Spade, IVM builder Hiro Pendragon, SLCC organizer FlipperPA Peregrine, and other FIC regulars.
While some will welcome the system as representing a much-needed quality control for the world, the system poses serious questions not only about openness for creativity inworld and the free market of goods and services, but the Lindens' real intentions about "getting out of governance" when in fact, they're instituting a quisling/overlord system with a program that certifies what are likely to be their long-time pets as "the most skilled".
The immediate result of this "certification" is to create a control on the market, where some residents will get to have "Goodhousekeeping Seals of Approval" on their products as "certified" builders and scripters, and others will be unable to get Linden Lab boost to their marketing unless they submit to this system, likely to spawn various sycophantic "certifying agencies" who pass the first round of skills credentialling.
The system runs against the long-time claims of Linden Lab to be facilitating "your world/your imagination" unlike other games and worlds by encouraging user content, because they have finally ended the fiction that amateur content can be as good as professional, or credentialed content.
Currently, as the platform still allows people to upload the elements needed for creativity and sell them regardless of whether they are "approved" or "credentialled," the Linden-induced "certification" seal may in fact come to signify conformism and lack of innovation, and may actually signal buyers in the market that they are dealing with the fanboyz club of content creators. This will enhance sales for some, but could inhibit them for others.
"Linden Lab is developing certification for the use of key Second Life tools. We'll begin with in-world building tools and LSL. We believe this will benefit Residents, Developers, and anyone who wishes to use Second Life by clearly identifying both key skills and the holders of those skills. This will also enable the creation of training to build the skills required for certification. It is Linden Lab's intent to work with an external certification provider to offer certification testing and maintain a list of those Residents who have been certified," the Lindens wrote on the wiki.
Evidently the Lindens have given up trying to ease the orientation and use of their wonky tools, and have decided to retreat into a "certification" process to spawn various third-party businesses to be "certified" to, in a sense, become mini-Linden Labs to their communities. Some users have already expressed concern that such an apprentice-like system will not be able to scale.
My contribution to the wiki discussion, before it's wiped:
"This system is the final institution of the FIC. It's not a positive development, as the free market and free media should establish value for skills. A free market and free media also enable anyone new to be able to access that market and media without having to clear unnecessary hurdles and bastions of establishment thinking and procedure.
All that's happening here is that Linden Lab is dispensing licenses to create, completely overriding their concept of "your world/your imagination". That is, sure, anybody can go on rezzing a cube, but Lindens are now deciding, in Central Committee fashion, who does this *well enough* to be able to qualify to exist in their certified community. It runs entirely contrary to the notions of openness and creativity which they originally promoted."