by Pixeleen Mistral on 07/04/07 at 6:30 pm
Sim owner uses off-limits casino to promote web gambling site -
lures noobies with innovative automated SL cybersex classroom
by Pixeleen Mistral, National Affairs desk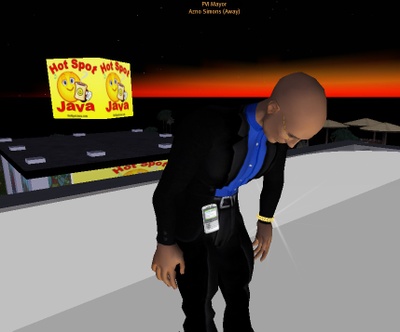 Azno Simons on duty keeping US Citizens out of the PalmVegas Casino
Hoping to explore the motivations for an SL casino owner who sent out high profile press releases to media outlets about banning US citizens from his casino, I spent a day tracking down Azno Simons. After sitting with his lifeless away-from-keyboard avatar thursday – apparently acting as doorman/security for his casino had worn him out – I finally managed to contact him live and in-world friday morning.
Mr. Simons' PalmVegas Island sim seems to get very little gambling traffic – his casino plot had traffic of only 217 as of this writing. The main draw for the PalmVegas appears to be a noobie-oriented SexEd101 classroom with 20 times the casino's traffic, and an optional gym and nurse's office for those eager to experiment with their newfound cyber-sex skills – or just enjoy a metaversal hookup. Pathfinder Linden may want to share the news with the SL education community that the sex college included RL-style classroom desks to sit in – nothing says innovative education like a virtual high school desk.
In the interest of journalistic objectivity, I skipped the hands-on lab section of the course and sat in the classroom while IM'ing Mr. Simons. The juxtaposition of Mr. Simons' IMs about the gambling business and the continuous automated classroom sex instruction narration created a slightly surreal scene. Perhaps this is what the new immersive new media is meant to be? The chat history and IMs are reproduced here so that readers can get a sense of multitasking immersive classroom learning and the gambling business – an important part of our brave new world.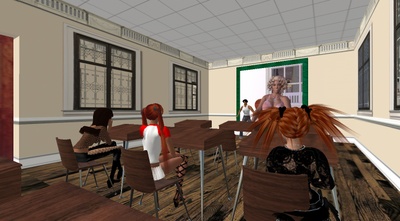 an innovative learning environment
SexEd101: You can be any height or weight to have sexual fun in Second Life.
SexEd101: All you need is imagination and well maybe a cold shower afterwards!
Pixeleen Mistral: Hi Azno – you busy?
Azno Simons: What's up
Pixeleen Mistral: I have some questions about your press release
Pixeleen Mistral: got a minute?
Azno Simons: Go ahead
SexEd101: You will notice a rug in front of the desks. This rug is a fully functional sex rug.
SexEd101: You can have interactive sex with this rug for free.
SexEd101: Look around the island, lots of rugs are waiting for you.
SexEd101: Try the Sex Garage, the Nude Beach, Sex Alley & even Lacy Cougars Night club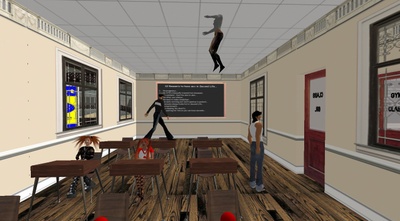 the boys won't stay in their seats
Pixeleen Mistral: first one – how are you going to keep US residents out of your casino in SL?
Pixeleen Mistral: I saw the signs – but that looks ineffective
Azno Simons: We are currently working with Linden Labs, note there press release "Advertising Changes", where they have mentioned that they are coming out with vertification tools
Azno Simons: The "Advertising Changes" press release is from Linden Labs and is available from the S: viewer log in page
Azno Simons: *SL
Pixeleen Mistral: yes I saw that
SexEd101: Use the teleporter beside this display to go shopping or to go to the other sex areas such as the Sex Garage, Nude Beach and Back alley.
SexEd101: Bye for now, maybe Ill see you on the island
SexEd101: Welcome to Sex Ed 101
SexEd101: This class will teach you everything you need to have sex within Second Life.
Pixeleen Mistral: your press release came out first – did you have early notice that they would be making changes?
Azno Simons: We were in previous contact with them, however in the meantime we are trying to have a concierge available within the SL casino to ask for country of residence
Azno Simons: If this does not work, we may consider group only access with off SL validation procedures
Pixeleen Mistral: i see
SexEd101: On the Sex rug, if you right click on the Get down, slut pillow and select be used, you will assume the position
SexEd101: Ohh, I am not alone Hi Peter.:)
Pixeleen Mistral: do you guys also run a casino based in the british virgin islands?
Pixeleen Mistral: I got that impression from your web site
Azno Simons: Our casino operations are quite complex, with our companies operating out of of the BVI, Mexico as well as technical operations out of Antigua
Pixeleen Mistral: must be serious money involved
Azno Simons: It is our companies policy not to report financial results whether within Second Life, web or otherwise
Pixeleen Mistral: of course
SexEd101: I have select the Get down, slut. Peter selected the Use the slut pillow
Pixeleen Mistral: so for the offshore stuff all your servers are outside US juristiction, right?
Azno Simons: Speaking for our non Second Life products, our operations fully comply with US UIGE Act (Unlawful Internet Gaming Enforcement Act).
Pixeleen Mistral: so why have anything in SL – its servers are in the US
Azno Simons: Good question, we are permitted to except SL gaming from non-US residents and those whom access SL from outside Canada. Our decision to be involved in SL was not to tap into the US customer base, but instead to provide an extension to our existing web based products for non-US customers.
Azno Simons: correction, outside United States not Canada

SexEd101: Sliding off my skirt, exposes my cute pair of flowered thong panties. The wonderful thing about
SexEd101: Second Life is that every pair of panties feel great, whether a thong, bikini or brief!
SexEd101: I can not help but get excited in real life.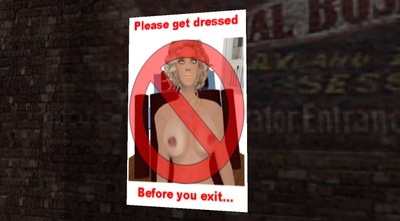 please slide your clothes back on before going to the casino
Pixeleen Mistral: so its OK to host gaming servers in the US if all the customers are non-US citizens?
Azno Simons: As I am not a lawyer, I can not answer that question, however we are operating our casino for non-US access based on the guidelines that SL is a world wide operation with access points through out the world. All of our operations involving access to SL is made outside of the US
Pixeleen Mistral: true – I guess I better ask Lindens about where things really run – but my understanding was their servers are in california and texas
SexEd101: Together, we are getting so horny
SexEd101: With the penis and pussy attachments, they come complete with arousal meters and sounds.
SexEd101: Check out the teleporter for locations to buy your own Xcite penis or pussy…
Azno Simons: We do operate on our own island, hence allowing us to designate this region as located within the BVI
Azno Simons: We can permanently suspended mainland operations since January 2007
Pixeleen Mistral: so your thing is that the SL PalmVegas sim is in BVI?
Azno Simons: More complex than that. We are operating based on continuance contact with our legal counsel. All operational changes are based on counsel's advice
Pixeleen Mistral: got it
SexEd101: My legs are quivering, body shuddering, OHH god…
SexEd101: Ohhh god, yes
Pixeleen Mistral: I checked the traffic on the land your casino in SL is on – and its super low – you seem to get more business for the sex part of your operation
Pixeleen Mistral: why even bother with the casino
Azno Simons: Please keep in mind that we have recently rezoned the casino (done yesterday morning) to better isolate it on our island, hence taking traffic back to zero. Also, our casino has not been in operation except for a small period of about 4 days
Azno Simons: Any other operations within the island is not directly associated with management or PalmVegas.com, with the exception of the city hall, hotspot coffee house, gokarts, raceway, firehouse and retail mall
Azno Simons: Our decision to become involved in SL was expand our web (non SL) customer base with customer from within SL, basically the opposite of what most casino's within SL want
Pixeleen Mistral: I see
SexEd101: Hi, welcome to Sex College. I am Andrea and will be your teacher in this hands on sex education class in Second Life.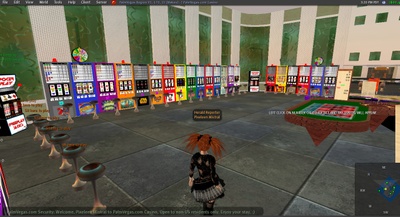 the deserted PalmVegas casino – please go the the web site instead
Pixeleen Mistral: so in some ways the Linden crack down on gambling is good for your non-SL operation
Pixeleen Mistral: you win either way – in or outside of SL
Azno Simons: While we have no offical stance on the US gaming laws (as we operate outside of the US), we understand Linden Lab's change in policy as we have seen this coming for some time.
Pixeleen Mistral: do you know when the US UIGE Act went into law? I can't find the date
Azno Simons: I am on a notebook (hotel room) do not have that file handy
Pixeleen Mistral: well, thanks for your time
SexEd101: You can be any height or weight to have sexual fun in Second Life.
SexEd101: All you need is imagination and well maybe a cold shower afterwards!
SexEd101: As you can see, I am wearing a Shirt, Skirt, Undershirt (Bra) and Underpants (Thong) and shoes.
SexEd101: You will find lot's of free or almost free clothes available on PalmVegas Island. Note the teleporter beside this display for locations.