by prokofy on 22/04/07 at 7:54 pm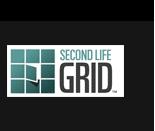 By Prokofy Neva, Kremlindenologist

If you look closely at the new SL Brasil web page that will launch the Brazilian community in Second Life with official Linden support tomorrow, you'll see an interesting new logo: "Second Life Grid". It's a logo separate from the Kaizen Games: SL Global Provider" to the left of it, and appears to be a logo made by Linden Lab itself (although this could not be confirmed).
What is "Second Life Grid"? Well, if you paid attention to what Joe Linden said at Virtual Worlds 07, in his somewhat hastily flipped PowerPoint slides, there was this comment, which he reiterated, which went like this: "Second Life will not succeed if LL is the only company on the Grid."
Mark Wallace at 3pointd.com quoted it differently: "SL cannot truly succeed as long as one company controls the Grid."
I'll bow to Mark's superior gaming conference note-taking and blogging skills, but getting the doctrine coming out of the California cultists does matter (on the grid or own the grid?), because it points to their future business model of Linden Lab, and our fate, if we own or use land (server space) in SL.
UPDATE: GLOBAL PROVIDER PROGRAMME
I've learned from talking to knowledgeable Europeans that when Robin Harper visited Europe recently, she spoke of an "SL Global Provider Programme". Basically, if you subscribe to this program, you get a reduced purchase price for sims, and use of the logo. It's designed for larger communities who can bring in lots of new customers quickly and take care of them. The communities are still housed on LL servers. (Naturally, those of us in SL who take care of thousands of customers on sims we pay full-freight for would like a provider program like this, but that's another story).
Kaizen is evidently a subscriber to this new Global Provider Programme, part of the new concept of the "Second Life Grid" which is basically a new marketing tool — for now. In time, these will be the nodes of host-your-own that will be spun off, but still remain on the GrID.
WHEN WILL THE LINDENS OPEN SOURCE…AND HOW?
Mitch Wagner has done the most consistent analysis of the Lindens' intentions about OS, riffing off Hamlet nee Linden Au, but I felt it necessary to add some important contextual points in the comments.
Mitch reported Hamlet's interview with Henry Jenkins (yes, this is recursive, and involves 3 concentric blogs/websites) as "news" that the Lindens are open-sourcing the servers, not just the client. I pointed out it isn't new news, but with the Kremlindens, you have to read each new spin about each new story of a successful harvest and and the overfullfilling of tractor production norms for signs of success or failure behind the pat propaganda.
Are they hurrying more toward open source than they were six months ago, six weeks ago? Have they prepositioned their claxons like Hamlet to "prepare the public" for something sooner rather than later?
I did drill Joe Miller on exactly what he was talking about after his talk at VW 07. I asked him if LL would ever consider parallel grids that were a kind of better SL 2.0 for businesses or universities. Wouldn't the temptation be too great to make a less laggy and less blingy SL for professional use without the rest of us? He looked at me and began talking about "host-your-own," which isn't what I meant. I mean the half-way house on the way to host-your-own, which would be licensing this revolutionary, world-famous, fabulously exciting software to a select list of companies for large fees, i.e. making bank before open-sourcing. I had to keep asking the question different ways.
'NOT PHILIP'S BUSINESS MODEL'
Finally, the grey-templed Joe, who is one of three grown-ups now at SL (I was told officially by a junior Linden, the other 2 being Robin, and a new Linden named Claudia), looked off into the middle distances of a 512 m2 draw that simply is not possible on my laggy blingy sims with my not-optimal graphics card. "It is technically feasible," he said, cautiously. "But it's not Philip's business model." That suggests that it is an article of religious faith that could be dispensed with if the founding father moves on or if the religious doctrine changes (now that the Pope has decided to deprecate Limbo, I figure it's more than possible that the Lindens might change their doctrines about All Hail the Central Holy Hail Central Grid — did I get that right, Khamon? — or more importantly, their doctrines about Unity in Diversity).
WHAT IS THE SL GRID?
So what is the 'Second Life Grid"? The "Second Life Grid" that is shown in this little checkerboard logo with the middle panel opening like…well, I couldn't help thinking right away of those panels that opened when Hal was losing his memory, right before he began singing "Daisy, Daisy…"
We've gotten used to thinking of the Grid as the thing that the Central Asset Asshat Server has to feed, for better or worse — often worse these days. If you are on the outer edges, on the Texas servers, at peak concurrency, not only do you have boots up your ass you're likely unable to open a notecard or rez a damn thing. People assume "The SL Grid" is the "LL Grid" and think that if there is an open-sourced SL it will be, well, just the Internet Out There, not "A Grid".
But what if the Grid weren't connected from an asset server, but strung along various server farms around the world, each of which had their own asset servers. How would they connect? When I asked Philip himself the question at VW07 about whether he could consider having that bling-free SL 2.0, he immediately said "No" (and didn't say it was technically feasible). He began talking about prims, about prim permissions, about stuff that wouldn't transport.

DOES MY STUFF COME WITH?
"But…who is really going to want to transfer *that stuff,* Philip?" I asked pointedly. I mean IBM or Sony doesn't need my 17,000 pieces of inventory including prefabs and freebie t-shirts and my monacle, which I think has 250 prims in it. They'll *make their own stuff* and they *don't need stuff to transfer from the rest of us*. I ask this pointedly as someone who has lost thousands of items of inventory lately, as have many others. How can they care? How can we care, about the transfer issue anymore?
Of course, it would go against the egalitarian "we are the wu'ar'ld" and "commuuunity" and "we don't help companies" sort of philosophy the Lindens have promoted since Word One. But you know, they may not have that luxury any more if they can't scale the thing! And people might be willing to say, "I don't care about my inventory anymore, just give me an SL 2.0 that works!"
THE VIRTUAL GRID
But what if the Grid was a different, virtual Grid? Not actually connected wires/servers whatever, since people will be hosting their own most definitely, if Mitch Kapor and Joe Miller and Philip Rosedale have all said this in the last 6 months, even without a timetable.
What if the Grid was a kind of Concept in their minds, a Culture, that could range from standard protocols (something IBM has been interested in) or standard operating procedures for how you set up basic welcoming areas, or any of a host of things that go into world management. Or what if it was a political philosophy, that consisted of that wierd amalgam of California hippie anarcho-syndicalism, Soviet-style state capitalism, and Snow Crashian anarcho-capitalism that the Lindens lurch around with? What if the Lindens went ranging the world and finding their technically/culturally/politically like-minded comfort-level kindred folks, and made a GrID that doesn't require an assert server literally, but virtually assures that the replication of their mindmemes will continue until the heat-death of the sun?
Well that's what they're already doing, duh. The Lindens are busy now roaming the world, opening up offices, and making foreign non-English language editions. There's a Dutch one (not clear if that is with official blessing or not), one to open in Korea as we understand, or so on. The world versions of SL offer the perfect opportunity to lay down the tracks for the GrID (I'll call it that to emphasize the *identity* that the Lindens want it to have) as distinct from the Grid as commonly understood to mean just these server farms that talk to each other).
LINDENS COMPETE WITH THEIR OWN CUSTOMERS
As I noted on Mark's blog discussing the Brazilian version to launch tomorrow, there were already 2 Brasil islands packing 100 people constantly on their sim without camp chairs, that evidently had nothing to do with the Lindens or their global providers, and which simply took off like a rocket due to socializing in groups and event planning. Russians at TechInvest Island also made their own welcome area and website without any Lindens actually being harmed in the process lol.
The non-US and non-UK population is soaring. Americans and British who were the early pioneers have eaten their fill of laggy servers and non-performing sims and quite a few have left in disgust or cashed out because business has just gotten too hard for a lot of reasons (end of subsidies, uncertainty of customer flow, poor sim performance, casino advertising ban). But a surge of people from other countries are pouring in the door, on the media bounce overseas, and they haven't gotten discouraged yet, in part because some of them come from cultures that simply have more patience, less demand for quick cause-effect and ROI, and well, more culture. The content explosion from Japanese, Brazilians, Germans is starting to be seen, and will constitute a significant competition to Americans who thought they pwned the place.
I'm still wondering what the numbers are for non-American *concurrency* because I see that number go way down in the hours when Europe is asleep. But I know from the flood of German, Brazilian, French, Japanese, and Russian customers in my rentals and other rentals that there's no turning back, Americans are not the significant portion of the population any longer.
WHAT IS THE NEW LL BUSINESS MODEL?
Yet the GrID will be forged with American cultic ideologies, drawn from a hodge-podge of secular humanism, Stephenson Snowcrashism, Silicon Valley hubris — with enough anti-American disestablishmententarianism and lefty ideology to make common cause with Europeans and Asians.
Can the GrID sell as a kind of glocalization scheme? What ARE these services the Lindens will sell? I remain curious by this, though I can imagine that keeping a kind of Grand Central Station style mainland open for orientation, prototyping, market sampling, load testing, version testing will be likely — but not essential (it could be done with a fraction of the size it is now).
Mitch Wagner rightly speculates that becoming a not-for-profit is an option, helping other companies adapt and making the software upgrades, or becoming a services organization like any other metaversal agency. Then, as I would put it, they'd be in competition with their own hellspawn, the metaversal myrmidons. These are quite distinct possibilities.
I've always said that if they don't morph to become a non-profit (they're well suited to become one, as they have not made a profit in 7 years), they will spin one off, for educational purposes, with 501-c-3 status. This will be vital especially for the ideological component of the GrID. And the venture capitalists they have now are very idealistic men who also engage in philanthropy, so it's not too hard for them to convert a VC infusion into a grant.
There is that ah…liquidity event that Mitch talked about, and for that, we could expect that they'll just sell the SEARCH functions to Google.
Transatlantic telephone cable, jet plane travel, faxes, email, the Internet, all shrunk the distances in the Global Village. Yet shrinking the distances arguably has led to greater cultural friction and even greater warfare in some places. We may be able to p2p to a French sim, but if we don't speak French like a native, we'll likely encounter the same chilliness we could experience on the streets of Paris itself. The ugly American doesn't get prettier, being streamed in 3-D.
Ah, but there will be the Lindens, smoothing the way, moderating, modulating, modifying, making the GrID. People who have made the future have always been those skilled at conversion and translation, and I don't think LL will disappoint in whatever version of the Grid or GrID they create. There is that ominous image of the Titanic, however, as a somber reminder of what happens when you cut technological corners, go too fast, and get too arrogant about the crossing.