by Pixeleen Mistral on 26/04/07 at 8:30 am
by Curious Rousselot, metaverse numerologist
As many of us are no doubt aware; Linden Lab publishes statistics about Second Life. Conveniently they also make the historical data available in Excell and OpenOffice, and Google Docs format. This gives us here at the Herald a chance to see how the economy of Second Life is doing and to comment on it. More importantly, it gives us the chance to make pretty graphs of the information too. So, I thought it might be nice to put some of my amazing spreadsheet skills to use and see what we could get.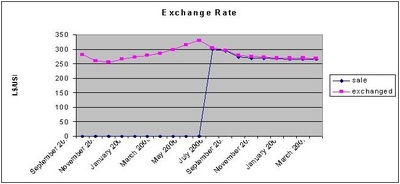 Obtained by dividing the total L$ by the total US$ of LindeX transactions
As we can see, after a serious drop in value of the L$ in September of 2006 the L$ has been holding pretty steady between L$260 to L$270 per US$. Admittedly I'm no economist but considering the relative size of the economy this is pretty impressive stability over the last several months.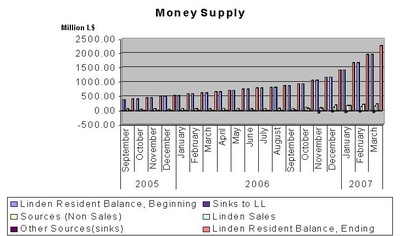 We can see a slow and steady increase in L$ balances held by residents with almost flat supplies and sinks of L$. What is far more interesting is the significant spike in User-to-User transactions. It looks like we really enjoy our shopping in SL.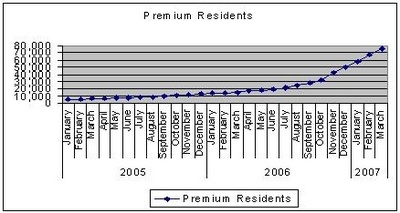 It looks like the number of premium accounts is rising quickly. Linden Lab seams to have made the right decision when they got rid of New Land. This surprised me somewhat since I had been thinking of signing up for a premium account and picking up some new land right around the time that they canceled the program. So, I still don't have one because I don't see the point.


Obtained by dividing the "total hours online by the number of residents"
This last graph will probably help all those who think the boast of having over 5 million residents is a bit misleading. It appears that between 2003 and 2005 the early adopters of Second Life were spending an average of 45.2 hours a month in the game. 2005 itself saw a small drop with an average of 38.1 hours per month.
2006 and so far in 2007 the average is a significant drop with 14.3 and a pathetic 4.9 so far in 2007. As has been said this is probably largely due to the significant increase in one-time-use account. If we assume that the usage patterns of regular users hasn't dropped significantly we can start to make some real analysis. First we will notice (just from the numbers) that the first significant change in usage appears to start in September 2005 when hours per-user drops significantly from 40.2 to 34.7. Taking the average from before that point (44.3 hours/month) and applying it to the March 2007 number of 3,177,434 total hours spent in SL, we come up with approximately 346,044 active residents with an estimated error of around 5%. This assumes that the active residents are still spending an average of 44.3 hours per month in Second Life.
This may be a far cry from the millions of us advertised but it is a significant increase over the 28,801 figure from July 2005 (prior to the availability of free accounts).