by Pixeleen Mistral on 28/04/07 at 12:22 am
[Editrix's note: Today, Taylor Barnes takes the time to talk about a cause close to her heart - and Marilyn Murphy's photography may make our readers' hearts beat a bit faster as well. My friend Marilyn is the virtual visionary, publisher, and photographer for Players - SL's in-world erotica magazine. This has to be one of the best Post 6 Grrrl features ever - with an important message - if you can take your eyes off Taylor. ]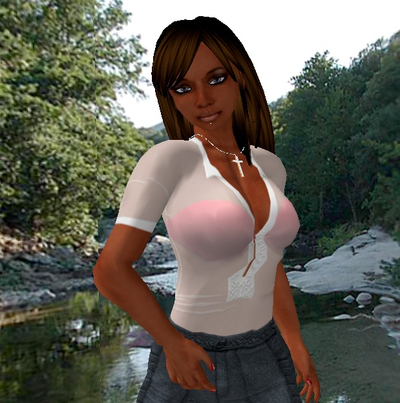 My Second Life started on Christmas Eve 2006. I was introduced to this world by my cousin as we gathered with family for the holidays. She had been in-world about six months at the time & helped me to navigate Orientation Island. On the most part, I was spared most of the "newbie growing pains", as she sat next to me and guided me. Everything from shapes to AOs was covered in a matter of a couple of hours, and she spoke to me in the in-world language of prims and lindens.
A few days later as I started to explore on my own, I found the usual places that all newbies find. Although I find SL to be a fantastic place, I sensed I had no real purpose. Sure, I met people from all over the world, and if you spend anytime creating an attractive female avatar, you will have your fair share of males "hitting" on you. I attended a few classes thinking I wanted to become a designer and tried my hand at creating. Needless to say, I would never actually wear any of my creations in public because they are so hideous. As I teleported to one of my favorite stores, I noticed a purple collection barrel sitting in the front. They were soliciting donations for "Relay for Life". Immediately I paid lindens into the barrel because this is a very personal issue for me.
I picked up the phone and called my cousin, she lives outside the US right now, and has not been able to use SL for a few months. She explained that the lindens are converted in US dollars and donated to the American Cancer Society. In her sleepy voice, she directed me to find the website and get more information there. Sorry Cuz, in my excitement I failed to observe a simple concept like time zones.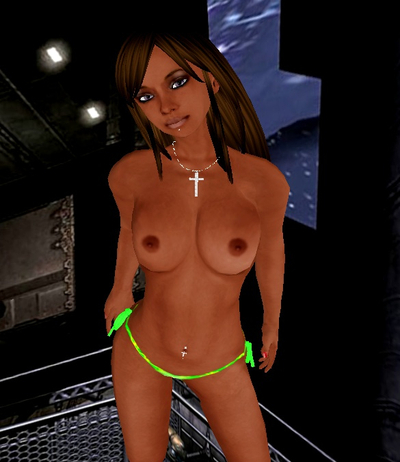 I quickly found www.slrfl.org and was absolutely blown away. According to the site's estimates, $41,000 was donated last year. I wanted to contribute not just money, but time. I searched for vendors that were offering items for sale where the money would go directly to RFL. At that time there was no such list available, and started to compile my own. I contacted every captain of every listed team, and asked them to provide me with landmarks. The response was amazing. Every team captain responded, or someone from their team did.
I am in the process of writing an article of what I found. I enlisted the services of one of my cousin's SL friends to do the photography. He strongly suggested that I change my skin to get better photos. I had strayed away from my cousin's suggested list. But I wanted my avatar to resemble the "real" me. He politely asked if I had a problem with nudity, so he could point out the differences in the skin I had and the ones he had in photos. I am fully aware that this is a game, but I was actually shy and uncomfortable with shedding my virtual clothing. After a good laugh together, he made a dare that bought me to these pages. If I entered the Post Sixxx Grrl pageant, won and actually posed for the pictures, he would provide me with L$25,000 to spend on RFL. How could I refuse?
While shopping for a new and suitable skin, my 1st life boyfriend noticed that I would go home before trying the demo skin on. I had hijacked him into sitting at the computer screen, asking him if he liked this skin better than that one. He wanted an escape, and I provided one. If he would match the dare, I would allow him to go back to the NBA, or whatever he found so interesting on television. We have an understanding, he does not bother me about Second Life, and I will not bother him about Madden '08. He quickly accepted and rushed out of the room. Oh yes! L$50,000 for RFL!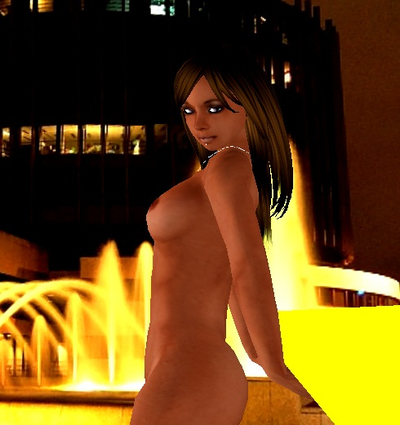 Some people want to know why am I so excited about RFL, and the answer is simple. Cancer robbed me of my Aunt Doris. She was the "cool" aunt, the one you could really talk to. She personally saved me during my teenage years, when talking to your own parents can be so difficult. She was part big sister I never had, part cool best friend that never disappointed and part pastor you can confide in. Believe me, there was plenty of things to confess to. She would share the stories of the boyfriends from hell and the time she got caught smoking in the girl's locker room in high school. Aunt Doris was a beautiful woman inside and out, who shared her life with family, friends and complete strangers. She took me to a church on Thanksgiving to help serve dinner to many people who were less fortunate than we were. Time and time again she stressed that giving to others was one of the greatest joys any person can experience. 12 years later, I still go to the same church to serve dinner on Thanksgiving. Last year was the 6th year without my partner in charity. When someone you have helped, looks you in the eye and thanks you, you receive a humbling joy unlike anything else I can describe.
I will eventually get my article ready for print, but please do not wait for me. When you see any of the purple kiosks, please stop and contribute and know that you will make a real difference in a special way. To every creator/designer/performer who gives their time, talent and lindens to this cause, to every person who buys or donates in support and to the many volunteers, please know you have my heart-felted thanks.