by Pixeleen Mistral on 10/04/07 at 9:58 am
Alliance Navy and Merczateers too busy fighting each other to fight griefers
by Curious Rousselot, war correspondent
[UPDATE: the lost Alliance Navy pictures have been recovered from the combat-damaged laptop and added to this story.
note - underscoring the dangers in covering virtual warfare, Ms. Rousselot's laptop was damaged while covering this story - we hope to retrieve picture of the Alliance Navy soon and post them as an update to this story - the Editrix]
While most of the residents of Second Life continue in their hedonistic pursuits of daily life in the Linden's vision of Eden, there is a serious conflict going on between two extremely well trained and organized armies. As reported earlier, attempts by Herald correspondent Urizenus Sklar to mediate peace talks failed recently and the Alliance Navy, one of the oldest military organizations in SL, and the Merczateers, a former ally of the Alliance Navy, began open warfare for the oldest causes of war in human history; land and pride.
A few months ago, the Alliance Navy and the Merczateers were allies. As with any organizations that compete in the same arena, there was a certain amount of competition between the two but in general they shared the same goals and operated as well as any alliance can.
One of the members of the Merczateers, we will call Mister Rodgers, had a private island and decided to offer use of it to the Merczateers. In good faith, the builders of the Merczateers began constructing a headquarters on the island. After a few days, all the objects were returned to the builders and little explanation was offered.
It seems that Mister Rodgers had offered the use of the sim to the Alliance Navy and the Merczateers leadership believed that the Navy had been wooing Mister Rodger in an attempt to get use of the land. It was later learned that this was not entirely accurate. When asked about it, Nanao Mahfouz of the Alliance Navy said, "At the time, I refused his offer [for] two reasons: The first being moral qualms. At the time, the Merczateers were our allies, and our friends. There have been shakeups in our alliance in the past, but I was still determined to make sure that we would stick to holding up our end of the friendship."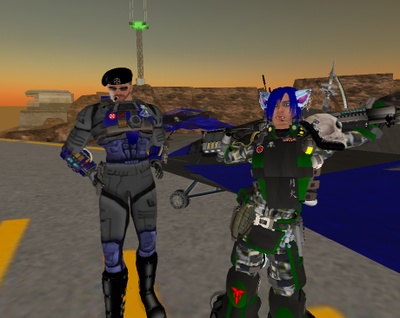 Judge Hocho and Nanao Mahfouz of the Alliance Navy
Lurdan Huszar of the Merczateers explains what followed, "After this, we bought our own sim, this sim. Badnarik. Now, about a month into having it, an Alliance Navy marine accused Merczateer General Jonathan Arna of "copying" his combat knife." This, of course spawned an investigation by the Alliance Navy and as Lurdan Huzar put it, "General Arna and Alliance Admiral Mahfouz got into an argument following this, and declared war after Arna shot him in anger."
Ironically, Jonathan Arna later left the Merczateers and joined the Alliance Navy. Shortly before this article was written, he left the Alliance Navy. His current affiliation with any military units in SL could not be confirmed for this article.
The Merczateer commanders, reacting to the increasing tension and bad intelligence, contacted other military groups that had been enemies of the Alliance Navy to establish a new alliance against what they perceived was a no-longer-trustworthy Alliance Navy. As egos, perceived past wrongs, and the escalating hostilities continue we are unlikely to see an end to this war in the near future.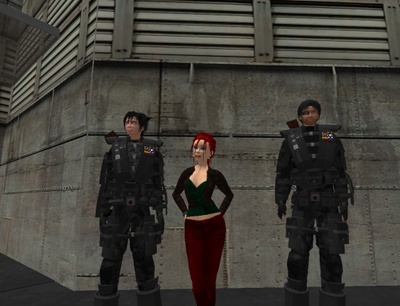 embedded Herald correspondent Curious Rousselot and the Merczateers troops
War in SL is a very odd beast. Since an avatar doesn't really die, a traditional war of attrition is not possible. When an avatar is 'killed' it is transported "home" and can quickly teleport back to the combat zone. As a result, attrition in SL becomes the reduction in troops caused by frustrated people quitting the unit they joined.
Advantages are gained, as in the real world, through technology, training, and number of troops that can be deployed. Both the Merczateers and the Alliance Navy have burgeoning technology departments. Each trying to build better weapons and combat vehicles.
The most fascinating aspect of large-scale combat in SL has got to be the SLSALT (Second Life Strategic Arms Limitation Talks). Both the Merczateers and Alliance Navy abide by this treaty. In fact, both claim to be promoting it for 'fair' combat between military units in SL.
The Alliance Navy and Merczateers are both role-play groups for modern military. Both have clear hierarchy and claim the same desire to protect the residence of SL from griefing and abuse. Manao Mahfouz says about the Alliance Navy, "Combat aside, we pride ourselves on being the oldest, and most successful anti-griefer group on the grid. We've been fighting hostile armies for two years, and amongst them we've gone up against the largest forces ever assembled, on multiple fronts in simultaneous attacks, and we've yet to be beaten. This is a major asset in providing security and expertise in how to handle griefers towards other interests in SL who wish to keep their events safe, such as IBM."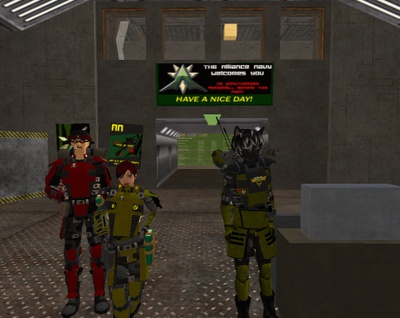 Mazer Ludd, Alice Mirabeau, Jeremy Duport at an Alliance Navy base
The Merczateers are no less concerned with helping the residents of SL enjoy their freedom. Anthony Lehane of the Merczateers explained future plans to help new RP groups, "In the near-future the Merczateers will be beginning a community-outreach program. This will include providing basic necessities for new Second Life residents, and providing smaller, less developed militaries with the basic needs they require, that we can produce. Provided that our engineering department keeps soaring steadily as it is currently."
Ethan Schuman added, "Specifically, a set of skins, prim hair, animation overriders, and new weapons that adhere to SLSALT combat rules without being able to grief as current weapons [do]."
War in SL may still be more civilized than in RL, as this reporter had the rare opportunity to hear from a sniper of the Alliance Navy during the interview with the Merczateers as this short exchange shows:
Ishida Dye (Merc) shouts: Mikael, I request that you leave…
Ishida Dye (Mec) shouts: Or you could attack, either way would be fun…
Mikael Khalamov (AN) shouts: No, I choose not to attack when you guys have an important guest. I'm nice like that.
Let us hope that bruised egos can heal and peace talks between these two waring factions can become allies again.