by Pixeleen Mistral on 02/05/07 at 8:16 am
Merczateers will not fight the Alliance Navy without a signed MOSCOW agreement
by Omega Groshomme, war correspondent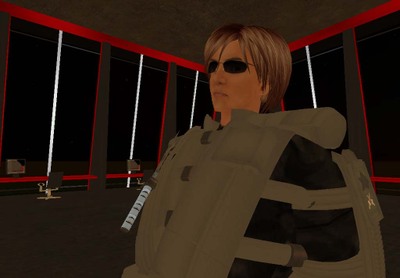 Merczateers Comdiv Ethan Schuman
On April 29th, 8pm SLT I had a chance to sit down with Ethan Schuman, an officer in the Merczateers to discuss their position with Alliance Navy (AN) and clear up the purpose of MOSCOW (Military Organization Standard for Conventional Operations and Warfare). During the interview, I learned that the Merczateers will not fight the Alliance Navy without a signed treaty and how the Merczateers claim the AN bullies smaller military groups in SL. The prospects for serious combat look dim at the moment as political wrangling has upstaged violent conflct between SL's two largest military factions.
Ethan Schuman: My name is Comdiv Ethan Schuman, of the Merczateers. In American military rankings, I would be a Colonel. I head up our Research and Development team.
Omega Groshomme: Who are the Merczateers and what do they do?
Ethan Schuman: The Merczateers are one of the oldest military groups in SL. Throughout our existence, our theme and purpose has changed, but the two elements that have remained constant are an allusion to Soviet/Russian technology and infrastructure, and the desire to just kick back and have fun.
Omega Groshomme: Your group has been heard a lot lately responding to the Alliance Navy proposed STABLE. What are your thoughts?
Ethan Schuman: Well, that depends on what you mean. One of the misconceptions that a lot of people seem to be under is the assumption that the Merczateers are the driving force behind MOSCOW. That's not the case. They are one party of many, even if they happen to be the biggest, and the organizer is a member. As for STABLE, the Merczateers don't view STABLE as any serious attempt by the Alliance Navy to right what's wrong with SL combat. Rather, we see it as an attempt on their part to try to avoid signing MOSCOW. However, the STABLE talks have all but collapsed, as the only parties on board with it are the Alliance Navy themselves and Sparta
Ethan Schuman: If you'll note, Nayaioh Commodore, the former leader of Corsair, who was actually one of the AN's biggest assets in setting up STABLE, has joined the Merczateers.
---
MOSCOW is not communist – MOSCOW is a republic
---
Omega Groshomme: We have heard much of MOSCOW being communist, isolationist and sometimes forceful. Could you set the record straight now of MOSCOW's goals and intentions?
Ethan Schuman: The thought of MOSCOW being communist is utterly ridiculous. MOSCOW is a republic, in which factions control and own their own land and technology, and voice through representatives in a Senate their feelings and concerns on issues that affect the group. As for being isolationist, it's true that we have a policy to not engage members of non-MOSCOW factions in military activities. This is to help cut down on drama and conflict caused by differing rules of engagement. I should note, however, that that measure is controversial, and may be dropped before the final signing of MOSCOW.
Ethan Schuman: The goal of MOSCOW is simple: It's not to bring in politics, it's not to cut anybody out, and it's not to focus control and power. MOSCOW is a way for the little guys to stand beside the big guys and talk face to face.
---
the right to engage in combat is not guaranteed by the SL Terms of Service
---
Omega Groshomme: Given that MOSCOW, at least in its original form, involved limiting weapons and weapon advancement, and given that all signing members are required by the rules to ban non signatories, aren't you afraid this will be seen as an exclusionary method to make combat into a sort of club, only for those the members like?
Ethan Schuman: The thought has occurred, but what many people seem to forget is that when fighting, you are engaging in an act of priviledge. Nowhere in the LL Terms of Service is the right to engage in combat guaranteed. Moreover, individuals are promised the ability to enjoy themselves however they wish within reason, so long as it does not disturb others. The methods and tactics used in SL Warfare -ARE- disturbing the experience of more than a few people, and given that situation, if a change is not made, it forces those who enjoy combat to play by rules they'd rather not.
Ethan Schuman: MOSCOW attempts to let member groups enjoy warfare the way they want to, without disturbing outsiders, and while providing a fair and easy method of entry to any faction interested in joining.
Omega Groshomme: And what if a MOSCOW army attacks another group that hasn't signed, and is therefore banned? Is there a penalty?
Ethan Schuman: While not finished, MOSCOW groups are strongly discouraged from engaging non-MOSCOW factions. We've had a few incidents of this so far due to miscommunications and misunderstandings. However, should a MOSCOW faction intentionally and knowingly attack a non-MOSCOW faction, sanctions would be put into place on said group. However…
Ethan Schuman: A proposal has been brought forward to allow MOSCOW groups to engage other non-MOSCOW groups so long as they adhere to the other group's Rules of Engagement in the fight. So a MOSCOW group could fight a STABLE group under STABLE RoEs, and then turn around and fight another MOSCOW group under MOSCOW RoEs.
Ethan Schuman: From what I've been told, however, the Alliance Navy is strongly opposed to this, so I don't think such a scenario is likely to occur anytime soon unless something changes.
---
Until the treaty situation is resolved, there will not be combat between our factions
---
Omega Groshomme: What is the Merczateers current situation with the AN,and could we expect a face to face on the battlefield in the future?
Ethan Schuman: Many Merczateers and Alliance Navy members are friends when the bullets aren't flying. Just last night, Avil Creeggan of the Alliance Navy and Anthony Lehane of the Merczateers engaged in an epic 4 hour chess match using toy figurines representing members of each military. The win went to Avil, but I strongly doubt that's the last Mercz vs. AN chess game that will be played. As for the battlefield, I can't really say. Until the treaty situation is resolved, there will not be combat between our factions. People on both sides are itching for battle, though, so only time will tell what happens.
Ethan Schuman: Honestly, there are only two reasons we fight
Ethan Schuman: One, because a select few members of one group strongly dislike a select few members of the other, and two, because of boredom
Omega Groshomme: You say you CAN engage in combat with other groups,but when AN or another group attacks your base-they are banned. Why?
Ethan Schuman: AN has expressed no interest in the MOSCOW rules of engagement. Because of this, we will not fight them (and haven't attacked them since). When AN attacks, they are given time to leave, and if they fail to, they are banned. As for other groups, if the Feds or any other MOSCOW group attacked us, or if a non-MOSCOW group had sat down with our command staff prior to the attack and discussed rules of engagement, we'd give them the fight of their lives.
Omega Groshomme: How could you have a war with meaning when you sit down to discuss ROE before a fight, there's no surprise.
Ethan Schuman: There's PLENTY of surprise if it's executed properly. The war doesn't even have to be declared at that moment, just have the rules set out. Then, a few days or weeks later… BAM!
---
Alliance Navy bullies smaller millitaries
---
Omega Groshomme: When AN assisted SLSN against CN a while back, you were heard to have shown up and told CN they should ban the Alliance Navy. How can there be acceptance in MOSCOW if all who don't wish to sign get banned?
Ethan Schuman: There's a strong difference in what happened in that event and what would happen if another non-member group showed up. The Alliance Navy's "assistance" was three times the full membership of CN, on a plot of land about the size of a parking lot, in addition to the SLSN troops. The Alliance Navy is well aware that CN is a MOSCOW group, and is not interested in combat with them, yet they showed up anyways. What would you do if a mob of people showed up at your shop with guns and ships because they're friends with someone you're in a controlled conflict with?
Ethan Schuman: The Alliance Navy didn't go to CN's base to assist. They went there to bully a smaller military, without provocation, and hide behind an alliance. Their actions were nothing more than glorified griefing.
Ethan Schuman: Behavior like that is what MOSCOW aims to stop, and the true reason the Alliance Navy does not wish to be a part of MOSCOW is because they would be forced to no longer engage in such despicable behavior.
Ethan Schuman: Which, also gets back to why the Merczateers (and every other military group but Sparta) will not join STABLE.
Omega Groshomme: Alliances must help one another when asked,the Feds were heard to be having fun…would you not assist an ally to the best of your abilities?
Ethan Schuman: There's a difference. I wouldn't assist my allies if I knew the group they were attacking would not welcome my presence, and I would ESPECIALLY not do so to the point of bullying that other group into submission.
Omega Groshomme: Members of the Feds were to have said and this is a quote…"aye, this is bs to me, i enjoyed the ans help, a good chalange" also another had said "even if i was getting my ass kicked i wouldnt ban unless they were using orbiters". Most groups dislike the AN but will still fight to the better man,and if MOSCOW is about acceptance as well. WHy are the AN still left out even after yourself said "The AN are more than welcome to join MOSCOW"?
Ethan Schuman: The day the AN joins MOSCOW, if it ever happens, will be a good day. And it will be a day FILLED with war. The reason we won't engage AN in combat until they sign MOSCOW is simple: Member groups are tired of how they behave in combat. If AN changes the way they choose to conduct themselves, then they will be welcomed back into open combat by the community. Until then, we'll just sit and stare at each other, with small outbursts of violence, but nothing more.
With the Merczateers taking it upon themselves to set standards in the Military world of Second Life, we should all be wondering what the Merczateers wish from MOSCOW. Despite being a good idea, MOSCOW might be leading the SL Military scene in the wrong direction. We have sat and watched as both sides attempt to put rules behind our actions as military and make well for fair fighting, but everyone should realize this is SL, fight with what you have and don't over do it. Keep it simple and fight the good fight – but as real life, our Second Life war has left the battlefield and gone into political hands tugging at the power chord.
Omega Groshomme reporting from Merczateer Research Center