by prokofy on 29/05/07 at 1:11 pm
By Prokofy Neva, Kremlindenologist, Reporting Live From the Sea of Omidyar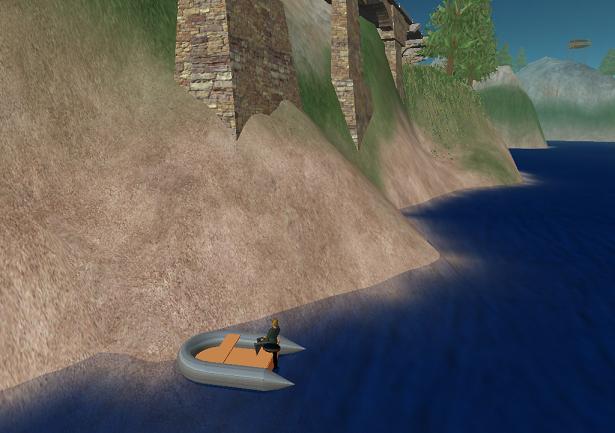 Once again, I take up my lonely vigil on the unforgiving, rocky shores of the Sea of Omidyar, gazing out at the endless synthetic blue horizon now lit by that watery new MIT college start-up sun, with the chill in my soul echoing the frigid depths of the Omidyar. Once again, they're booming the waters for a Missing Linden, this time Lawrence Linden, the LindEx developer, guru, and all-round economy baby-sitter who was known for signing every single post on the forums, "Cheers, Lawrence." Where is Cheerful Larry now? Gone from the People List — and not because he's on Lindy Stealth-Mode — his office parcel with the funny black box "Don't Click on Me!" (which of course everyone *did*) is gone from the Linden Land list.
A quick check at his alt's property finds a pile of rain-soaked plywood that has evidently been there for days, and no traffic or activity. No, Lawrence is gone — we can only hope to a better place.
I put in at the Forest of Kahruvel, as Linden sea prevents the rezzing of residents' boats. Then I gingerly hugged the shore, oaring past the treacherous undercurrents swirling at the Hand-Do-Eye-See Linden Logo stamped into the sinking sands of Omidyar. Perhaps Larry chanced a heroic swim for freedom, after being dumped out of a black LL helicopter that he was told "was on its way to a board meeting" — and I might yet find him shivering and cold, ready to tell me a teeth-chattering tale about the atrocious amounts that Supply Linden had to sell — devaluing our labour — and maybe…even buy?
Suddenly I spotted a clue…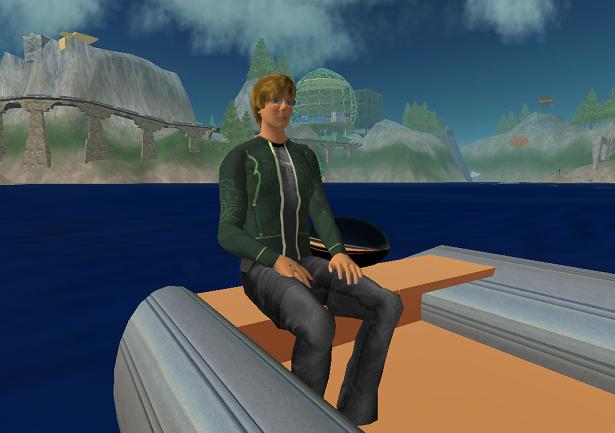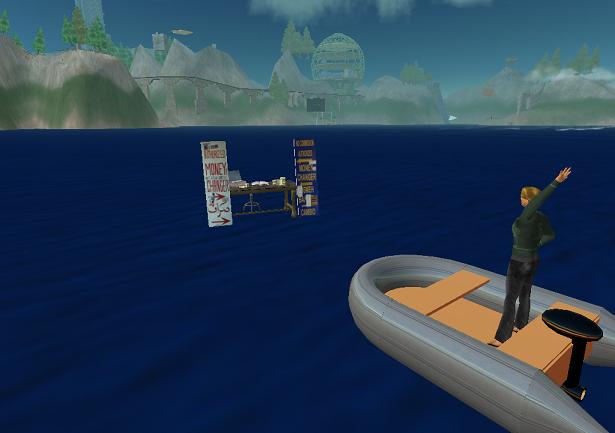 Up ahead, was some kind of sea-drenched wooden sign, the dripping inky letters still showing the words "MONEY CHANGER" in several languages.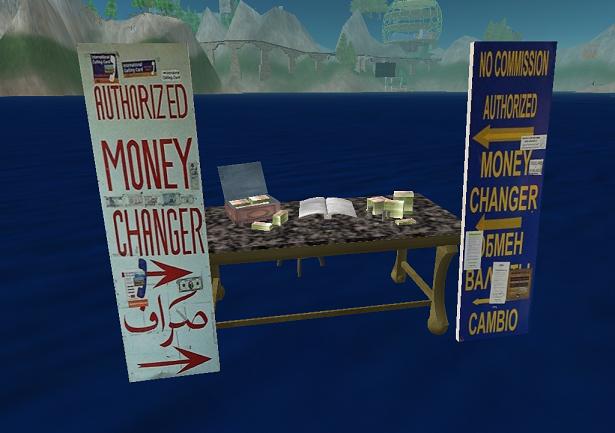 Right-clicking on edit mode on the OBMEN VALYUTY to stop the inevitable drift of my fragile craft, I roped myself in hand over hand on the XYZ axis….Yes, it looked like Lawrence's desk as I last remembered it, when we had a very terse conversation right after the Big Casino Cash-Out about 8 weeks ago. I remember dialing LL and asking him urgently to stop Supply Linden sales as there'd be tons of cashouts. He responded a bit grumpily — it was very late at night his time — to the effect that not even a point was going to be lost. He was right. I never knew how they did it.
Lawrence had been around for about two years, and was involved in the creation of the LindEx after GOM was GOM'd. He worked tirelessly to get the currency exchange up and running, and worked out all kinds of glitches. He kept at it diligently, trying to satisfy the needs of very different customers — small and large businesses, individual shoppers, and day-traders of currency — all of whom LL wanted to accommodate in some fashion. The ease with which we all use the LindEx today is largely due to Lawrence's hard work and sensitivity to customer concern — he always answered critical IMs by actually trying to solve the problem you mentioned — or show you that you hadn't understood something. He even came inworld to residents' meetings back in the days when there were no office hours.
With a background in leading a game design team at Ultima Online, I believe it was, Lawrence seemed eminently suited to the game of Second Life, but of course tried to take it beyond the game aspect. It's hard to know what made him leave, or whether he was let go, like so many economic-related gurus at Linden Lab, all of whom have left abruptly and silently, presumably with NDAs or golden handshakes or both, never to be seen in the gaming industry again.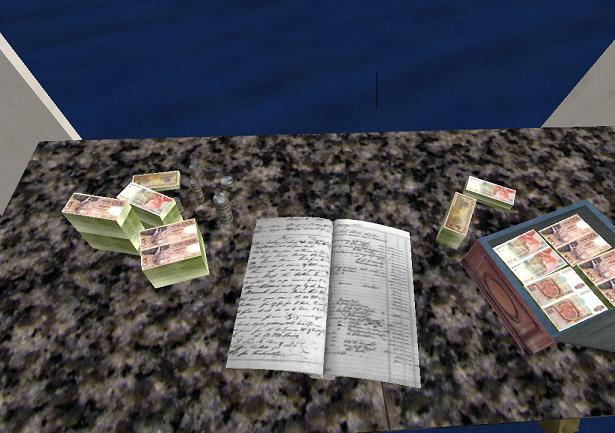 Pulling up toward the exchange booth, I found a water-logged ledger, with notations about Supply Lindens buys….but the sea had already claimed the figures, and we will never know what Lawrence's last posts and notations were…Nevertheless, I filmed the pages, hoping to turn them over to the Herald's forensic experts. Drawing nigh, I spotted a cash box overflowing with currency of an unknown country. Could Lawrence have been planning a get-away? Somehow, it didn't seem like him…and his alt was still visible — although who knows, maybe not for long…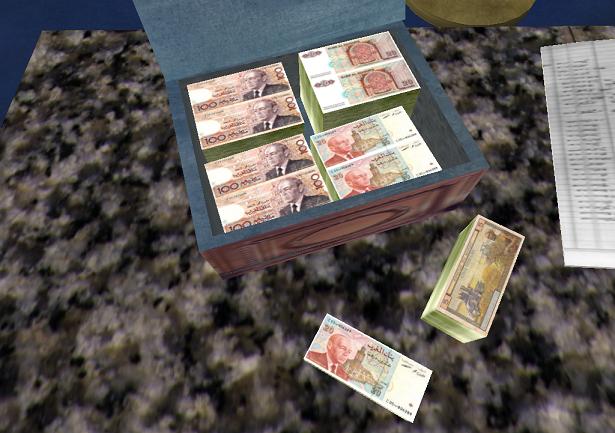 Shivering in the dawn chill, and noticing my inflatable was moving in not-so-lazy circles ever closer to the Maelstrom of Omidyar near the Hand-Eye, I pushed away, scanning the horizon.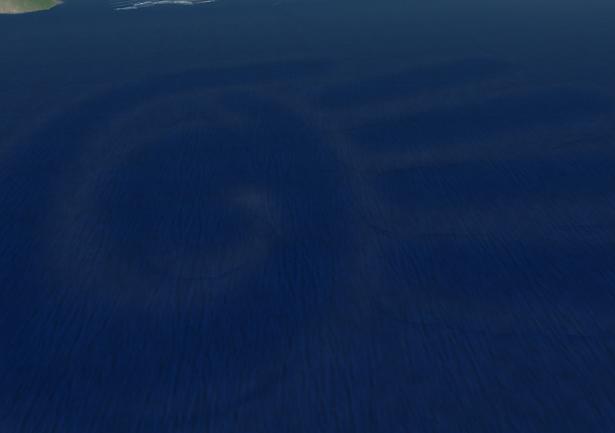 Another Linden lost…silently…ominously…perhaps gratefully…Another Linden to be sought in the endless swirling currents of the synthetic sea…I thought about T-bone…David…Kenny…that gal whose name started with G…Altruima…all the lost souls, all the Lost Lindens…
Will they ever be found? Will they ever level up to be Palindens like those luckier Lindens like Ben or Reuben or Hamlet? Must they ever be wailing and gnashing their teeth in Linden Limbo?
Lost Lindens, know that the Herald is always standing by, ready to take you in. We can assure you complete anonymity and a safe, new identity if you would like to give us an after-action report. Write me at dyerbrookME@juno.com if you want to tell your tale…and send up a smoke signal…a sign…anything…from the unforgiving shores of Omidyar….