by Pixeleen Mistral on 28/05/07 at 7:01 pm
Philanthropy and Recursive Reality at Sheep Island
by Carl Metropolitan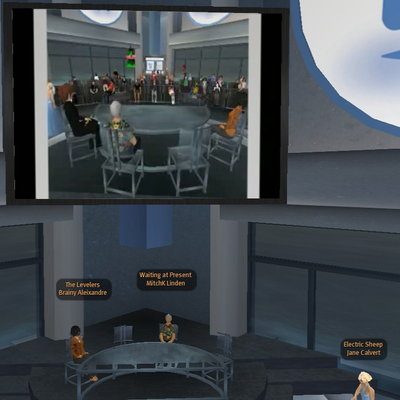 MitchK Linden, avatar of Mitch Kapor–philanthropist, Lotus Development founder, Electronic Frontier Foundation co-founder, Linden Lab Board Chairman, and Man with Resume You Would Kill For–made a rare appearance in Second Life Thursday night. Kapor headlined a mixed reality event promoting his Level Playing Field Institute held in-world at Sheep Island Auditorium, and in the ethereal mists of that scary place called Real Life, at the East Palo Alto Four Seasons Hotel.
The evening began–in typical Second Life fashion–with lots of people chatting in world while Jane Calvert of the Electric Sheep Company beat the video stream into submission, and Rosedale and Kapor's SL avatars appeared. As things were getting underway, the Second Life attendees were treated to the background chatter of the RL Palo Alto crowd on the video stream, providing an apt soundtrack to the SL text chat.
Philip Rosedale (not Linden–this is one of those mixed reality things, so please keep up) introduced the Level Playing Field Institute (lpfi.org), in an opening video. He compared the goals of LPFI, a non-profit founded by Kapor to promote a "level playing field" in education and the workplace, to those of Second Life, referencing his oft-cited vision of a young person in the third world making a Real Life living designing virtual clothes for Second Life.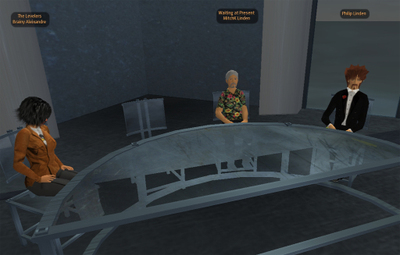 Rosedale spoke with genuine affection of the influence Kapor had over his career and creation of Second Life, again drawing a parallel with the LPFI's role in mentoring students of color at the high school and college level.
Another video followed, promoting the goals and projects of the LPFI, including SMASH (the Summer Math & Science Honors Academy) and the Initiative for Diversity in Education and Leadership (IDEAL) Scholars program. The LPFI video, full of the photogenic smiling faces of "under prepared high school students of color" and "underrepresented students of color" telling sad stories with happy endings, walked the edge between effective PR and evoking an uncomfortable "white man's burden" impression.
But the Q&A phase of the event chipped away at even my Grinchesque cynicism. Aided by Philip Linden (sans traditional codpiece of many colors), Kapor proved himself to be a far more effective spokesman for his vision than the PR types who had created the LPFI video. Kapor took questions from the audience, via IMs to Brainy Aleixandre of the Levelers (the LPFI's Second Life group), and responded via stream from Palo Alto while his avatar faced the audience at Sheep Island. Mixed Reality makes my head hurt.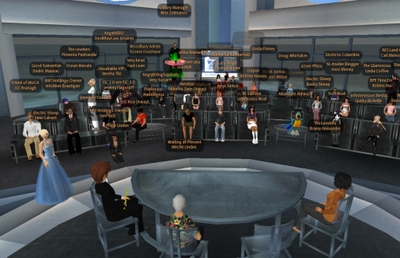 Kapor's passion for both the LPFI (and SL) was communicable; I went in to the Q&A somewhat jaded, and left thinking this guy may have something really cool going on. Other highlights of the Q&A session included
Kapor's comments that voice in SL will be "transformative", someone in a black (okay–dark gray) helicopter buzzing the building, and a perfect SL moment when Philip Linden's avatar crashed right in middle of things.
He handled with good enough humor, telling the audience (again via stream) "I did just crash".
So say we all, Philip. So say we all.