by Pixeleen Mistral on 11/05/07 at 12:25 am
by Tenshi Vielle, Fabulous Fashionista
I never knew Tuesday nights were so busy in Second Life.
This evening held three very big events in ESC history. The NBA made its virtual-world debut on the T-Mobile sim, while the Aloft project held a second grand opening and took questions from the attendees, and Robert Redford's The Green presented itself on the Sundance sim.
Torrid Midnight was hosting the NBA Headquarters opening day party, assisting people with utilizing T-Mobile/NBA sponsored HUDs to shoot baskets for prizes. The NBA Store holds jerseys representing the NBA teams, available for purchase at a lean price of $100L. Everything was incredibly well built and extrordinarily scripted; one wouldn't, couldn't, expect less from the ESC.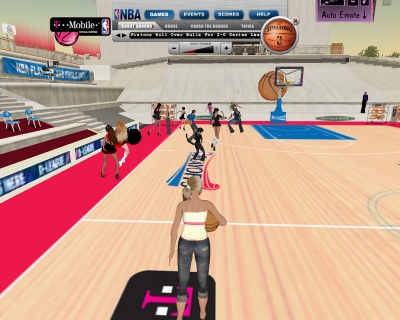 The NBA Second Life Court, where you can equip your NBA HUD, wear your basketball, and shoot some pretty awesome virtual hoops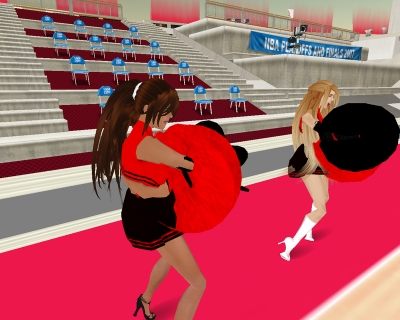 Amber Habsburg and her friend WhataFool cheer the competitors on, courtside
"The turnout tonight was great and people seem to really like the build," Torrid said between winning baskets. The build included an arena to pose your avatar with the famed Larry O'Brien trophy. The HUD included functions to do free shooting, HORSE, or to play NBA trivia. I had a lot of fun just shooting virtual hoops there with the other avatars in attendance. The NBA is the first professional sports league to unveil a headquarters in a virtual world.
The Aloft re-opening was mostly a short audio meeting (questions were taken from chat) about the future of the Aloft and what is expected to come – mostly, the Aloft project was revamped and now their developers are moving on. Real-life development of the Aloft is currently in play, and hoping to be finished this year. There is currently a competition to win the use of the Aloft's island for a year. Land use ideas are being taken until Friday, June 1st, 2007, and must be 500 words or less. Submit your entry to (email: cynthias@electricartists.com) Cider Starbrook by email or drop a notecard inside the drop box at the virtual hotel.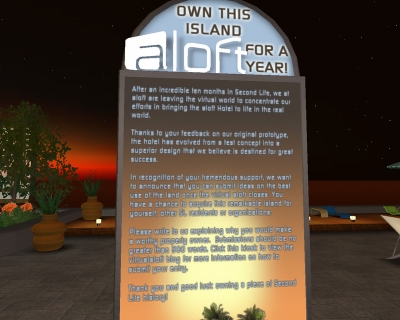 The Aloft notecard drop box for entrants to use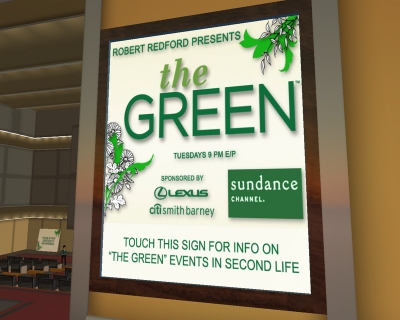 Is "The Green" a drop of water in the pond of a kinder, gentler Second Life fashion scene? God, I hope not.
The Green is focused on fashion: How can you look good while wearing "green" clothes? Clothes that benefit the enviroment, rather than detracting from it? This may be the appearence of a newer, kinder (at least, enviromentally) fashion community. Simran Sethi, host of "The Green" on the Sundance Channel, will be in Second Life for weekly discussion forums on enviromental issues and solutions. "The Green" forum will take place in the Main Screen