by Pixeleen Mistral on 09/05/07 at 12:54 am
How the hell did we get in this mess?
The Linden's proposed faux verification system and the wanton selfish destruction of innocence
by Inigo Chamerberlin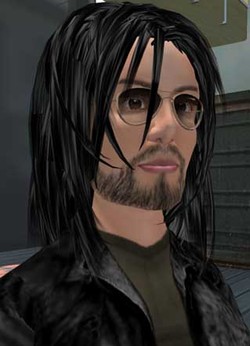 I intended writing this as a simple expose of just what Aristotle/Integrity is, using public domain information harvested from the 'net. However, I've been overtaken by breaking news. It's made this very difficult to write, difficult to try to write objectively. All I can say is, I've done my best.
Regrettably we now have the revelations about the so called "Age Player" investigation by the German authorities, linked to, if I can believe what I've been told the German media have revealed, the actual distribution of paedophile material in SL.
Both are unacceptable to me I'm afraid. The so called "Age Play" thing has always creeped me out – and no justifying arguments thanks, it just creeps me out, OK? Paedophiles using SL to distribute their material in SL? That is unacceptable anywhere, any time. There is no justification on God's earth for that. Every picture, every frame of video represents the wanton selfish destruction of innocence.
And THIS is where the decision to remove any form of verification has led Second Life.
I can't crow over the vindication of the views of the large number of residents who opposed Linden Lab in that decision. Not if it's come to this. However, I DO still feel that the proposed "verification" system represents little but a desperate CYA move on Linden Lab's part.
What's worse, I can't see it being effective. It was used by Anheuser-Busch, and as far as I know they are the only adopters thus far. And to say it wasn't an unqualified success is a gross understatement.
Effective – that's the key here. It's not going to stop anonymous paedophiles using Second Life as a place to distribute their wares. The only thing that might do that is Philip stepping down from his original ridiculous insistence that "anyone" should have access to Second Life, without having to identify themselves.
"Integrity" IS NOT going to do that. I'm not going to make comments about the people involved, I don't need to, check out the material below and you'll see what I mean.
I believe that returning to the previous system, where you had to submit a valid credit card and RL contact data to even sign up for an trial, which served Second Life well for several years is the only solution at present.
In addition I believe that a Pay-Pal like system of verification where your identity is linked to a RL bank account and verified by funds being transferred would strengthen the certainty of being able to link an AV with a RL person. And that, being imposed as swiftly as the system can be put in place, might be the only real effective answer to the mess Linden Lab has created.
One thing I'm furious at is the way Linden Lab has attempted to shift all liability to its residents. Now we finally have some idea – if the reports now surfacing in the German media are true – what that was all about, what they were proposing to do to us.
Declaring that residents would henceforth be legally responsible for all activities occurring on their land.
All comments on the subject being locked.
Linden Lab going silent on the subject.
Knowing what was happening.
There is a word to express my feelings at that behaviour – contempt.
Well, they can run away and hide in a corner – the standard Linden Lab reaction when things go wrong, or they screw up. But this time it won't suffice. This time action is needed. Rapid and effective action. Or they might as well pull the plug right now.
Below are a series of quotes/urls concerning Aristotle Industries – the parent company of Integrity, the company that Linden Lab has chosen after careful consideration to obtain personal information from us to "verify" our age and personal details. To cover their asses – they imagine.
Should anyone doubt the connection between Aristotle Industries and Integrity, simply visit their URL – http://aristotle.com/ There, got the picture? Now, read and click on and make your own mind up.
URLs with my brief comments should be quite sufficient for anyone to connect the dots. If anyone doubts the probable fate of any personal information imparted to Integrity – look no further than:
"Aristotle Industries, sells voter files on compact disc, diskette or paper copy. Includes phone numbers and demographic info. Order from 1 precinct to a full state. Aristotle also sells campaign management software. 205 Pennsylvania Ave. Washington DC 20003 1-800-243-4401"
http://www.ippsr.msu.edu/mplp/LinksCampaign.htm
They have been playing the same games in the UK too: http://www.secinfo.com/dV179.51Ec.4.htm
Here's an instance of proposal that Aristotle supplied Voter Database information be sold on and the Federal Election Commission response to that proposal: http://ao.nictusa.com/ao/no/910034.html
Interesting stuff here. Is this how LL found them? Or did they find LL? – see the list of Major Associations for Computer Engineers http://www.edasolutions.com/Groups/ComputerEngineering.htm
And on this list of Mailing Services in Washington, D.C., who do we find? None other than:
Aristotle Industries
(202) 543-8345 205 Pennsylvania Ave SE
Washington, DC
So, if someone's to lazy to do their own mail-shots, based on the data Aristotle sell them – they'll even do the mail-shot for the customer – nice: http://www.thecityofwashingtondc.org/mailing/index.html
In this UK Government sourced PDF, John Aristotle Philips tells the UK Government the way they should frame gambling laws – completely unbiased suggestions on his part of course, no vested interests there at all.
http://www.gamblingcommission.gov.uk/UploadDocs/Misc/lccp_respondents/AristotleInternational.pdf
OK, so, how would Americans react if a Brit tried the same thing in Washington I wonder?
And thanks to "TT" for this gem which first encouraged me to see what was out there:
"Aristotle International used a website to sell the lists, which contain details about registered voters from nearly every state. The data includes birth dates, home addresses, phone numbers, race, income levels, ethnic backgrounds and, in some cases, religious affiliations. Although voter-registration data is a matter of public record, 22 states have laws restricting the purchase or use of voter lists. Yet, Aristotle based in Washington, D.C., sold lists to anyone who wanted to buy them."
http://www.wired.com/politics/security/news/2003/12/61543
This was Aristotle jumping on the spam bandwagon back in '97 – worked REALLY well, didn't it?
"Aristotle Industries has struck a deal with spam king Cyber Promotions to launch a free service on Monday that lets any registered voter block unsolicited bulk emails, and penalizes promoters that misuse the information. The Washington, DC-based is putting some teeth in the program by establishing a US$1 million "performance bond" that will hold promoters liable for non-compliance, and compensate consumers whose email addresses have been misused."
Is it just me, or does Aristotle.com seem rather keen on Insurance, Guarantees and "Performance Bonds"?
http://www.wired.com/techbiz/media/news/1997/05/3924
Interestingly, Linden Lab's problem – of their own making, remember the introduction of unverified accounts on 6/6/06 – with Integrity is popping up all over now — I know Philip's a bit of a media whore, but there are limits to the sort of publicity a company like Linden Lab really wants I feel – check this out:http://www.brokentoys.org/
Is THIS really the path Linden Lab wants to go down? Funny, Integrity's web site doesn't mention the twenty three attorneys general, though they DO mention the Anheuser-Busch deal – which incidentally appears to be the ONLY customer for their web access age verification system so far – can't think why, can you?
"We chose Aristotle because of its experience in implementing cutting-edge identity verification systems that work quickly," said Tony Ponturo, vice president of Global Media and Sports Marketing, Anheuser-Busch Inc. "Aristotle's Integrity system will enhance our ability to admit only those adults of legal drinking age to our beer-branded Web sites." – While now twenty-three attorneys general have written to the brewer criticizing the company for not having better tools to screen underaged users:http://www.webpronews.com/topnews/2007/02/19/bud-tv-king-of-controversy
So, there we go, a few hours trawling the 'net and we come up with quite a few items, news stories and items of record from the US and the UK – none of which seem paint a picture of a wholesome, friendly, trustworthy data handling company to my mind. Of course, that's just MY personal opinion of them – and that of twenty three attorneys general.
What do YOU think?
I have a message for Philip Rosedale.
If you think Aristotle/Integrity is going to save your ass – think again!
You got Linden Lab into this, now you are going to have to get it out.
No attempted shifting of liability, no ineffective "verification system" is going to do it for you. It's time you did your job for a change. Good luck. Because I'd like to see Second Life continue, if it's still possible under these circumstances.