by Pixeleen Mistral on 30/05/07 at 11:59 pm
LL's rose colored glasses and color perception
by Inigo Chamerberlin
So, the WindLight First Look arrives, with the usual breathless Torley Linden intro. And of course, the now standard Linden chant of 'Jir AH! – Jir AH! – Jir AH!'. But to the point – WindLight. Linden Lab PAID for this? In fact they were so impressed they bought the company?
I've rarely seen more unrealistic, garish effects – something I suppose I should have expected given Torley's involvement.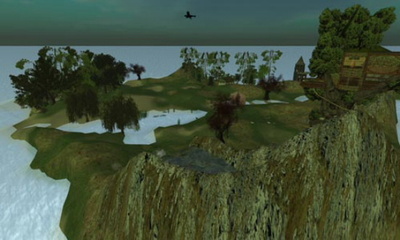 'Funky Funky' preset – who could have created this bizarre aberration?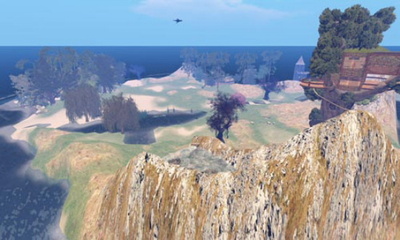 The 'midday 3' preset – Midday? Where? In hell possibly?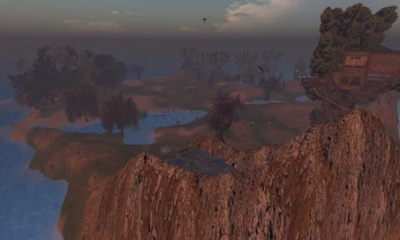 How about 'barcelona'? just what Second Life needed to make it more lifelike! Smog!
IF it came with some decent realistic presets (because most users will use presets).
IF it came with clouds that drifted realistically instead of hurtling across the sky at ludicrous velocity.
IF the controls weren't so touchy.
IF it were possible to punch numbers into it instead of relying on those twitchy imprecise sliders.
IF it had an 'OFF' button – because even 'Default' bears no resemblance to 'normal' second life!
AND, most importantly,
IF it were a global effect on my estate, rather than a 'one of, client based effect' –
then I might be slightly interested.
As it stands, it's nothing more than a silly set of gimmicky 'effects' that will do little but damage commerce in SL. Why? Well, run around with this junk enabled and nothing looks 'right' any more. Skin shading, clothes colours, reflectivity, transparency, etc, etc – all visuals go to hell.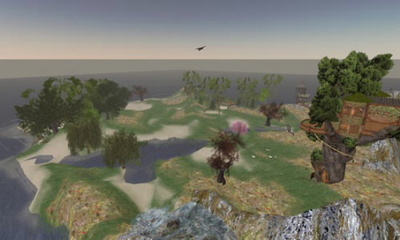 Here's what Second Life as we know it looks like – in case you'd forgotten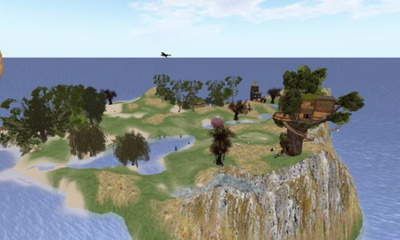 This ghastly mess is WindLife default preset.
SO that default preset is the 'best' WindLight can do? Though, to be honest it's possible to improve this somewhat to something more like the 'real' Second Life. The question is, why can't WindLife do better 'out of the box', as the default preset?
Until now, everything in SL has been created in a relatively standardised lighting environment. But with WindLight, that all counts for nothing! Countless hours of careful work by residents, wasted – and Estate owners can't even lock the system so that some measure of reality prevails on their property!
This is a really, really bad move on Linden Lab's part. Another 'shiny' gimmick no-one asked for that's going to damage the Second Life experience rather than improve it. They just don't learn.
WindLight should not be released under any circumstances until it's possible for Estate owners to override its use and impose sane, sensible lighting and other effects on their property – or disable its use entirely on their estates. Otherwise, given the visual disaster WindLight represents, many estate owners are going to see sales tumble as visitors fail to buy well made products – that now look like rubbish.
Linden Lab should bear in mind that the vast majority of residents aren't that keen on a Torley'oid world of oversaturated hyper bright colour and disco-like lighting. What Linden Lab should be aiming for here is realistic effects and allowing Estate owners full control – or at the very least, the option of an Estate-wide 'disable WindLight' function.
As an aside – it's noticeable that feedback by any method than the wretched JIRA is discouraged – to the point of letting the blog close at 100 and pointedly throughout the post referring people to JIRA. This is as good as, to me and many others, as saying, 'we aren't interested in your feedback'. When are Linden Lab going to realize this? To quote from the manufacturer's web site:
'JIRA is a bug tracking, issue tracking, and project management application developed to make this process easier for your team.'
So, what part of that did Linden Lab fail to understand?
It says nothing about its unparalleled superiority for handling customer feedback. Because there is nothing to say on that subject. The manufacturers realize it's useless for that. So why do Linden Lab persist in attempting to use it for that purpose?
The interface, as Linden Lab have customized it, is clunky, geekoid, difficult to navigate, unintuitive and incomprehensible. The words 'user' and 'friendly' were very obviously alien to whoever was responsible for setting this thing up – but still Linden Lab, and Torley in particular, seem obsessed with ramming it down our throats. Why?