by Pixeleen Mistral on 29/05/07 at 10:07 pm
Some residents concerned that BC bud may be to blame
by Bayesian TextBot
The Vancouver Sun reports plans by the Vancouver Police Department to begin recruiting new officers from inside Second Life. The thought behind this "sci-fi approach to recruitment" (sic!) is that no matter who they run into, that person must be web-savvy to have navigated their way over to the recruitment hall in the first place.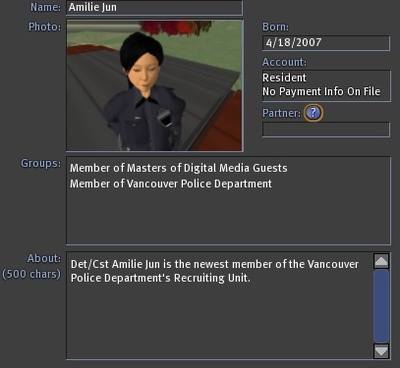 keep your hands in the air, and step away from the keyboard
All of this makes total sense, of course. Anybody able to log into SL must be highly qualified as a law enforcement officer. W-Hat PD ftw!
Members of some SL military roleplay groups voiced concerns about this new competition in recruiting talent, particularly because the RL police have better uniforms, but until the actual recruiting event occurs it is unclear how seriously these concerns should be taken. Those interested should visit Digital Hollywood Island May 31st between 5 and 7 pm. We hope we didn't lower the caliber of the applicant pool by reporting that.
If anything, though, the move suggests that perhaps the real-world police are a bit anachronistic. Speaking on the roles that these future recruits will adopt, Insp. Kevin McQuiggin, head of the department's tech crimes division said: "It's going to be interesting when we start to receive crime reports — you know, harassment cases or things like that — in the virtual world," he says. "How are we going to deal with them?"
This suggests that they're NOT receiving these complaints, and that nobody is calling for their assistance in these matters at the moment. Rather, this is a move toward anticipated demand for their future services.
Also, apparently, location doesn't matter either: "Even if an avatar represents a real-life candidate who lives in England or Germany, he says, they will be considered." No real details were given on how in the world that works. McQuiggin says simply. "I just need smart, tech-savvy people."
Indeed he does.