by Pixeleen Mistral on 26/05/07 at 11:23 am
Punk rock and memorials to perma-banned griefers
Decomposing Monstre banned & reinstated without explanation the next week
by Pixeleen Mistral, National Affairs desk
I was recently in Baku hoping for a two-for-one story – one group of goons griefing another group's event. While waiting to see if the Patriotic Nigras or another of the up-and coming goon gangs would show up at the W-hat/Something Awful 3 years in SL anniversary, I partied down in the filled-to-capacity Baku sim. Decomposing Monstre's video shows a sample of the scene, artfully edited to disguise the lag.
The party started quietly enough…
The party was in some ways a typical SL soiree – a DJ spinning tunes for the parcel's streaming audio, lagged out avatars with dance animations, and running commentary in chat/IM as the community socializes, slags off enemies, makes song requests and discusses the music being played.
But where was the organizer of the party? Word spread that Mr. Monstre had gone missing from the people list. Was he banned? For what? After a time Mr. Monstre began speaking to the throng via an IRC relay in world.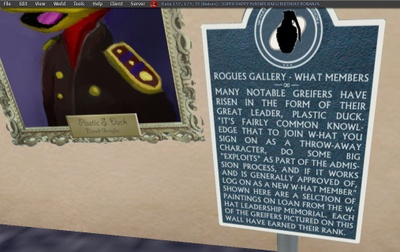 Plastic S. Duck – noted griefer
Of course, Baku is a little different that most other parts of SL. This is not a faux country club catering to the imagination impaired real-life-in-second-life wannabe corporate crowd, or the somewhat more adventurous gorean slavers, or even underage furries out for a yiffing hookup. No, these are goons who celebrate trolling for an outraged reaction to enhance their reputation as the astounding bad asses of the metaverse.
Conversation can veer off into somewhat unusual directions – like which Lindens are a soft touch, who got banned recently, and why. Decomposing Monstre's disappearance from the in world people search was not noticed until after Linden office hours, but a number of goons offered office phone numbers for various usually friendly Linden staffers, as Mr. Monstre's plaintive IRC chat was relayed in-world.
Celebration of getting banned from the SL game was the main feature of a 3 year retrospective build created for the party – including exhibits of grief balls from the early SL-wide grid crashes, portraits of the perma-banned outcasts from the game, and a section on media coverage.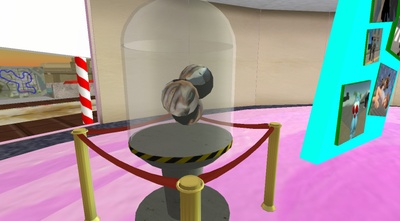 exhibit of early grid crash artifacts – self replicating grief balls
I panned my camera around looking at the exhibits while the Undertones "Teenage Kicks" kicked off a classic punk rock set – a perfect counterpoint to chat about goon drinking games and discussions of why someone's face has gone numb. If you want to feel like you are at a college party without having to smell the stale spilled beer – and without risk of someone worfing on your shoes – a virtual party scene is just fine.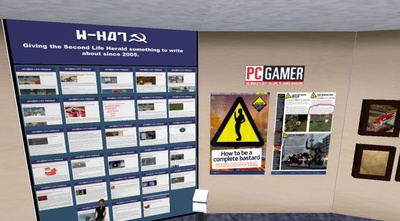 Giving the Herald something to write about
A strangely quiet and subdued Aimee Weber was in attendance – but her trademark purple wings took about 5 minutes to rez for me. When I asked if someone had clipped her wings I got a definite "eep!" from Aimee. Aimee understands the importance of her wings and name recognition. The W-Hat goons had some sort of drinking game going that involved drinks whenever an SL-celebrity came to the party – so Aimee was very welcome. The appeal of this waned once the sim filled and hopeful party people waited in the next sim for spots to open. This may have been what prevented a 4chan /b/ style blockade in Baku – could the other goons even get in?
The week after the party, Decomposing Monstre had re-appeared on the persons list, and he reported that after spending 3 hours the phone on hold he did get through to the Lab, give them his personal information and they turned his account back on without any explanation. We can presume Mr. Monstre used an alt to film his party machinma, but consider the harm to his virtual brand name should his avatar be perma-banned. On the other hand – that could have gotten him into the goon hall of fame.
The Lindens have never allowed that hobgoblin of small minds – consistency – get in the way of exercising their game god powers in Second Life. Transparency has also been a low priority, so naming, shaming, and explaining offenses in hopes of shaping some shared social norms is not generally on the radar at the Lab.
Then there are the bugs in the software that runs the world – bugs which the Lindens may not want to acknowledge. This leaves residents – especially those whose gameplay involves tap dancing on the edge of acceptable behavior finding themselves at times unexpectedly on the wrong end of the ban stick – or was it a problem with the database? We may never know.
If name and reputation are the true currency of the game, unexplained account disappearances – particularly just before the Linden weekend office evacuation – may be unsettling even for those who are not goons.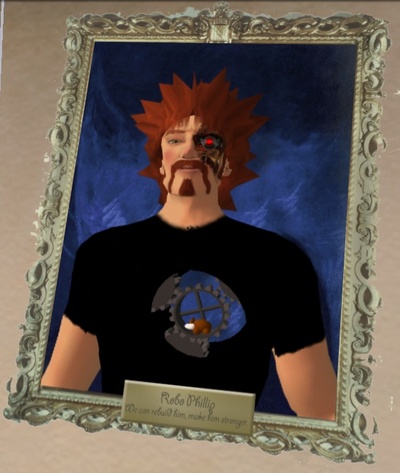 Robo Philip (goon hall of fame)