by prokofy on 22/06/07 at 9:12 pm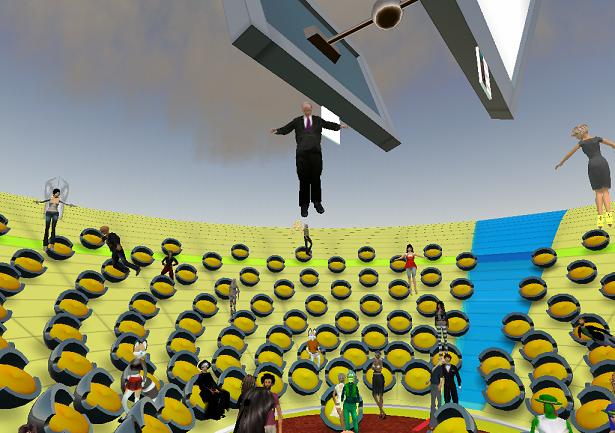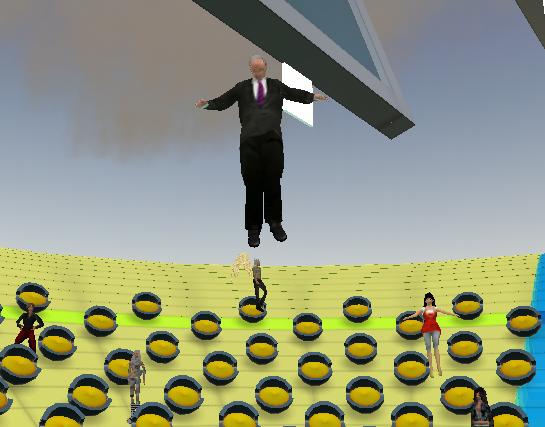 By Prokofy Neva, Community Affairs Dept.
In his real life as the President of the John D. and Catherine T. MacArthur Foundation, Jonathan Fanton probably has to fly thousands of miles to check out his many philanthropic projects and branch offices in other countries like Russia. Today was probably the first time he took flight in Second Life. So as the philanthropist lifted up a bit hesitantly over the laggy, crashy 4-corner crowd on the new private islands of Philanthropy 1-4, I sent him a Carbon X-Flight Rod to boost his elevation. I figured it might come in handy, trying to keep above the hype and undertows of Second Life…
The appearance of a RL foundation in SL — and MacArthur has set up an office with staff — is even more intriguing than the onset of big corporate presence in SL because it means that some serious intellectuals like Fanton, who was chairman of the board of Human Rights Watch for many years, feel they might actually use this wacky platform for making the Better World that Philip Linden always talks about.
As an event, the occasion was less than stellar, packing 200 avatars on to a very annoying bowl-like ampitheater that ensured that your view was full of green prim any time you tried to move. Still, even between crashes when your game monetarizing platform froze to a standstill, the audio was good, and they also had a blogtv.com back-up to watch. Still, the event was quite the historical one, as I see it, because I feel it was among the first times — if not the first time — that a figure representing "the humanities" dialogued within Second Life (the premier manifestation of the 3D Metaverse) in a very public and intensive way with a figure representing "the sciences" — to recall C.P. Snow's "The Two Cultures" for our time.
Fanton lost no time in asking Philip the money question: how do you make the transition from virtuality to reality? Philip replied rather literally that people meet on SL and even get married sometimes, and they meet and plan businesses and it takes off even in real life (like, say, The Electric Sheep). That wasn't quite what Fanton likely wanted to hear, as he said later he felt strongly that people in virtual worlds should be exposed to serious ideas — and here he echoed a mainstream concern, discounted by all the "serious games" gang, that virtual worlds are frivolous entertainment, or even degenerate, leading to obscenity, fraud, and other crimes.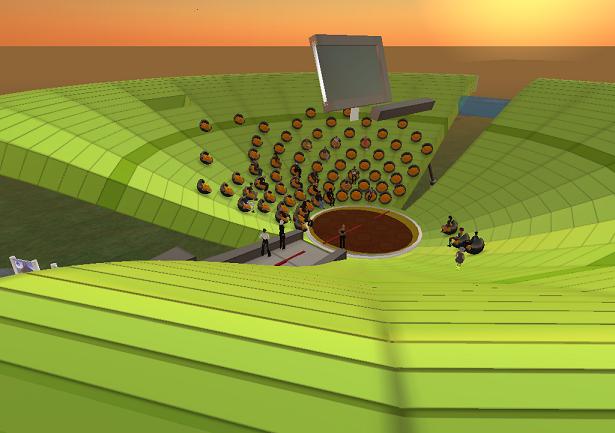 Philip could have mentioned American Cancer Society's Relay for Life, but didn't at that juncture; perhaps it's just as well that he answered rather awkwardly — precisely because it forces all of us here to think. What can you do *differently* or *better* in a virtual world, given that you can have your ACS Relay for Life in a barbershop in Nebraska? What's *enhanced* or improved in SL?
Philip's claim there is that virtual worlds offer more transparency — and I would add, more accountability. Of course, that claim is seriously offset by the anonymous avatar and the alt, and he didn't sufficiently grapple with that problem in this meeting. He meant, more likely, not so much the individual, as the corporate entity.
Someone asked about non-profits or NGOs in SL. Philip didn't quite seem to get what "NGOs" were (non-governmental organizations) — and began to talk about how most of the 8,000 sims are in fact owned by individuals, not corporations, who pursue social lives or businesses or projects on them.
I was trying to type into the chat then — but froze. In fact, there are several dozen leading NGOs already in SL, not just ACS or Global Kids but groups like International Rescue Committee, World Vision, Save the Children, Rapporteurs san frontieres, and others, even a special non-profit compound set up by Tech Soup on an island. Other than internal meetings and some promotional work and fund-raising, it's not clear what they *can* use SL for — yet.
Philip turned around the question then to Fanton. What did he think a foundation like MacArthur could accomplish here? What sorts of projects? Fanton responded that he thought a campaign on the ICC (International Criminal Court) might work given that a new administration in the U.S. might be persuaded to sign and ratify it (the U.S. reversed its support given in the Clinton era under Bush). He also felt virtual worlds were the perfect place to have the urgently-needed conversation about the sad state of affairs of public education in the U.S.
I stepped up and asked a question I wanted to go to Philip, but instead went to Fanton. What are the first three things to do, using a virtual world, about the ongoing crisis in Iraq, that has led to so many civilian deaths, murders of the leaders of civil society, our own soldiers from the Coalition, and the displacement of over 4 million people?
Fanton said he simply felt Iraq was too complex and too dangerous to travel to and didn't see a virtual world as a help there, and said earnestly that it really made more sense to work on some more "doable" (by contrast) issues like raising awareness about the attacks on civilians in Northern Uganda, or Darfur, where he felt support of organizations that worked in the field as well as individual involvement in volunteering for those organizations would be more effective, and could be transferred to virtuality as well.
I have my own answer. I've always said that while politics is the art of the possible, human rights is the art of the impossible. And virtual worlds are precisely what you use to tackle some seemingly complex and intractable problems like Iraq.
So my 3 things would include 1) setting up a tip jar to collect for International Rescue Committee or any of the other groups on the ground helping the displaced and educating the general public on the U.S. resistance to the issue; 2) picking some small microproject to support with even a very simple virtual build, perhaps the heroic little art gallery that has stayed open in Baghdad, perhaps only by putting a picture on one's virtual walls or setting up a display in a cafe — and trying to get in touch with the gallery's owner, somehow, or perhaps at least the journalists' corps in Baghdad that has covered his struggle, reminiscent of the cello player of Sarajevo; 3) convening what amount to "committees of correspondence" (the Internet of the American Revolutionary period) and discussing and arguing and working out some of the basic things to do, not only among those who disagree about it in the U.S., but bringing in Europeans and even those who are managing increasingly to access SL from the Middle East. None of these activities requires a grant; they require attention and presence which can be made very low cost in virtual worlds.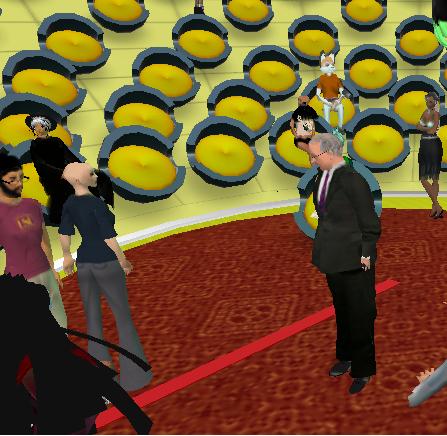 Naturally, Fanton asked about the downside of Second Life, the corporations pulling out for "security" reasons and the pornography. He may not have realized that corporations suffering "griefing" or what we might understand as "security reasons" haven't pulled out for those reasons, but more because they didn't get the ROI or eyeballs or massive attention they thought they would with their expensive silo builds on islands no one could see. In fact, Philip helped that concept along in this meeting by explaining helpfully that if you're a corporation in SL, nobody can see you! You're on one of 8,000 islands! So nobody *has* to see you. (However, as my newly-coined phrase has it, "In the Metaverse, everybody knows you're a dog.")
Philip explained that there was nothing that the makers of LL should be doing about the pornography — something that probably drew more than one gasp from those of us all made newly and acutely aware of the Broadly Offensive According to Daniel Linden. He said that all the makers could do is enable people to chose what they wish to see and not see — the sort of More Science High or Better Living Through Chemistry approach that says tools fix everything, you don't try to make people moral or better, you just limit their damage. Philip must have said a dozen times that he thought SL "empowered people" — but you fill in the blanks. Empowers them to do…what?
With more and better tools, these porn things will be less of a problem, he said, and anyway, the Internet has lots of porn, and you can just "not go there". I was so relieved that nobody landed on Fanton's head with their X-cite parts talking, the way they land on Philip's head during town meetings sometimes. Remember that time when he said "Watch it with that thing!"
I'll post a link to any video that will surely result from this meeting, and there will be more to come. The USC Center on Public Diplomacy has been given a generous grant by MacArthur to host discussions and activities around the question of how philanthropy can be used in virtual worlds and you contact the owners of the group MacArthur Foundation SL Events for more information.