by Pixeleen Mistral on 20/06/07 at 8:42 am
by Tenshi Vielle, Fabulous Fashionista
Elexor Matador Jewelry has made some serious L$s lately, what with all the fan press they're getting. Problem is, they may be ripping off Cartier and various other high-end, real-world designers. Just how much money is involved? Elexor made 25 of the faux-Cartier pieces, and is selling them for L$10k a piece. L$250,000 is when it starts getting interesting. How similar is the design? Check it out for yourself: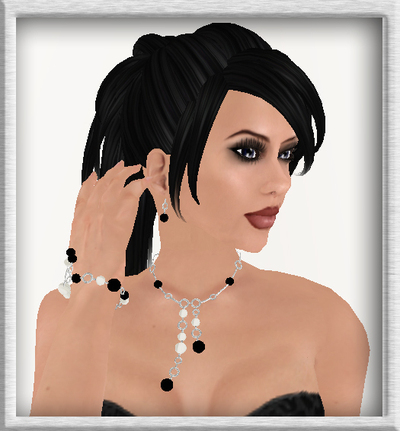 Elexor Matador design "Limited Edition" for the opening of his sim, only 25 sold
The resemblance is uncanny. The avatar that tipped me off was not pleased, and said, "It just seems so unethical to me… I really don't know him at all – but I would be PISSED if I found out that I paid $25,000L for a hack design no matter how well executed," she said, "…its not much better than the people who rip textures and resell them."
That opinion is open for debate, however, and many people have different, occasionally conflicting thoughts on the subject. I caught up with a few designers to get their opinions.
Emma Gilmour said, "well, I think that if they realize that it is not really ethical to do that, and continue to do it, then they are guilty. But I can say for myself that getting the hang of SL being an ACTUAL virtual world, I didn't take it very seriously for a few months after I was already designing, and at the time was photosourcing designs from RL brands, and making lindens from it. It wasn't until later as I got more and more USED to SL, that I realized that it was in fact copying, and I stopped doing it. The truth is, if you're making money off of it, it should be your own design unless you have permission."
Judging from Emma's answer, it is simply the passing of time that will make you realize that copying is bad? What if they're a "high-end", much blogged designer? Does that make it worth pursuing?
Nylon Pinkney: ripping off completely isn't cool, but putting your own style on it
Tenshi Vielle: Well, that's how I mean. It's blatantly ripping off not just spinning it into something new
Nylon Pinkney: i mean i cant say i totally disapprove
Of course, Elexor Matador isn't the first avatar that may have to ripped off a RL brand. There is another in-world shop called "All Emerican Outfitters" that imitates two RL brands, American Eagle and Hollister. Same font, similar shop layouts, and it appears that the reason the shop was named "All Emerican" was so they could draft off American Eagle's famous "AE" logo.
"Antie [of Artilleri] and I were banned from the shop for discussing how badly they (Emerican) are ripping those RL brands off," Emma Glimour tells me, disgusted. "The shop owner wasn't even there when we were doing it." Apparently, the shop owner has listeners set up in her shop and bans anyone making the comparison. If you dare go against her, speak in IM's! The shop owner already has a long list of bans on her property.
All Emerican Outfitters is currently in a rebuilding process, and they are making their shop appear more like the inside of a Holister shop – dark, dank, and sexual. "You won't be disappointed!" said one gal standing inside the AE shop when I went to visit. Well… yes. I think I will be.
Check out the few pics I was able to pull from the new shop's build and decide for yourself. Pay special attention to "their" logo.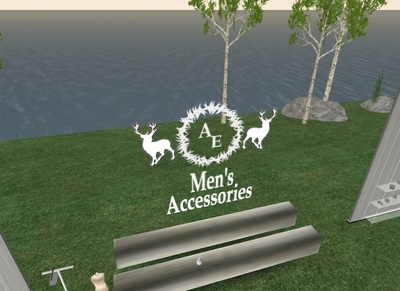 where have we seen this before?
I find the idea of taking someone else's designs, logos, and names entirely unethical. Not only that, but it is quite possibly illegal. Do I smell a copyright lawsuit? Why is this practice so common in Second Life? Should the creators be paid simply because they took time to make a product, or does creativity count?