by Pixeleen Mistral on 03/06/07 at 9:34 pm
True story of how hermaphrodite hyena turns humans into furres via intercourse!

[An exclusive first hand account of how human avatars are turned into furries. Names have been changed to protect the yiffilicious from the officious. If you are (i) at work or (ii) under 18 or (iii) easily offended by things like yiffing STOP READING NOW! -- the Editrix]
by Leda Swanson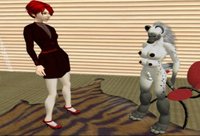 Those who know me in SL know that I am not the kind of girl to serve a master, and yet one day, as I stepped back and took stock of my place in SL, I realized I had become a slave. Not literally, or it would not be much of a story as there are thousands of slaves, pets and subs in Second Life, but figuratively. No, my enslavement was in the form of addiction and my master was furry. I had grown addicted to sex with furres, and I could see no end in sight.
After my first couple of sessions of furry sex I knew I was hooked. I found myself picturing little scenes from the night before at work, growing excited and distracted and though on the inside I was in heat, my friends assumed by the level of my distraction that I was in love.
As the months passed, I had developed a wonderful circle of gorgeous lovers with a variety of looks and styles and preferences. A wonderfully powerful and dangerous looking black werewolf, a slim fox with an enormous package that hides in a white fur sheath behind a tasteful collection of silk loin cloths, a voluptuous she-leopard and of course my mighty white lion, the furry that started it all for me. The lover I kept coming back to the most was Starfire, a wonderfully articulate hermaphrodite, a sexy shemale hyena whose specialty it to transform humans into furres via intercourse.
Over the months as our relationship developed, I thought more and more about Starfire. Her four nipples, her gorgeous little sheath that housed her incredible cock…it was all so primal and sexual. I imagined myself more and more as a creature, as a furre, what it would feel like to have humans worship me the way that I worship them, what it would be like to look down and see a human looking up at me the way I look up at them, I found myself with that familiar tingle between my legs as I pictured myself, a RL woman, brandishing a big SL cock. I went to Starfire and told her to transform me. She agreed I was ready.
She took off her loincloth and told me to strip, and as I did she prepared her cock for the transformation, shooting a load of her delicious semen across the room to make room for her magical seed. Moaning, I dropped to my knees and sucked her hard, tasting her always turns me on wildly and I hungrily attacked her cock, as I did, I felt a tingling near my spine, then a feathery brush and a cool breeze, as if something were fanning me. I turned and moaned as I saw a brushy tail had grown from me.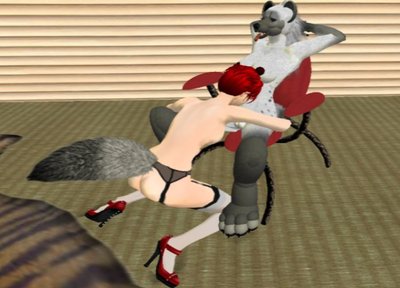 Thrilled, I mounted her cock and took it into me, my human skin had always made me feel more naked than usual when I'm with the furres, and now it rippled with gooseflesh as I slid onto her. Moaning I saw a big black animal cock of my own spring from my sex, I moaned, delighted, as it grew bigger and bigger.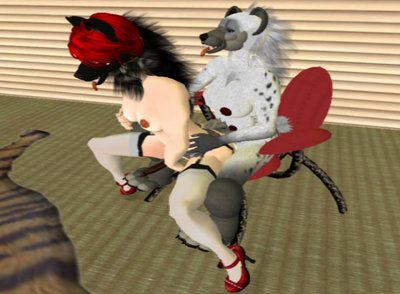 At the same time, the hair on my neck and head stood up and tingled and I knew I'd reached a point of no turning back. My skin began to erupt and grow fur, a gorgeous black and gray leopard fur, my nipples grew red and sensitive and my face formed into a muzzle. I looked down at my new beautiful black cock and thought I might have an orgasm, though Starfire told me to hang on.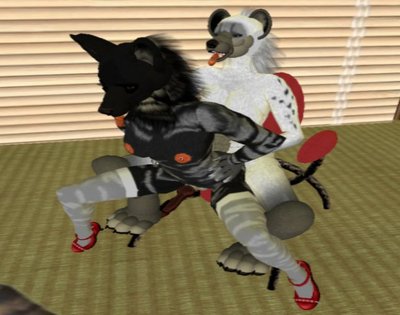 I kicked my shoes off as my feet became swollen and turned to paws, and that's when I could hold back no more, Starfire came with me, just as I erupted, my first orgasm from my first cock.. I came in real life too, looking at my magnificent new body on the screen.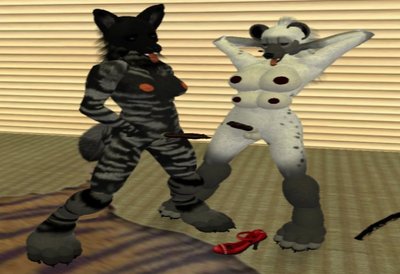 I now have humans look up at me, both men and women, as they fondle my furry sheath waiting for a look at my cock, the way I used to look up at furres. Would you like to be next?