by prokofy on 06/06/07 at 3:05 am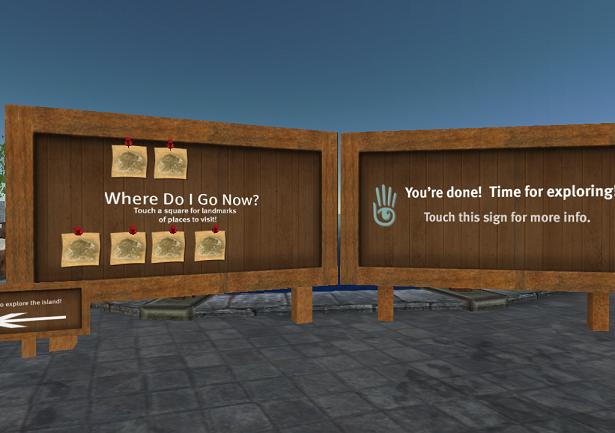 At new AzureIslands Welcome area: helping others is helping oneself to a full roster of paying tenants.
By Prokofy Neva, FIC 2.0 Watch
Linden Lab finally officially announced today a plan that has been in the works for more than a year: funnelling the newbie sign-up stream to a dozen or so of their favourite business partners to take over the care and feeding of new residents — a job the Lindens have proven spectacularly bad at. By their own admission, there is a less than 10 percent retention rate for new registrations after 60 days. The portal plan enables a select list of companies chosen by Linden Lab to have first crack at the growing onrush of customers coming in the door — anywhere from 20,000 to 30,000 a day or more — to see if they can make them stick. The list of chosen companies aren't surprising as they represent not only some of the businesses I predicted in my last official forums post of June 2005 would become more powerful (remember Cabinhead lol?), but new U.S. and international partners: Azure Islands, NMC Virtual Worlds, Big Pond, The L Word, the NBA, SL Netherland, Mainland Brasil, STA Travel and Dreamland, and others.
The three main international portals, for Australians, Dutch, and Brasilians are emblematic of the increasingly large population of non-Americans in SL, and LL's eventual plan to locate servers in other countries, were presumably they might then be liable to local laws.
What's disturbing, however, is the use once again by the Lindens of a word that will grate for some — "community". These businesses are "the community of partners Lindens want to work with," but they are businesses. That's why I'm calling them "business portals" — they aren't "community" portals when at least 3 were built by, and evidently still managed by the leading metaversal services company Electric Sheep, and the rest all relate to companies interested in this project as a business. They aren't the devoted volunteer or theme-related communities long associated with recruiting and taking care of new members in Second Life. There are quite a few groups that already take care of new people — New Citizens Incorporated, Luskwood, and The Shelter come to mind — but it's clear that what LL wants here isn't oldbie hand-holders in furry avatars or fairy wings or elves, but slick, professional ad men like the Sheep who made L Word for Showtime and NBA, and STA Travel, as well as well-connected digital new media education groups like NMC, and then major language communities as well like those they've chosen for Brasil and Netherlands. Portaling is a business; the communities that were first to emerge on the grid are non-profit and often disorganized or plagued with SL's performance problems.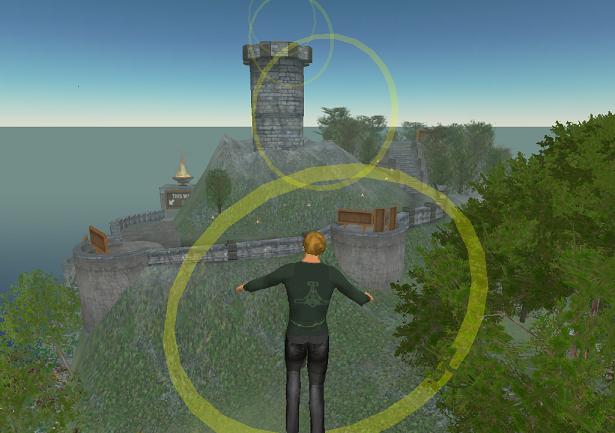 Groups that want portal privileges have to fly through some hoops — prove they can manage newbie orientation and build registration applications.
Who could complain about LL, a private company doing what it thinks is right to market its product to new customers, selecting by its own lights the partners they wish to work with for their own reasons? Well, 70 people in the thread about this already for starters — although most of them are complaining about LL's focus on what they see as yet another new gimmicky and untried project, while big boo-boos like the massive and mysterious reset of passwords go unsolved (discourage old users to make room for new users to try out portals??). (I was told that all those who have used the support portal had to have their password reset due to "changes" in the portal — whatever that means).
But surely we can get over our gripes and praise any initiative that helps new people climb the incredibly steep learning curve of SL? Haven't we all "been there"?
PUZZLED AND INDIGNANT RESPONSE ON THE OFFICIAL BLOG
The portal plan is likely to draw a variety of responses, ranging from indifference to curiosity to anger that "indigenous groups" that feel they are already prepositioned to handle newbies are being slighted in favour of companies with more marketing power. So you don't have to hear it from me — everybody knows my theory about the FIC already — let me quote one of the posters who is troubled by this new policy:
Athena Whizenhunt Says:June 5th, 2007 at 6:56 PM PDT

All of this is confusing to me, I am a paying member of SL and work hard to develop traffic to my place. As I understand this, all I need to have is Lindens' approval to shuffle newcomers through my place to increase traffic flow. Linden already directly competes for traffic in the skiing category and has shuffled me through their sim as a "nearby location" when TP's aren't working properly–currently. As I understand the reports 80,000 paying customers are supporting the rest of the residents of SL–almost 7 million. I think rather than have a giveaway in traffic numbers to Lindens' favorites, Linden should concentrate on the actual problems that occur with SL itself, I have been unable to access textures, crashing occurs frequently, building is impossible during peak times, and entire sims have disappeared for hours at a time.
Maybe it's just me, but I think these issues need to be addressed before Linden makes decisions to artificially support traffic numbers for different groups. Some of us try to do well here, lately I have been discouraged with the way Linden has been "adjusting" things to accommodate the "world community".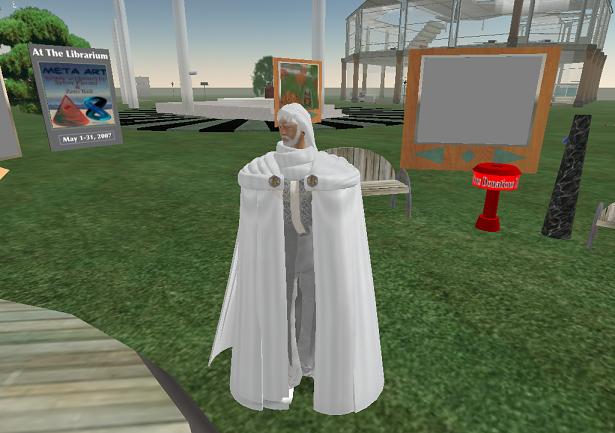 Slow-rez textures and a portal-master dude at Info Island.
Athene is plaintively describing how she sees the situation — and of course many others in her shoes — Lindens are once again not only competing with their own customers, they are selecting some customers they like better and putting them in highly-privileged positions for economic windfalls at others' expense — at best — and the sort of grind and exhaustion that comes with heavy customer orientation without retention — at worst.
Athena and others like her feel as if they work hard for the money, pay a lot of tier, and are among the minority of land-owners and content-creators supporting "the 7 million sign-ups". So they wonder why Linden even keeps content-rich sites siphoning off traffic to themselves, and why Linden picks only some businesses to handle newbies and doesn't give others a crack at them — in realistic ways that don't involve having to hire coders to make up special registration applications on the Internet or even have to staff WAs 24/7.
TECHNICAL CAPACITY FOR MANAGING NEWB INFLUX?
The arguments against opening this up to a wider list of newbie-helpers who would both help newbies and gain customers are the usual elitist and tekkie arguments — Gwyn Llewelyn will be along any minute now to explain patiently and a bit condescendingly that anyone who wants to can just go and get the open-source registration API and make their own community. But who has the capacity? And is that what it's really about?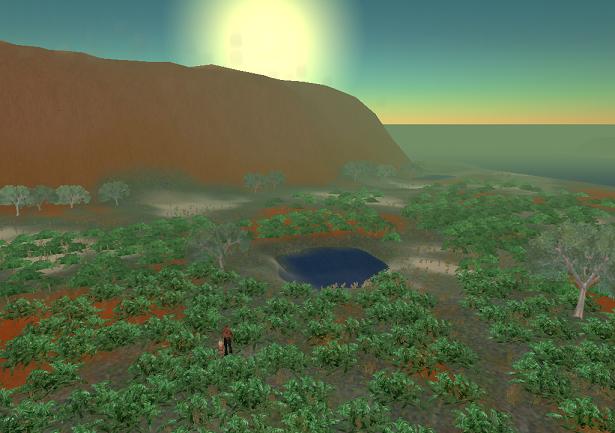 Two newbies in deep conversation, scorning their building classes and prim lessons, out in the Out Back.
Having followed this somewhat winding and twisting story over a year (Reuben nee Linden Steiger Millionsofus was the first to work on the concept), I have to say that almost without exception, these "welcome areas" didn't come first, with their registration APIs, and THEN the Lindens picked them; the Lindens brought closer those who were already close, and urged them to get on board. (The exception is Anshe Chung Studios, which has long had a welcome hub and staff on hand to steer newbies to starter plots or various themed sims; Azure Islands, while smaller, has also created opportunities for newbies, but only just finished building a welcome area for this project today.).
L-word also does a great job of educating and orienting newbies interested in the Showtime television program about lesbians, and no doubt other Sheep-sponsored sims do as well — the proof will be in the pudding, however. I didn't see a single one of these portals tonight with anything near the traffic of not only existing infohubs but also popular clubs and malls.
It's clear what LL needs out of portals — but why are these businesses signing up? A company like ESC doesn't really need newbies and their micropayments — they aren't an inworld business. But what they do need is to be able to say to LL and their clients and backers that they can have mass consumer intake and management for…whatever it is that mass media and mass entertainment will have for the masses. That remains to be seen. We're a long way from helping people take a box off their heads, people. We're helping old media profit centers with diminishing advertising revenue in RL create profit centers in new media, in what is essentially the cost center of SL — cost center now, until people figure out the magic bullet for keeping customers.
A TRIP AROUND THE PORTALS
A quick trip around some of these so-called "community portals" revealed that some were far more rudimentary than the concept of a special customized API and experience would suggest. To my surprise, one thing I discovered was that both Anshe Chung and Guni Greenstein were missing from the People List [Update: this was apparently a glitch in the "search" function and reportedly a temporary problem with access via China Telecom, the ISP, but they are visible again]; the group Dreamland wasn't working for chat (that SL bug happens to big groups a lot, and some are nearly dysfunctional at this point). No one at Dreamland could be roused, but they may be experiencing the password lock-out and billing problems that have plagued numerous denizens of the Metaverse these last few weeks. The orientation hub had plenty of self-explanatory information, however, and residents strolling around who simply volunteered answers. In my experience, when the group is working, staff response is pretty quick.
I was no longer able to make an alt — LL now not only demands your real email and real name, if you give it, it will give you a message telling you that it reserves the right to limits alts. But a resident was able to confirm that when people come to the basic Second Life sign-up page now, they will be directly taken to the "community portal".
Naturally, I *did* wonder what happens when a non-lesbian is taken to L-word, and a non-basketfall fan is taken to NBA but I imagine that it can't be worse than getting flying penises directed at your head in the WA, a common experience in the regular welcome areas. And NMC, if it feels its traffic is sagging, might consider re-naming itself the E-word and inviting lesbian basketball players to hang around its welcome area.
Traffic at welcome areas and infohubs has been way down lately, seemingly out of step with increasing sign-ups — which themselves still show a dip. It's the time of year — and some say the negative press on topics like "ageplay" and casinos and griefing.
The irony of all of this is that the newbie windfall is now being directed mainly to companies that in fact have least need of micropayments to sustain themselves, as some of them live from real-life contracts outside of SL with real-life corporations, or have foundation grants. And I found from talking to a few that not only were they unprepared for a newbie influx, at least one commented frankly that the whole point of getting new customers is to increase business and income.
And rentals businesses like Dreamland or Azure — or for that matter my own company of Ravenglass — don't have to especially funnel newbies — they come in droves, they drop out of the sky, and it's really a matter of how much staff time and customization you can throw at them. Helping newbies is at first an expense, and only a return on investment if you help them retain. Still, the sheer numbers, especially of those coming in on a stream to friends or colleagues or communities of like-mindedness or nationality, are a significant revenue stream.
Those who participate in the program are likely to wave away any criticism by indicating that "anyone can join" and that "it's a lot of work". Of course, anyone can join if…they can clear the hurdle of making a registration API, and prove to LL that they can handle newbies — and the criteria for that isn't clear.
Some welcome areas I found were empty of staff, or had one harried person still trying to finish building –it seems LL dithered for awhile then sprang this project on them. Others frankly said they weren't sure what they'd do with the newbies, weren't quite ready for them, and had merely responded to LL's request to help with the overall orientation problem. Still others had been in existence for awhile and had lots of content waiting — but not many takers yet.
AZURE ISLANDS
I spoke with Adam Zaius, owner of Azure Islands, who is in the program. "There's a random % of new signups being shown a page where they can pick a start location from anyone who's got a regapi site up. There's like 10 other places in the list at the moment, LL posted a rough list on the blog a few hours ago," he said.
So as people sign up, they are randomly delivered to the "portals" where hopefully, their experience might be a little better and more intuitive and easier than the regular WAs. The infohubs that residents have designed with their own content and help cards are for the most part unstaffed — few groups in SL have the capacity to pay staff or manage volunteers except large businesses.
At a few of the new portal hubs I found the standard bland Linden issue for orientation, in the form of those wooden signboards that look like they came straight out of a parody of Camp Iwannalayu or something, making you expect a surprised beaver to pop up if you click on them.
INFO ISLAND
One, the Info Hub, run by SL Library 2.0, had someone called "a portal keeper" but he wasn't dealing with *this* portal project and couldn't answer my questions; my frustrated round of teeth-gritting over the non-intuitive SL Query interface was unable to garner any response from helpers lounging around in the area "on duty" and talking about RL stuff. I clicked on bunches of stuff and stared at boxy builds in the distance and read about events that didn't grab me — and judging from the traffic, they weren't grabbing a lot of other people, either.
BIG POND
At the Big Pond, the new Australian portal with 11 sims, I found traffic only in the 600s on most of the sims. Unlike every other portal I visited, however, this one was distinctly geared toward the actual fun things that people actually do in SL — as most of the masses come in do not go to the library and struggle with accessing queries and databases in laggy SL, and do not watch shows about lesbians on television, but go to heterosexual clubs and dance, or click on other activities like "fortunes" or "shopping". The language/country sims, if they stick close to what people actually want to do, will likely do well, but it might turn out that the last thing that people want to do coming into SL is hang around on their own country's island, they may wish to leave it as quickly as possible.
MISSION STATEMENT?
I discovered more than a distinct new paint smell in these hastily-built welcome areas in most places; although some had staff, their sense of purpose was not clear. When I asked one person why he had signed up to get newbies, he frankly replied, "I am not sure." In another, it seemed the sim's efforts were directed to a pre-existing community that they would get and retain regardless of — inspite of? — LL.
Asked if the portal concept was one they were happy with, one organizer who spoke on background only said he wasn't sure if the idea would serve either LL or the organizations chosen; while able to serve their own constituencies, they might prove unable to cope with the raw flow of sign-ups off the secondlife.com website.
A BETTER WAY: OPEN REQUEST FOR PROPOSALS AND PERMISSION TO ADVERTISE IN WAs
Is there a better way? Sure. First, let companies with staff and deep pockets who can code up regapis make them and steer in their existing RL customers or filter out the Internet's masses who self-select to come to their theme. Let them pay for and run their own WAs and share their data at least to LL — and better yet, to the general public. There aren't enough of them to cope with the influx however and keep the masses happy — these groups selected, except for the rentals, represent niche interests groups or national language groups. But that's not good enough to handle the whole crowd.
Next, put in more welcome areas — they are all overflowing when traffic is up and tend to be laggy. It's a cut and paste job on any new sim — or even open up more to open bids for resident development. Then — and here's the curiously controverial part — *Allow them to have advertising on billboards or signs in the areas, and to have recruiters*. In short, legalize the system of touters who take people to clubs or other activities, and encourage (instead of browbeat) the legions of eager advertisers in SL with services and goods for newbies who are happy to help them in the course of serving them as customers in their venues or stores.
*Let them advertise and organize welcome committees*.
If the advertising space is rotated if free and enough walls are provided, and and/or if there is a system where people can purchase the top spots the way they purchase classifieds, the market will be free and fair.
Sure, there will be sex palace madames trawling for escorts — but you get that anyway, and there will also be all kinds of other basic service companies as well as themed sims whose owners would be more than glad to put people out on a schedule they can manage to orient new people. By enabling residents to enter the newbie orientation project at any time, at any level, with any type of content, in as much or as little as they can muster, the Lindens could be harnessing a lot of strength and boosting the economy as a whole and really helping newbies, instead of steering newbies to their insider pals, harming the economy of people who used to get those newbies, and ultimately losing the newbies. Because here's what Lindens need to hear about portals and newbies: the businesses already paying 80 percent of Linden Labs' bottom line with land purchases and tier are the ones sustaining on their parcels the 40,000 concommitant logged-on avatars remaining in SL. Instead of stiffing these people by bypassing them with old and new business pals, let them at the newbie stream, too.
A more open system is unlikely to happen any time soon, however (I'm confident it will eventually) because a tiny minority of forums-gripers and connected oldbies will scream that allowing advertising of goods and services in the WAs and Orientation Islands is "commercialization" and "crass" and "bombarding da poor newbz with ads" and subjecting them to those evil sex clubs. Even if the Safer SL gang could keep them out, that other thing the Lindens and their friends fear just as much gross sex — crass mass commerce — would come in and *gasp* serve newbies and then ruin their NPR-like master plan.
Sooooo….instead, we get the uh…non-crass advertising of big corporations who are already the most successful in Second Life getting just handed for free the huge windfall of new customers. It's the usual commerce SL-style, which is more reminiscent of state capitalism or oligarchy.
Except for the rentals companies, then, most of these companies have other agendas and concerns, from consulting business to education, which, while legitimate aren't necessarily putting the needs of new customers first, or making them the center of a conscious business plan to serve customers.
And even if they work very hard at this, they will be competing with each other in the chaos of SL. The urbane podcasters who might want to land at NMC will contain some European lesbians who will be peeled away to L word and some b-ballers who flee NMC for NBC.
What would make more sense? what would be the way most RL companies or non-profits would handle a job like this involving a huge influx of people?
ALLOW ADVERTISING IN THE WELCOME AREAS

In addition to allowing a free market of goods and services flourish in welcome areas, publish a request for proposals, and create an open and transparent bidding system. Rather than just reach the same old friends on the well-worn rolladex, or new friends carefully cultivated for loyalty and "comfort level," put up actually publicly accountable criteria for what needs to be accomplished. The time frame of 4-6 weeks is short, but enough to see some results — but the mission statement has to be stated clearly. Rentention of 2 percent more avatars within 60 days? Increase in LindEx purchases over 90 days? Higher attendance at classes? Whatever the metrics are, they should be put in the RFP.
The "control" for this experiment should not only be the welcome areas left to their own devices as usual with all the projectiles, but an interesting other element to put in would be non-RFP participants who just decide to get involved on their own. In fact, people with businesses who would like traffic and who have things to offer newbies should themselves simply turn out helpers now and increase their activity and show what *they* do to retain newbies and show LL their group lists or rentals lists or whatever it is they identify as metrics even if they are not professionally organized.
But here's a pro-tip, Lindens: stop calling something like this "community". No community was formed to decide this. No community spoke. No community was consulted. Some *businesses* that are your friends were pressed into service for your own goals. That's fine — just don't call that "community".