by Pixeleen Mistral on 25/06/07 at 8:43 pm
SLB Crowns New Champions and Other Things You Didn't Know
by Jimbo Quality, Military Travel Desk Deputy Officer
Saturday night I was just about to plant my ass in a nice camping chair over at Parrothead Gamers (ParrotHead Cove 128, 128, 27) when someone IM'd me and asked if any of the "Herald War Reporters" were online. I wondered what they were talking about and why they were IMing me, when I remembered that I am a Herald Reporter and have access to such info. Never been trusted with that kind of responsibility before, I was nervous. It's like when Deputy Fife answers Andy's phone.
I TP'd to the office and looked at the official Herald Reporter tracking device. It was a choice between me, editor Pixeleen, Prok, and aurel Miles the sex columnist. "You got me or the sex girl," I replied.
"That's ok, we got it," they said.
I offered them Prok. Still no.
Intrigued, I begged until they let me come cover whatever they were doing, and with obvious reluctance they sent me a TP. I landed at the start of a championship fight in SL Boxing. In a title bout that 99% of the residents of Second Life knew nothing about, Akayla Ayakashi and Katty Nakanihon won the SLB Women's Boxing Teamed Champions Title Belt at the SLB gym on Long Island (235, 245, 22). Honestly, I was surprised to learn it was going on, and I was there.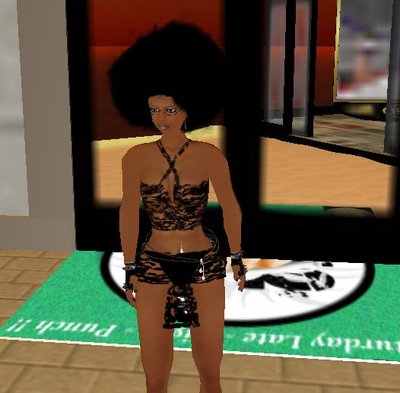 Sarah Vega enjoys being 'the shit'
The combatants, four women, two to a team, hopped into a very nice ring and chased each around for several minutes wailing and flailing at one another whenever they came close enough to wail and flail. After two minutes of furious fisticuffs, our announcer, SLB PRO 6.6c Boxing System Attachment, and his partner SLB BOXING SYSTEM v6.51, shouted "Areth Gall has been KO'ed by Akayla Ayakashi!"
Later, Drev Vega explained that "The system is an attachment worn on the chin, you train to progress in levels which gives you points to spend in 3 stats. Strength, Defense, Speed." Then someone explained to me that Vega had won the men's solo championship earlier in the night. I called him "Sir" the rest of the night.
There is an amateur division and a professional division. Once you accumulate enough points as a fighter you get the option of moving up. You can actually improve by training and in fact I met a professional SL fighter trainer, Donnell Chapman. Since training, from what I heard, is just a matter of "Wear the system and /1 train" I'm filling out my application for the position of professional fighter trainer as soon as I file this story on the mojo wire. Female boxers outnumbered male boxers in the room at least two to one.
I listened to many more people tell me lots of nice things about boxing. I met Chanel Alcott, the Amateur Women's Champ, who is actually trained by Donnell Chapman. She looks forward to turning pro and fighting her way to the top. Alcott says that boxing "gives me an adrenalin rush and a purpose in life. I work hard through dedication and determination..and owe it all to my fiancé Joe and my inner strength."
Another boxer, Sarah Vega, related that she enjoys "winning and being the shit."
Beavis Tuppakaka, owner of SLB gym, explained that people wishing to get started with the sport "purchase the slb amateur public system and train their way to level 100 at which point they may ask to go pro for free and earn pay at pro shows." (It is my understanding that the system is in the ballpark of 1500 lindens).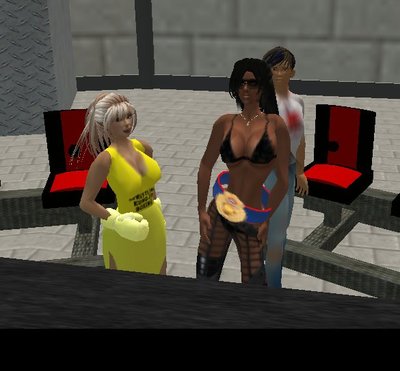 Talking trash outside the ring
As I said, many more people talked to me, and all of them were enthusiastic about the sport. And I can understand that, it did look like fun. By then though I had maxed out my reporter skills and hard started to hum and do a softshoe shuffle ball change step over and over, which I really didn't believe I actually did during interviews until Pixeleen showed me the videos. I made my usual "Gotta go, crapped my pants" excuse and got out of there so I could get back to Parrothead, get a good chair and wrestle this story into submission.
So there you have it. Jimbo Quality, ace reporter, scooping the sex desk yet again.
Vote for Jimbo