by Pixeleen Mistral on 20/06/07 at 9:43 pm
How does an assassin end up in charge of an established city basically overnight?
by Humdog, Gorean Affairs desk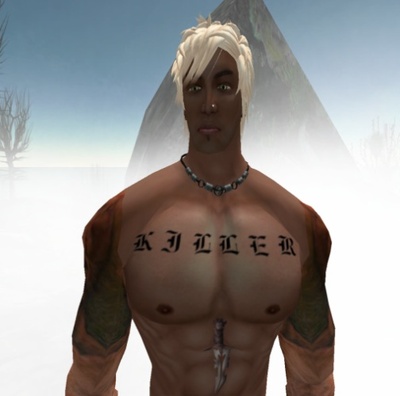 Sinister Dagger – black caste assassin
Humdog: hi — i'm talking today with Sinister Dagger, a black caste assassin, member of the Black Hand, and the new Administrator of Tyros. Welcome Excellency, and thank You for coming — smiles
Sinister Dagger: Thank you for having me, it's a pleasure to be here -smiles-
Humdog: smiles — can You tell me — how does an assassin end up in charge of an established city basically overnight?
Sinister Dagger: Well I've been an outlaw, a merc, a wanderer then found my true home, a caste that i belong to, the blacks, as in relations tyros Alex has been a great friend of mine so does step they both mean alot to me i wanted to keep the city ran by the "local crew" I've reserved some property in memory of rama, the man behind tyros who past away sadly..
Humdog: You are referring to Ramayana Yin? who died last fall?
Sinister Dagger: Yeah, That's the man who made tyros a beautiful city.
Humdog: smiles — for those of us who don't know — could You tell us what is a "Black" and a "merc"?
Sinister Dagger: Well black is a strict caste, we lurk in shadows we keep ourselves to just that ourselves, we do not kill unless we're on a mark, nor are we allowed to FC or force collar slaves a merc is kind of like red caste, they can rape, torture, kill for just pure fun, where i must be paid in black gold for my services…there's much more to a question like that, but they're some basics.
Humdog: tell us more, please — i am curious because You compare black caste to scarlet caste — the warriors — and i wonder, with all respect, how your definition runs into the red caste's concern with Honor…for example, do You hold to the Codes — the Aphorisms that drive warriors?
Sinister Dagger: Sorry, IN IM's and skype does not help, Yes i try to uphold the blacks codes, i Don't attack Freewomen, i don't touch slaves and i never kill those whom are not marked..
Humdog: are the Black Codes different than the Scarlet Codes?
Sinister Dagger: Well in these times of how Gor is ran I've seen plenty of red caste kidnap and rape free women, they're turning out more like outlaws each day -laughs-
Humdog: smiles — the problems in Gor right now are intense — particularly those revolving around the idea that a lot of sims are owned and run by women with men as sort of figureheads or mouth pieces.
Sinister Dagger: Yes, it's funny you should mention that, was just hearing someone say the same thing, however providing each person tries to play their role that they choose to correctly with the most upright correct knowledge that they may know, then it doesn't matter whom owns a city, it's all about the person being the best at their role..
Humdog: well — i can see Your point, but it is distressing to go to a Gorean city and find the first girl telling the warriors what to do – laughs — tell me…
Sinister Dagger: Well in that case the men allowing IC rp to be spoken in such are weak, a slave talked to me with lack of respect i would cut them ear-to-ear and ask them to hold their tongue.
Humdog: smiles — how did you come to choose Your role?
Sinister Dagger: As an assassin? Well, OOC wise i used to stir up the blacks i used to refer to them as the pink caste assassins -laughs- i had taken down a reasonable amount being an outlaw not really understanding or taking much knowledge as i could into the roles of such that being an assassin, once learning a little more come to realise a true assassin fits my personality somewhat quite well as it does for others such as Surbus, Lykin , Vincent and Randi they're some very great people indeed..
Humdog: nods — one of the controversies I've heard discussed is whether or not a woman can be an assassin — does Your caste admit females?
Sinister Dagger: Hell no, if it did i would depart in my ways, this is Gor alot of other castes are messed up, at least this one is true to it's colors -laughs-
Humdog: there is one female assassin i believe in, i think, port kar… i could be wrong — but i think that is, or was, true.
Sinister Dagger: Well that's news to me, the last fake black i seen i cut the dagger from his forehead and then stabbed him in the heart on the port rarir docks as the sunset..

Administrator Dagger demands respect
Humdog: wow — so you would not see a female who said she was a black caste as a true member of your group?
Sinister Dagger: No, she certainly would be no blood of mine, If she claims to be an assassin in front of me i would terminate her.
Humdog: i see
Sinister Dagger: As would any other true black caste assassin..
Humdog: nods — a few months ago, the Second Life Herald ran an interview with an admin of a city called Tancred's Landing — the city is gone now — and in that interview the Admin alleged that the Black Hand took protection money from admins of cities or tried to get it. He had a rate sheet from a man called Merc Battery. Do You know anything about those charges of alleged extortion?
Sinister Dagger: No, isn't that what marcs should be doing?
Humdog: i don't know — thought you might
Sinister Dagger: my services don't offer protection, only the promise of that whom is agreed to be marked by my elder, this is why assassins are allowed to RP kills in such as safe zones etc, we shouldn't abuse our rights or our codes..
Humdog: by "marked" what do you mean?
Sinister Dagger: Mark, someone who's been paid in black gold to be terminated/murdered.
Humdog: ah, good thank You.
Sinister Dagger: alot of blacks these days run sims -laughs-
Humdog: at the time of that article, it was alleged that Alexandar Vargas was paying money to the Black Hand. Does that allegation have anything to do with Your becoming an Admin?
Sinister Dagger: I've changed tyros somewhat downscaled into an outpost -grins-
Humdog: i see
Humdog: but the relationship that Vargas is alleged to have had with Black Hand has nothing to do with that?
Sinister Dagger: With sim lag and such i like a good LAG FREE sim to be able to have decent combat in
Humdog: that is certainly understandable
Sinister Dagger: Certainly not, he's my blood and believe my master Assassin, my loyalties are for my blood no matter what, but that is not the reason, i know how much tyros means to alot of people and I'm friends with them all could say i'm just "nursing" it, but i'm sure i will be able to bring tyros more traffic then it has been used to seeing -smiles-
Humdog: that's good to hear. Smiles. does the Black Hand have leaders, and if so, would You be willing to identify them? what are Your plans for Tyros in the near future?
Sinister Dagger: Well if all goes well, i shall rebuild the city of tyros, but much darker not so pretty and lag chewing, buy a sim next to tyros and turn that into Outlaws, Panthers, Pirates … well those are my goals but for now i just opened today at 9am SL time so far so good -laughs-
Humdog: smiles — is there anything else you'd like to say to readers?
Sinister Dagger: Yes a little if you don't mind?
Humdog: yes please
Sinister Dagger: firstly i would like to ask the Gorean community to please try to stick in IC while doing so remember the role you choose to play it's not all about the mouse click it's what you can come up with in interesting roleplay scenarios, i would also like to thank the Second Life Herald for finding interest in me to do a little story….oh and i haven't forgot to mention if i may a huge Thank you to the people who created Tyros for it's opening today which are, Satine Cortes, Jamie Northport, Randi Duke and Minx Ashton …please remember goreans keep OOC in your FirstLife not Secondlife -smiles-
Humdog: thank You, Admin. i really appreciate you taking the time to speak with us today — smiles