by Pixeleen Mistral on 24/06/07 at 12:25 pm
Philip Linden locked out, Pools Closed, and other marketing best practices
by Pixeleen Mistral, National Affairs desk
Video Linden shouts: Philip can't get back in
Morgaine Dinova shouts: Look at it from the point of view of all the people trying to join the party but stuck outside: the griefing is the only party enjoyment they can see.
Rhaorth Antonelli: tell him to keep trying just like we have to do
Word spread quickly – a rare in-world appearance of de-facto king of the world and head of Linden Lab – Philip Linden – was imminent. I was chilling in Club Vogue with Marilyn Murphy and Artemis Fate, wondering about the rat placement in the Herald's techno-pagan themed offices next door.
Getting the rats right is important – this was all part of the Second Life 4th Birthday celebration – a very serious business. Most media companies are still sorting out how to use the metaverse for "immersive and engaging marketing" by hiring expensive consultants to help with the virtual world's rats – but that's not how we roll at the Herald.
Eventually I decided that adding perhaps one or two more rats would give us that certain edginess our readers demand – something like Philip Linden's rainbow codpiece. Marilyn and Artemis weren't interested in listening to Philip's address to his citizens – but the public needs to know – so I put on my reporter tag, IM'ed Prokofy Neva, and headed to the SL4B sim – which was full.
Not to worry though. Certainly the Lindens would provide repeaters for the Philip Linden's triumphant address on this glorious occasion – they have been doing this sort of thing for years, after all. If anyone can stage an event that showcases the best of the resident's creativity and the LL technology it would have be the Lab itself. Looking forward to a case study in how to delight virtual cartoon characters in a magical universe, and enjoy a stirring speech from the king, I asked around.
According to the announcement, there was some sort of stream – which nobody could get to work. I could see why, since my web browser had never heard of mms://videolinden.serverroom.us/videolinden, so I decided to keep trying to get into the event sim – just like everyone else.
Emergent behavior of the green dots
I've heard Philip Linden talk about emergent behavior in the past, and it would have been nice to ask him if the lines of green dots on the map around the outside edge of the event sim are an example this. The green dots were people trying to fly into the sim, and bouncing off the edge because the sim was full. For the next hour, residents of Second Life bounced off the sim walls trying to get in, and formed a neat line at the border of the space. Emergent behavior does seem interesting in a theoretical way – unless you are one of the green dots.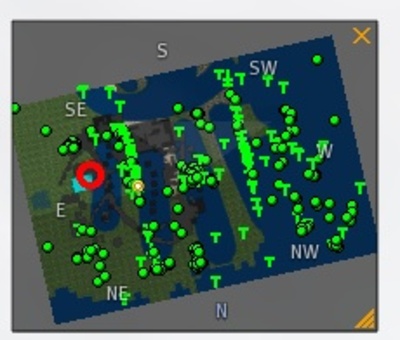 Locked out residents form two fronts at the border of the event sim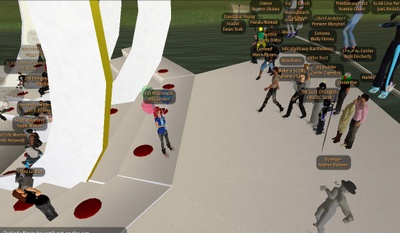 Mia Linden <3 Volunteers - but has a wall protecting her event from the rabble
Outside the event sim, the crowd of green dots was in an ugly mood:
Mony Dabu shouts: I WANT IN
Pussycat Petshop shouts: did the video URL work for anybody??
Tempest Carter: nope didnt work for me
Butters Hunt shouts: no i cant get the video to work
Pesho Replacement shouts: its not on yet
Bebop Vox shouts: how do you watch an MMS? is the right question lol
Vincent Tuttle shouts: OPEN UP YOU FUCKING LINDENS
Geminian Teazle shouts: As long as all the Lindens and the Media are in the sim where Philip Rosedale is, that's all LL care about
Geminian Teazle shouts: Why do you suppose none of us plebs were allowed in that sim before it was almost full?
Opal Straaf shouts: You cannot enter SLB4 the server is full
Geminian Teazle shouts: Open Source, yes … but CLOSED SIM LOL
Opal Straaf shouts: I know they should have planned better
Geminian Teazle shouts: Opal … think about it … their planning is perfect … no one who would complain, can actually get IN the sim LOL
But the fun was only beginning, as Wrte Aabye – a brand new resident of Second Life born that very day – started directing people to a nimp.org web site that crashes web browsers saying that this was an alternate location for the live stream. Shortly after that a notice on how to report griefers appeared and Wrte Aabye disappeared.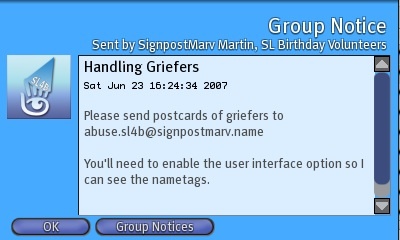 Linden's private party?
Eventually I got out my telephoto lens and steered my camera into the event space where I saw plenty of Linden staffers – but not many residents.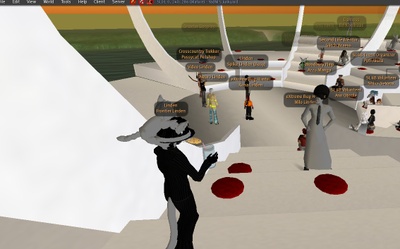 Lindens and a few close friends
The Lindens were letting their hair down – Spike and Kona – two LL staffers – put on uber-griefer Plastic Duck avatars.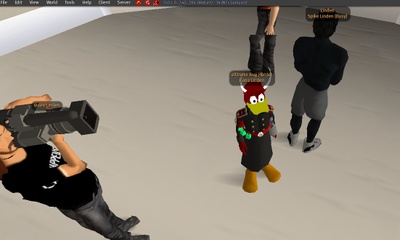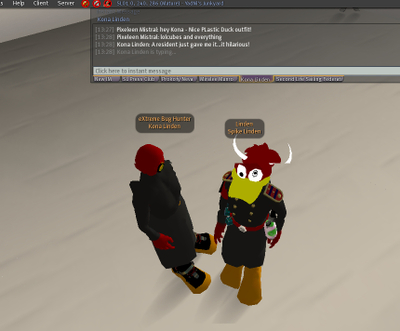 I'm still trying to work out how sending out announcements about King Philip's speech, then packing the event space with Linden staff is "immersive and engaging" – but perhaps the Lab knows what they are doing – I met an old friend while bouncing off the sim boundary.
After a Linden staffer force-teleported Prokofy Neva into the event, someone could finally tell us what was happening. Word filtered out that Philip Linden had crashed and his client was not working, so he could not get back in-world. This news did seem to engage and delight the residents with their noses pressed to the glass, and soon we were treated to an impromptu particle display courtesy of some /b/tards. Virtual world events don't get any better than this.
From the inside of the event, chat logs were being relayed on notecards out to the barbarians behind the plate glass – but this was after it was clear that Philip Linden was not going to be back. So I have no idea what he actually said – if anything.
Video Linden shouts: Philip can't get back in
Morgaine Dinova shouts: Look at it from the point of view of all the people trying to join the party but stuck outside: the griefing is the only party enjoyment they can see.
Morgaine Dinova had a point – while I never did see Philip Lindens I got the message that the Pool's Closed, although there was no mention of AIDS – that may be a strictly Habbo Hotel phenomenon. Eventually the Lindens turned off the Pool's Closed /b/tard spam.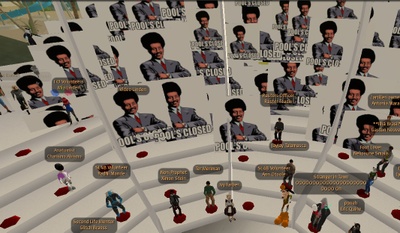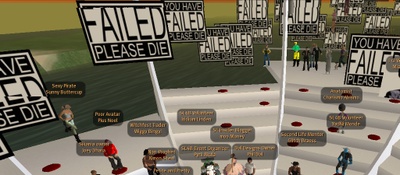 Rhaorth Antonelli: tell him to keep trying just like we have to do
Rico Roizman shouts: ahahhahah now that is funny
Gala Alva shouts: lmao he cant get in…. LMAOOOO
Glitch Braess: phillip was in?
Sunny Buttercup: phillip cant get back in? hmmm interesting i thought he was the sl god?
Gala Alva shouts: video thats sad lol… the man himself cant get in here,lol
Rhaorth Antonelli: um can not get into the sim, or into SL
Iridium Linden: Folks, Philip can't get back into the client. However, he will be back later.
Video Linden shouts: You'll probably catch Philip later checking out the anniversary sims, so be sure to check out all the cool builds!
Iridium Linden: You are welcome to stay.
Thomas Shikami shouts: Sorry folks, POOL'S CLOSED thanks to blocking
Glitch Braess: Philip did a speech?
Iridium Linden: Well, Philip was here for quite some time earlier. Let's give him some credit.
YadNi Monde: he said Secondlife was much like the initial dream he had since he was a kid and he was proud and happy to see it living with us all inhabiting and creating and all
Later Saturday evening at least one of the birthday celebration sims wanted some special Linden love, and by this morning it was back online – or perhaps it crashed and was brought back online more than once? I know that some objects I placed on another sim in the SL4B estate magically poofed – but anyone involved with SL for more than a couple months should be used to that sort of thing.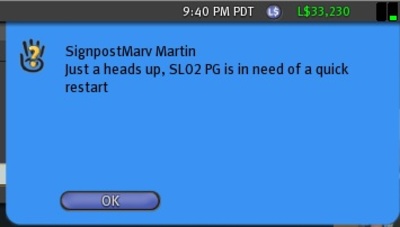 Gentlemen, restart your sims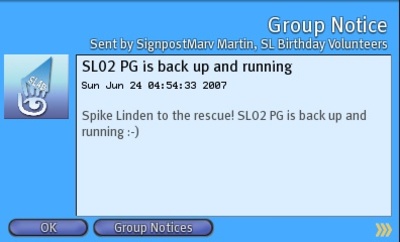 It's up
Back to the techno-pagan newsroom
Eventually I went back to the Herald SL4B newsroom exhibit and looked around. With a pentagram on a floating altar, a golden buddha backed with steel plate, and cuneiform writing carved into the walls by some elderly sumerians – I think we are getting the right mix, but I wonder about the Lab and it's leader. Was Pools Closed a part of Philip's dream when he was a kid? Did he want to live behind a plate glass wall?