by Pixeleen Mistral on 30/06/07 at 10:13 pm
"We Are The Strange" is going to become a part of the Creative Commons. Remix at will.
by Onder Skall, New Media Journalist
[this review arrived at the Herald offices a few minutes ago - written on a used notecard shipped inside a plywood cube. Audrey in typesetting has been reminding everyone that union rules call for time and a half for staying late, and so we are going to run this as is - think of the scrawled notes part of the experience - then go see M Dot Strange's movie "We Are The Strange" in a venue where you can IM your friends. - the Editrix]
If there was ever going to be a single event to announce the dawning of "the new media", it was last night at Ars Virtua Gallery in Second Life. A few dozen avatars gathered together and watched a movie. We were sitting on either side of a border between two sims, and right on that line the movie screen projected "We Are The Strange". It's an indie animated film by M Dot Strange. Here's his official bio:
"Legally insane professional weirdo. One man evil animation studio. Like's ramen and udon noodles, the Oakland A's, coffee, and wearing mismatched sox. Says the word "hella" like hella. Used to be a video game thug rapper wearing a Powerglove and touring public toilets. Made "We are the Strange" because grey aliens from the future programmed him to do so. Lives with a green screen and a bunch of rattling computers. Made over 70 live action and animated short films and one live action feature before "We are the Strange" Has a bike. M dot Strange is from the future."
Independent film makers will look to "We Are The Strange" for inspiration for decades to come. The stopmotion was all shot with a Canon 300d and basic Canon lenses, the 3d modeling, animation and rendering was done in Cinema 4d 9.1, compositing with After Effects 6.5 Pro, and editing by Final Cut Pro 5. The final product is 94 minutes long, in full HD 1080 (1920×1080 at 24fps), and took 2 Macs, 7 PC's, and one guy: M Dot Strange.

He made this entire movie on his own. It took him three years to do it. You've never, ever seen anything like it.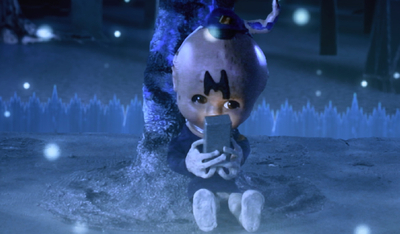 How can I describe this movie? Its a highly subtexted story about a boy and a girl looking for an ice cream shop in a city of monsters. Viewers are bombarded by imagery from 8-bit video games, religion, and nursery paraphernalia. The soundtrack is incredible. The visuals are stunning. The script nails it. If you "get it", if you sit there and let it all sink in and really try to comprehend the bombardment of your senses, you will change.
So we're sitting there in our office chairs around the world (mine being a truly craptastic bit of plastic and almost-cushion), watching our computer screens together. We've conquered Second Life's bizarities, stuck with it, and now we've earned the right to navigate our avatars over to the Ars Virtua Gallery to sit them in some virtual seats of their own.
We all hit "Play" at slightly different times, so the movie is a little out of sync, but even though at any given moment we're all seeing something a bit different, we're still together. Our eyes flicker from one corner of the screen to the other to cover the local chatter and the IMs coming in, not to mention group notices. The beginning of the movie is an introduction to a video game. We choose to play as a "camera", and the story begins.
Since we're watching this through Second Life, the quality is severely reduced and we're getting between 4 and 10 frames per second. It doesn't matter. Hell, it makes it better. The screen fills with the imagery of our digital age – clouds made of blocks, giants moving in the distance that we ignore and that ignore us, and a small boy sitting alone in the dark staring at a small screen and punching buttons. Pixeleen Mistral is there with me, and we're frenetically punching messages at each other:
[18:36] Pixeleen Mistral: wow!
[18:36] Pixeleen Mistral: sooooooo coool!!!
[18:36] Pixeleen Mistral: the black penguin
[18:36] Onder Skall: yeah I had that moment too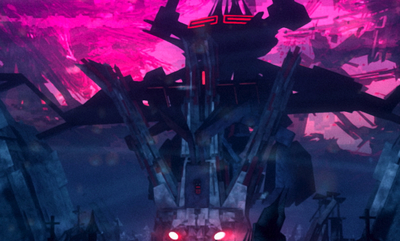 [18:51] Onder Skall: dude's got the most amazing sense of how to pull off subtext
[18:56] Pixeleen Mistral: weird – I keep holding my breath
We're abused, lonely, vulnerable, saved, powerful and victorious in 90 minutes. I make a solemn vow along with the others to get the DVD in August, but before then, I have something important to do. M Dot Strange is here using the avatar "Megadot McMahon". He spent every night in his room working on that movie for three solid years. He passed up going out with the boys, playing video games, and a whole lot of other things to make this happen. I have to find out how the hell he did this.
[19:31] Onder Skall: what got you so hardcore? How did you get so dedicated?
[19:32] Megadot McMahon: Well… I found its good to have a cause behind your movie and you have to stake your life on it
[19:32] Megadot McMahon: I told myself that if I didn't finish the film that I'm a failure
We end up talking for about 45 minutes or so, and I find out a little bit about what makes the man tick. Mostly it's video games and Samurai films. Music: Mindless Self Indulgence, Philip Glass, Kronos Quartet, EL P. Film: anything by the "Madhouse" anime studio, David Lynch, Yoshiaki Kawajiri, Stanley Kubrick. Comics: "Berserk" and "Battle Angel Alita: Last Order". He lives in a bubble, not worrying about what the media says the trends are. He's from the future.
He's making more movies now. "Get retardant" comes out within the next year, and "The doll of doom" comes out in about 2 years. Meanwhile he's making a video for Mindless Self Indulgence (here is a sample of their work) and he's releasing two things next month: the "We Are The Strange" DVD, and a "Film Skool" DVD. He's also kicking around ideas for a game with EA.
Oh, and about that "Film Skool" DVD: not only does it show exactly how he did everything, it's going to have the movie's assets in it so that you can make your own version. After that, "We Are The Strange" is going to become a part of the Creative Commons. Remix at will.
[19:41] Onder Skall: so you staked your entire sense of self on this movie… was there a moment where you went: "OMG! I DID IT!"
[19:42] Megadot McMahon: Exactly… a few times while working on it I got excited but it killed me to finish it and I was so drained
[19:42] Megadot McMahon: and then there was the negative feedback from Sundance and the film business
[19:42] Onder Skall: oh those twits
[19:42] Onder Skall: no worries man
[19:42] Onder Skall: we are of the new media
---
PIX: I've written this in a notecard and sent it through SL because… I don't know… it feels right. It would be almost a betrayal to the moment to write it in Word or something. Hope my spelling is good. there was one thing I couldn't figure out how to fit in – the DVD… it's going to have 3 separate soundtracksvastly changing the mood of the movie — even one version with no voice work
---