by prokofy on 01/07/07 at 9:53 pm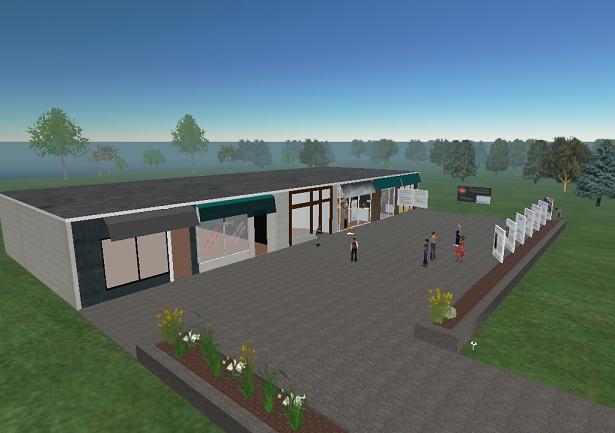 Prokofy Neva, Walking 47 Miles of Barbed Wire/Got a Cobra Snake for a Neck-Tie/Got Me a Brand-New House by the Road-Side/Made Out of Rattle-Snake Hide

We need a music critic here at the Herald. Ever since Quentinesqe Paine, the college emo dude who used to get an expense account from the paper but never wrote anything and locked himself in his room and wrote death poetry all night on MySpace and then cut himself one too many times and went into rehab, we haven't had anybody. So seeing as how I am not ashamed to turn on the C&W streams on the radio driving out West or down South and don't find anything to be ashamed of in liking country, I thought I'd check out the SL Bluebird Cafe, adapted from the RL Bluebird Cafe in Nashville, TN.
When Boliver Oddfellow, CEO of IVM, Designer of the Dublin sim famous for its live-music shows, said on Twitter, "went to the bluebird cafe in SL 750L for a badly mic'd live feed. These folks have a lot to learn about SL," I figured he might have an agenda. $750 *did* seem a bit steep, but then a RL cover charge at my local Irish pub with live bands is $5.00, so $1000 or $1350 didn't seem like such a terrible price to pay for RL people doing the RL work of playing live, original music for our entertainment, even if we are in Second Life.
I'm surprised when I see the big spenders of Second Life giving live musicians only $100 at a show — that's 27 US cents, and we all know they deserve more than that, because they're better than that. So much more the professional musicians of something like the Blue Bird in RL, no?
Perhaps in response to this sort of comment — which has been common as I discovered talking to people around SL, some shows put on recently at the Bluebird have been free of charge. I dropped in on Sunday Writer's Night tonight on Nashville Music island and didn't have to pay anything. But I discovered Boliver may have a point.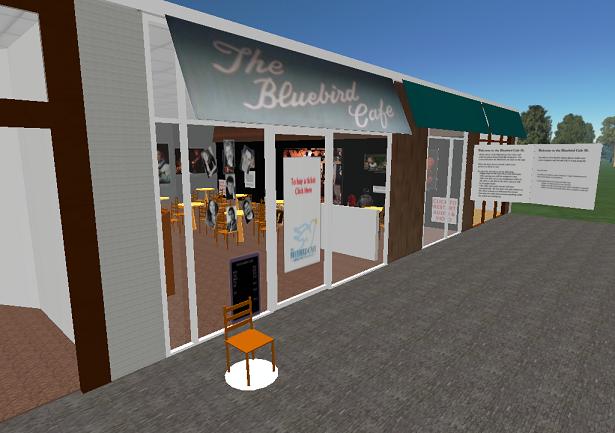 When you are arrive at the Bluebird, you are underwhelmed by the build and wonder if you landed in a Coldwell Banker tract. That's because it's a modest white shingled box with a gravel roof — the kind of building you'd find in RL serving as a modest C&W cafe. This is *not* the Grand Opry we're talking about in RL, either; it's a replica of RL with the same kind of dim, faded teal-blue sign. We're used to builds in SL, especially for music, being grand replicas of the pyramids of the Pharaohs or palatial Taj Mahal type of spreads or grandly landscaped open-air ampitheaters — this is more like a parking lot in Paramus, NJ or Jackson, TN — and when you're OTR in the Big Rig, what's the difference except for the radio? For SL, I guess the audiences just expect something grander — RL replication just flops miserably.
To get into the SL cafe, you can't just push on a door, you have to right click on a chair that is sitting outside the cafe, in a kind of crazy virtual game of musical chairs.
It then moves you through the door inside the cafe — like a sit-pos hack of a locked door in a rentals or something!
You sit there, having to stay in your seat so as not to lose your place, with other people, and wait, listening to the room chat about people struggling to get their Quicktimes working and bitching that there isn't any sound.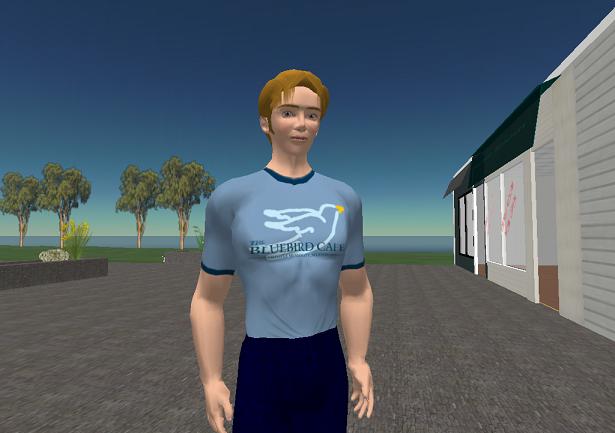 Using the Harvard Hush "/" backslash, favoured by Live Music Fans everywhere in SL, I typed that I had heard the cafe was lame, but I was coming to check it out myself. A fangirl with the very apt title of "Red Queen" immediately pounced on me, declared me to be "rude" and spent half an hour haranguing me in IMs, aggressively trying to set me straight. Another person who appeared to be either a regular or related to the ownership group set upon me as well, assuring me that yes, my tip would really go to the musicians.
The tip jar has the name of the owner Ksa Sandial, and he finally appeared, sporting a day-old newbie look which he may be cultivating to be user-friendly to all the newbies who would presumably come to the cafe's website first, THEN come into SL. (They can also just view the video feed and hear the music without laggy, crashy, bitchy SL in the way here, registration required).
There were no dance anims in the room (?!) and several time, regulars and the owner told everybody to shush their typed chat.
Huh? I exclaimed! The whole point of live music in SL is that you talk in the room chat. Of course you do! You can't bother the musicians, for God's sake, they are back in RL, streaming to you with their shoutcast server.
Now, you might bother them with clattery typing sounds that the Lindens impose on us, but they can either turn off ambient sounds or you can use the backslash, which most people try to remember to do (you can no longer simply turn off this anim forever, as you could a few patches ago).
Turns out, this "sshhh" stuff is even part of the RL Bluebird culture, and is even their motto! What that means is that they see themselves as a place where you hear original C&W acts, often unknown, something like you hear Verdi in a string quartet: in the utmost silence and awed hush — you never know, you could be present at Greatness. The fellow introducing the RL act had a bunch of rules for RL, too, that weren't what many people associate with their usual weekend pub C&W RL band experience — you *had* to spend $7.00 on food, and you *had* to be quiet and not talk and you *had* to turn off cell phones — next thing you know you'd find Hall's coughdrop dispensers at the door like at Carnegie Hall to prevent you from coughing!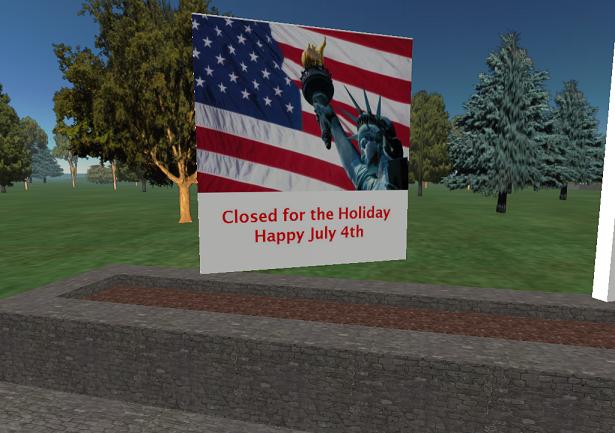 None of this translates into SL; heck, it doesn't even translate into RL so hot. But all of that could be overcome if it weren't for another very uncomfortable factor about this set-up: the RL act ignores the people in SL, doesn't even give a shoutout to them, and acts if they don't exist. So it makes you feel stupid, tipping them — especially if you are spoiled by our lovely SL live musicians, who not only thank you for your tip, but talk to you, say a few things, comment on your outfit, ask how you've been if they haven't seen you, answer your lame jokes in chat, and even play your requests (and even Free Bird, imagine?! Yes, we ARE spoiled!)
If these folks want this caper to work, they simply have to find a way to give a nod to the SL audiences, at least in one line at the beginning or end, especially if we're paying. But…it's not that kind of scene. They ignore you; they barely pay attention to the RL audience.
Turning into the webcast version, I felt it was as constrained as the SL version, with perhaps slightly better audio. I guess if you are going to watch people on demand, live, you feel as if you need a little more interactivity with them!
As I sat trying to listen in SL, with the sound and picture dropping out due to SL lag, with people muttering about their media difficulties, chained to my chair and not encouraged to chat with others about the experience, harangued by this crazy girl who believed a thing is so just because she said so (so different than saying you believe it's true because you've established it as true and are willing to unbelieve it if proven not to be true) — I finally got up, and said, "This is a sub-optimal experience."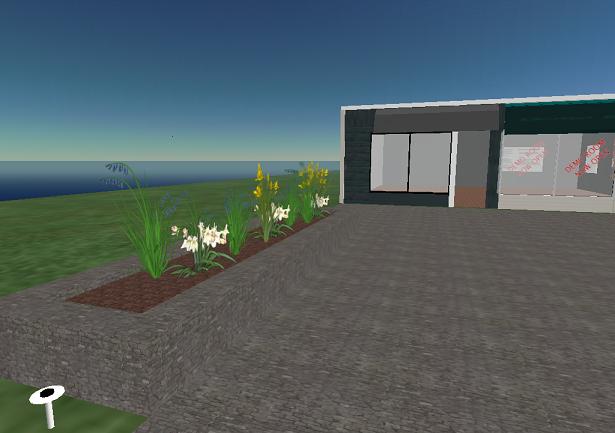 I flew around the grounds, trying to find a notecard or something to click on, to get more information, or experience SOMETHING about country music, ANYTHING, you know, a neat picture of Ray Orbison with some neat facts or some replica of some guy's guitar or something. With SL, the possibilities are endless, what you could build. But nope…suddenly, there I was eating a black teleportation void, and landing my butt back home at Ross — ejected from the sim, told by the owner that I was "in his home" and "if I couldn't say anything nice I should leave". (As I had announced that I was leaving and left, it seemed a little lame to then boot me lol).
"But I'm not in your home, I'm in a public space, and how can you not talk in a cafe? That's what you do at all the live music?"
Ksa began to object and pepper me with demands to make constructive suggestions on how to improve the cafe. I told him I was writing a review, and he persisted. When I had asked him about his newbie look, he pleaded "not having time" for fixing up the look. The build itself was under construction.
But…I'm sorry, if you charge the steep price of $750 for a live stream feed that you can go up on the Internet and hear for free, evidently, then you just have to do more, and be more professional and good looking. Couldn't they have CDs of the musicians and sell those? with sample audio? Pictures? Objects evoking their lives? SOMETHING?
And interactivity! At least encourage that among the SL audience!
I got the impression that the effort wasn't so much organized by the Bluebird itself, as by a fan from the Nashville area and scene who felt he could parlay this into something. Perhaps he can. That can only be achieved if he can hear what people are saying in SL and make adjustments.
Since the RL cafe apparently has all these rather restrictive rules of not talking, forcing you to eat $7.00 of food, and not being able to dance, why not take advantage of SL to eliminate all that and make it more free? It won't bother the musicians, they can't hear us. And if all they do is put up a sign behind them saying "Shoutout to SL listeners!" that would be progress.