by Pixeleen Mistral on 15/07/07 at 11:44 am
Are the rumblings true? Is Starax back?
by Tenshi Vielle, Fabulous Fashionista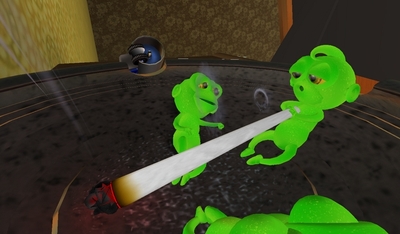 Starax sculpture depicting a Linden staff meeting?
"Wanna see something cool?" Arabella Steadham whispers in my ear, hushed tones suggesting something a little bit adventurous and secret.
"Of course." I'm always up for the adventure.
Instead of a teleport, Arabella drops me a landmark – and at that landmark, I land in a dark, dank tunnel. Above my head are rows of boards. "I must be under a house," I muse. Following the instructions, I nab the nearest adventuring gear (Boots, helmet and jet pack) and crawl my way to the main floor.
At first, I thought I was just in another regular old house build – no furniture, just a fireplace. "What an odd thing for Pavig to build," I thought. Pavig normally sticks with her steampunk builds in the Caletta Hobo sim.
Not this time.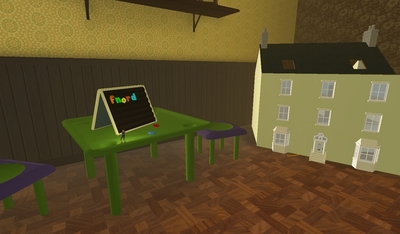 "This be a sim I built with Mis Littletoe Bartlett. It's open for preview now if you want to have a look. Everythin's big and yer real small… but that not the only secret it hold. To find out th rest tho you gotta get yer hands dirty and poke about. You fancy folks lookin from afar with yer opera glasses 'll miss half the fun." Pavig's profile offers a small glimpse into the propulsion behind the build.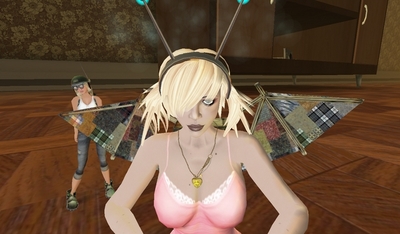 Arabella Steadham – with Tenshi in the background
Pavig has been silent on my buddy list for quite a while – turns out she's got his own sim now, and he's been furiously building this new sim. It's not the first of its kind – apparently, she built something quite like this a while back – and that build stretched *two* sims. Except… she may have ran under a different avatar.
Is Starax back?
Quite a few people think so, and all of SL has been muttering about it this afternoon. Aimee Weber contracted the Starax alt for a few of her builds. Aradia Dielli and Popfuzz Bamboo, both avid Starax followers, have both stated that they heard something akin to the rumor just this week.
Starax Statosky's account disappeared mid-2006 due to the sudden influx of SL glitches that frustrate all of us and affected his wand – a device that would rez any of his sculptures simply on keyword command. Starax was frustrated. He sold his property and left Second Life. For what we thought was forever.
Now it appears Starax has come back, taunting fans of his work with builds under a different name.
This particular build was contracted by Rezzable Group, an SL group that claims members such as Vint Falken and my own buddy Pavig Lok. Group founder is Vega03 Straylight.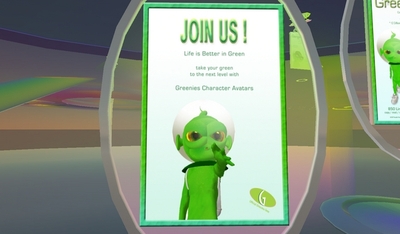 "They're launching as a company so when this build was proposed they pulled us (LittleToe and I) off another one that we were working on, which was also built around Lightwave's work," Pavig says. "RightasRain Rimbaud runs Rezzable. This is the first sim of theirs to open to the public, but not officially launched yet."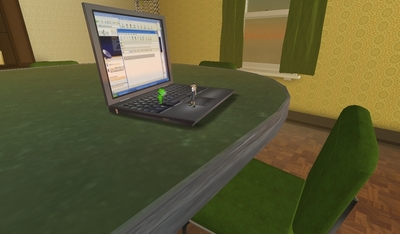 Tenshi at work typing an article
I finally got tired of playing beat-around-the-bush and just asked Pavig if Starax was at all involved with this build. "There's always rumors about Starax," she said, grinning. "People talk, and if Starax can't be found its probably because he doesn't want to be."
Crystal clear answer, don't you think?
"I ain't Starax, I'll tell you that much," she says. "He builds with the same prims as they give to newbies, as we all do. There are a lot of gifted artists in SL – they're just stunted by time, money, and space. That's what keeps things like this from happening more often."