by Pixeleen Mistral on 15/07/07 at 3:05 pm
Tests show Linux outperforms Windows Vista for Second Life
by Stef Wade, courtesy of Das SecondLife-Blog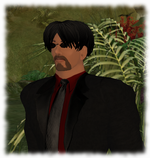 I spent 10 months in Second Life logging in with my P4-Laptop, speeding through the grid with some 10 FPS. Last week, I bought a new computer. Not top of the shelf, but much better than what I had. So I wanted to see how it handles the SL client.
The HP Pavillion s7749.de (1GB RAM, Intel Core Duo (T2250@1.73GHz) "Viiv", Windows-Performanceindex 3,4 – whatever that means) came with Vista home premium installed. As a Linux-guy, I also installed the current flavor of Ubuntu-Linux.
Of course, I wanted to know which OS would run Second Life faster. So I installed SL for Windows and for Linux. Although declared "alpha-software", the linux client did feel faster – but I wanted some numbers.
Exact benchmarking is very hard to do in Second Life (probably impossible), so I decided to measure the framerate in two different locations at "the same time" (which means in the 16 minutes between 1:44am and 2:01 am, July 14th, 2007)
I used the default settings in both SL-clients, except that I set the drawing distance to 256 meters, which is more appropriate for a new box than the 96 meters default

Vista used the new decorations "Aero-Glass", and on Ubuntu ran Beryl, so both operating systems wasted some of their power on "wow-grade eye candy"
The sims I measured the performance were Dublin and Pixel Expo II. I chose them for no particular reason: I logged into Dublin because my last visit to SL ended in the irish pub "Blarney Stone", and the other locations contains a german SL-Tutorial with a sandbox which I happen to visit quite often, so the landmark was at hand.
I spend some time in both locations to let them rez, and then I walked up and down a little before I took a screenshot with the FPS-reading. Since the framerate is heavily influenced by the buildings you are looking at, I tried to look into the same directions for the measurement. The screenshots were taken using the system's default functions by pressing the "print screen" key.
In the Pixel Expo II sim, Vista managed between 10 to 20, while Linux got 14 through 40 frames per second. You can feel that difference in speed.
Vista on the left vs. Linux on the right in the Pixel Expo II showdown
In Dublin, both systems were slower: Vista from 7.5 through 10 and Linux from 9 through 20 FPS. Not as much as in the other location, but still visible.
Vista on the left vs. Linux on the right in the Dublin showdown
Conclusion: Don't change your OS because of Second Life
This was not a scientific study – only a small test which confirmed what I thought I had "felt" already while using Second Life on my new PC.
The difference in FPS is not so big that a change to Linux would be worth it, if you are not already using it for other reasons. But now I have enough "evidence" that for me as a linux-user there is also no reason to boot into windows just to speed up Second Life. The missing voice support may become a reason, but I have to see if that will be important enough for me…
It would be great if someone ran some tests like these on a Intel-Mac, which is able to run all three suported platforms: MacOS, Windows, and Linux. If anybody sponsors the hardware, I'd do it myself