by Pixeleen Mistral on 31/07/07 at 1:26 am
Bank run on Ginko Financial, Dreamland fingers Linden Lab for unstable grid
by Pixeleen Mistral, National Affairs desk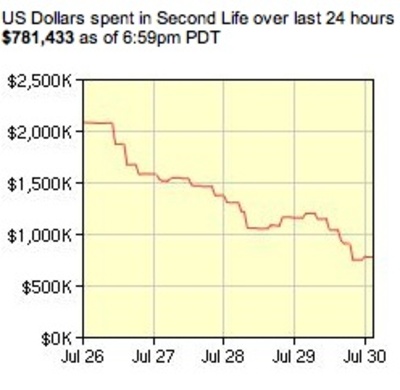 Dollars spent in Second Life – as tracked by Reuters
Residents who play the fictional financial markets in Second Life were hard pressed to decide if the precipitous drop in in-world spending since Thursday is a rational reaction to Linden Lab's shiny new world wide gambling ban – or a reminder that even virtual commerce requires some stability in the world. Reuters' charts of in-world economic activity suggested a serious slowdown since Thursday – but was this triggered by a gambling ban, or a combination of factors?
Benjamin Duranske reported Friday at the Virtually Blind site that an in-world "bank" – Ginko Financial – had suspended withdrawals – then re-instated them with a cap on how much money could be withdrawn from the "bank" after 1% of the Ginko Financial's claimed assets were withdrawn over the course of two hours. Nicholas Portocarrero – head honcho of Ginko Financial is reported to have said the SL gambling ban had "caused a panic".
Combine jittery citizens, a lack of transparency about the state of Ginko's investments, and on-going speculation about ponzi-schemes, and nearly any shock the the SL economy has the potential for destabilizing Ginko. Hopefully Mr. Portocarrero has found some high-yield camp chairs to help replenish Ginko's reserves – but the Herald was unable to confirm this – Mr. Portocarrero is not returning our calls. This is a shame – we'd like to ask how he manages to earn a good return on his investments when few individuals in SL have profitable businesses – only a few hundred earned over $5000 USD last month – before tier payments to the Lab.
Dreamland points fingers at LL
But is the gambling ban the only factor in play? With the weekend concurrent citizens topping 44,000, it was no surprise that even basic metaverse infrastructure was failing – to the point that Master Quatro of Anshe Chung's retail virtual land organization sent this message to Dreamland residents:
"Second Life is very unstable right now. In the past 2 days we have had sims down for over 24 hours. One sim lost most of the owners' objects. several searches have been turned off. I have been crashed by regions going down 4 times today. Please be patient. These are all Linden issues that affect the entire grid. The Linden Blog has some information, but as usual not enough."
Where should you invest you time?
So – on a fine summer day how is your time best spent? Would you rather gamble on an unstable metaverse working well enough to let you run a search, and do simple things like log in, see your L$ balance, teleport? Or does a rational economic avatar looking to maximize the utility of free time simply go for a walk outside in real life? Despite all the brave talk about Second Life being the 3D Internet – or at least the 3D AOL – SL needs to be entertainment to attract and retain players. If you can't place a few bets on the virtual slots and the world keeps crashing when you want to go virtual shopping – perhaps reading the new Harry Potter book is a better investment?