by onder on 27/07/07 at 7:49 am
Graffiti and Web 2.0
by Onder Skall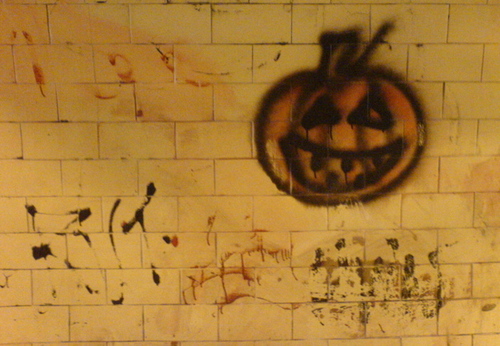 On my way home there's this tunnel I pass through. It periodically fills with graffiti and then gets wiped clean. The really good graffiti doesn't appear here. The good stuff ends up on a wall between two lanes of the highway that few but the most stalwart urban explorers ever see. The tunnel kind of serves as a clearing house for the city's more amateur artists.
Today as I entered the tunnel I noticed that the city workers had been back, applying paint-thinner to all of the swear words and tags and additions of people's initials "4evr". They did a bad job this time around. While you couldn't make anything out, there was still paint everywhere. The only thing they left alone was the pumpkin I took a picture of.
You know, I always did like that pumpkin. It's pretty cool that they made the decision to leave it.
All of the excitement about user-created content that the Web 2.0 boom is bringing with it makes a lot of sense when I look at this picture. If we spend time somewhere, we want to leave our mark. It mostly leaves a mess, but sometimes it gives everybody a little shared moment. Who cares why, or whether that's a good thing, it just is. We'll break the law to do it if we have to.
It's our compulsion.
I think a lot of what we're seeing in the information revolution is the general acceptance of what our compulsions are. We want to kill, thus killing became the norm in video games. We want sex, and so there's porn three clicks away from every page on the Internet. We want to tell everybody that we exist, and get recognition for it. Youtube.
Never mind if that's good or bad, it's what is. I think we're starting to get that as a society and find new ways of coping with that beyond general repression. It's not happening by design, but it is happening.
I really do like that pumpkin.