by Pixeleen Mistral on 28/07/07 at 2:04 pm
LL does not not study history – prefers to repeat it
by Pixeleen Mistral, National Affairs desk
Unruly squids have created problems for Linden Lab in the past, and the beasts from the deep seem to have surfaced once again – inside the Second Life client. This morning attempts at entry to Linden Lab's alleged 3D metaverse service summoned up this message: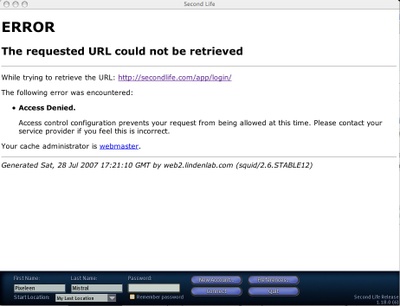 After pondering the customer-friendly dispatch from the depths – apparently rendered in black squid ink by an avatar named "squid/2.6.STABLE12" – I decided that the blue "webmaster" link looked promising, and clicked. This opened up an e-mail, with the recipient thoughtfully pre-filled as "webmaster,". I'm not completely sure, but aren't e-mail addresses supposed to have an @ in them – or have the the Lindens found a better way?
Putting aside the question of how "webmaster," is going to ever get a message without a working e-mail address, I considered the implications of trying to log in to Second Life – am I gambling when I do this? I do have a premium account – am I wagering that money when I attempt to access a the world governed by some sort of random process?
I hope Mr. "webmaster," can convince whomever is role-playing a squid from AOL to release the Second Life client from it's slimy tentacles. Perhaps a short history lesson from last February's squid attack is in order?