by onder on 09/08/07 at 7:16 pm
by Onder Skall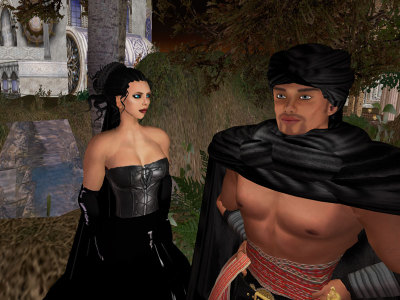 I caught one of the kickoff events at Samarkand saturday night. (Here's the SLurl.)The place is gorgeous, the role players really and truly role play, andI got pictures. It's good to wear my "games reporter" hat sometimes!(Even if it has holes in it from the horns.)
Here's a quick summary from the press release:
As one of the oldest continually inhabited cities in theworld, Samarkand is an international city set along the mysteriousCentral Asian/Persian/Arabian Silk Road. It is here, in ancientSamarkand (2000 BC – 1200 AD), that a group of outcasts have settledand begin to blend into the tribes of the land. These multi racialtribes–consisting of vampires (Vampire: The Masquerade clans, as wellas vampires without clans), demons, nekos, drows, mages, mortals,shapeshifters dragons, angels, lycans, among many other species andcultures–draw all travelers into their ancient rivalries until, soon,Samarkand lives up to the meaning of its name:"land of war!!!"…
As role play areas go, I have to say that Samarkand is unique inthat they control the style, but not really much of the content. Youget "Masquerade" vampires and human goreans, sword fighters and magicusers, angels and atheists, but in conversation they all seem to be onthe same page about the tone and style of the environment. It's anopportunity for people to take characters they play elsewhere and bringthem into a new culture to see if there are new ways to make things fit.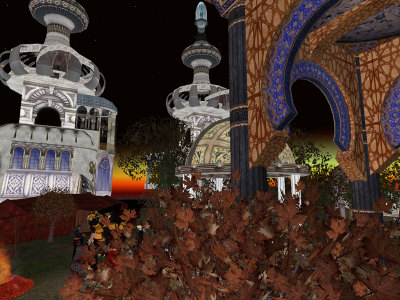 The architecture is a mix of Arabian, Persian and Indian opulence,and I found myself looking forward to the day when Windlight lets uscontrol the lighting effects. This kind of build will really win outagainst others when shadows and light can play against each other in amore subtle way. It's running on a class 5 server so the details poppedinto view fairly quickly too.
The "Queen of Queens" in Samarkand is (currently) Pierce Malick, whowould tell you that all of her subjects are loyal to her. That's notcompletely true, however. There are always plots to overthrow thethrone, but of course, none of the tribes will openly admit that to theQueen herself. Secrecy, politics, and strategy play as much a part inthe daily lives of the city's residents as DCS combat does.
Of course, every sim needs a club. Samarkand's is called "The Silk RoseClub" and keeps with the multicultural feel, broadcasting dance radiofrom China, Afganistan, Russia, Iran, and even a little European mixnow and again. Like most clubs they hold regular events on Fridays andSaturdays, and they're hiring dancers and escorts now if you'reinterested.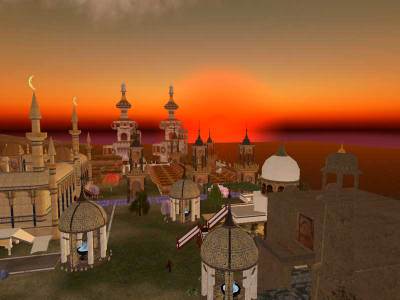 If you want to join in the general exotic fun at Samarkand, TP inand you'll get notecards telling you how to join a tribe and meetinteresting people. It's nice to see somebody trying something unique,and I have a feeling old-time role players are going to love therefreshing change.