by aaliyah on 27/08/07 at 11:25 pm
3 super-secret tips for finding a job, better lovers, and fabulous dick-free fun to get your SL bangin'!!!
by Aaliyah Munro, professional sex/love/advice expert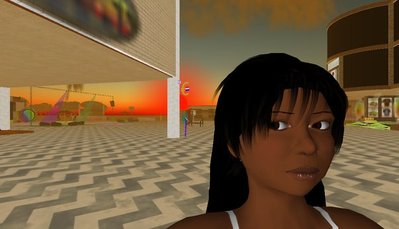 New residents. They ask a million questions, look like science fair rejects, and their typical conversations usually end in offers for sex. Some may say that these pesky guests are vital to SL's existence, but with loads of bugs, monster lag, and the flashy new voice chat doohickey, who needs them? In any event, I have ventured into the world of noobdom for this week's advice, and after being bombarded with loads of nonsense, have found three diamonds in the rough.
Q- I've noticed that there are not a lot of jobs here. What can I do besides camping to earn money? SB
A- Well, SB- although this is not a LOVE/SEX/RELATIONSHIP question, I'll take a crack at it. One of the easiest ways I've found to find a gig is by browsing job boards online (there is a good one via SL Profiles), or simply perusing the classified using your Search function. Another good way is to look for club openings, and find out if they need additional help. If you're artistically inclined, create and/or build something to sell in SL. When all else fails, add a credit card to your account and fund your pursuits like the rest of us.
---
Q- I am having trouble finding a nice guy to talk to. Most of them just ask me for sex! I've tried to talk to the better looking guys, but they don't pay attention to me. What can I do? NM
A- NM, I am going to clue you in on something. You look like a noob, and most dudes find Ruth (the glitch default character) to be unattractive. Not to be shallow, but perhaps you should invest a little more time altering your appearance, purchasing a new skin, good hair, and some snazzy gear. I would feed you the "its all about personality" garbage, but you've found out firsthand that its not. When cruising for dudes, try looking outside of the Popular Places, which are teeming with guys looking for sex and money. Instead, explore the world, and converse with those that share your interests- I've found that far easier than forcing a conversation on an unwilling subject. You'll meet someone eventually, but your main focus right now should be on learning how to navigate the world; have fun- your Mr. SLRight is out there.
---
Q- How do I get a penis? Why don't I already have one? Can I have sex without it? Wanna have sex? From a random assortment of eager noobs
A- I'm not a Linden, and am therefore not qualified to tell you why you don't have a dick. A few things I can advise you on are the basics; yes, you can have sex without genitals (just sit on the poseballs), but a lot of places offer genitalia for free. If you happen to have some L$s, I'd advice you to take the trek over to Xcite- those are my personal favs, and are pretty fun to use. As far as me having sex with you- it'll be a cold day in hell before you even catch sight of my pretty brown round. Find some noob chick and bang her out- most are more than willing to have their SL virginity snatched away by the hands of a dick with no dick.
---
So that's it. Again, send your questions and death threats to aaliyah.munro@gmail.com , and I'll give you advice or find you and whip your ass. Either way, we'll have fun! ;o)