by onder on 24/08/07 at 3:20 pm
by Onder Skall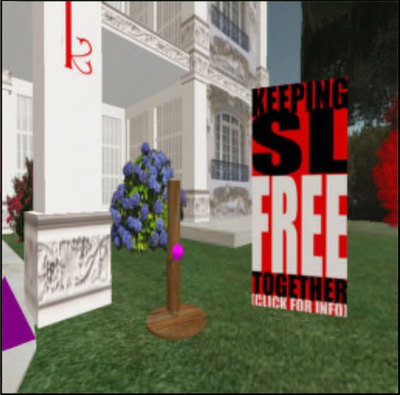 This story began when I was directed to an essay over at the SLLU blog entitled "What's The Harm?". Basically it was a review of Second Life's more hardcore sexual enterprises and a little walk down "Hard Alley", with the general message being that real harm was coming from it all. I wasn't sure about the research and, not being a feminist, couldn't really relate. I've always been a big supporter of people getting their kink on any way they damn well feel like, after all.
Still, I did think this picture was pretty funny – f you click on the ball you become chained to the post in a rather vulnerable position.
So I figured, what the hell, let's talk to the person who wrote it. Whether I agree with someone or not, passion is something worthy of respect. In that way the author of the essay, Ledoof Constantineau, fits the bill. She's worked with abused women and children for 12 years and has built a massive gallery of screencaps from inside Second Life. Maybe she's seen something I haven't.
After a bit of trouble (which I'll cover in a bit) we visited the site that Ledoof created in the skies above Surrendered Scorpion. We were inside an enclosed area with screenshots on all sides from Second Life. Some were of search screens, some of domination scenarios playing themselves out, and some showed various bits of sexually violent artwork displayed in SL's darker playgrounds [and Not Safe For Work - the Editrix].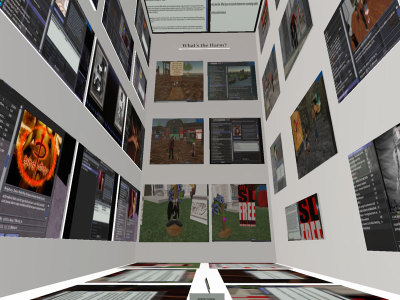 The effect, at least from an artistic point of view, was impressive. We were enclosed on all sides by this material. On the ceiling there was actual text from message boards discussingwomen in ways not fit to print anywhere. Yeah, I realize this is theHerald, but even so.
There seemed to be volumes of it.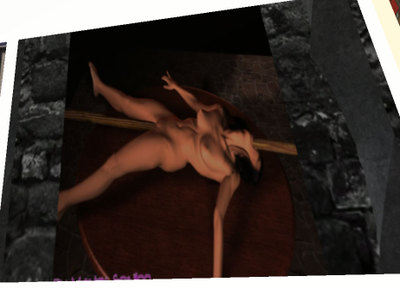 I've seen this all before, or stuff just like it, but having it all in one place and in every direction brought a new effect. It mattered now. It became really difficult to maintain my distance. I mean, I'm all for people expressing themselves any way they want as long as nobody is being victimized, but there was something about coming face to face with this much… what's the word… disrespect. Even that word, "disrespect", meant something new now.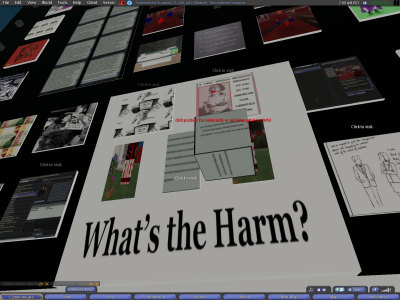 A walk through the wall revealed an exterior covered with more material from around the Internet. There were dozens of links to sexual journals and help for abuse victims. The build is a valuable resource, and one you should definitely track down. There's a peaceful sitting area just off to the side if your group wants to gather and chat about these issues.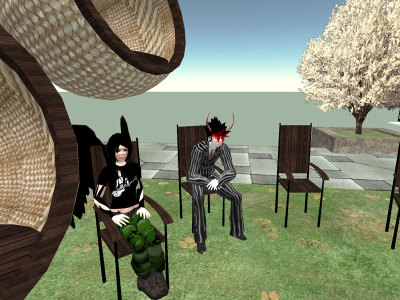 This was supposed to be a dispassionate article. What I had planned on doing, even leading right up to the point where I clicked the "New Post" button, was to just present the build and offer you the SLurl. Of course, the next thing I knew I was referring to myself… to my experience, to my perception, to what I was thinking and feeling. It became a blog entry really, and I apologize for that as I know you deserve better even if you don't always expect it.
It happened for a reason, though: this is a story about passion more than it is about harm or abuse. Partially it's about Ledoof's passion, which is commendable, but it's more than that. Most media let's you drift past it, not obliging you to think or feel anything. This makes you think. It demands it. You might not be convinced of anything, but you will feel something here, even if you don't understand what it is or what it means.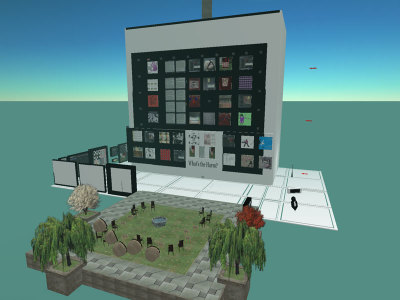 It was passion that made the build possible, but it was also passion that almost killed it. I had mentioned earlier that there was some trouble getting to see the build. The fact is that the sim owner wasn't sure that they wanted too many people knowing it was there. It wasn't prejudice or politics but something much worse: fear. They thought that if word got out, griefers would come and crash the whole place.
It wasn't an unreasonable fear, either. Anybody who gives a damn about anything seems to be targeted these days. If you care, it doesn't matter what about, chances are a few dozen people are going to jump down your throat about it. In the current climate of Second Life and the surrounding blogosphere it takes courage to make any kind of strong statement.
So there it is. Check it out, and if you have the guts, think about what you see while you're there instead of doing what you have to do to brush it all off. I'm not saying that I've been convinced of anything, nor am I saying that "people are getting hurt". What I am saying is that Ledoof has a point, and it's a good thing that at least one person is still willing to express an opinion about something despite how dangerous our "open-minded" culture has made it to do so.