by Pixeleen Mistral on 08/09/07 at 4:25 pm
LL consistently unstable January-July
Some residents have had enough of 3D advertisement world
by Pixeleen Mistral, National Affairs desk
For the last 6 months, nearly a quarter of Second Life sessions have ended abnormally according to numbers recently released by Meta Linden. For SL players who have been begging for stability instead of more new features this comes as no surprise.

monthly averages – read 'em and weep
However, patience with the feature-frenzied Linden game gods may be running out – compared to June there were 5800 fewer subscribers or "premium accounts" in July. Looking at the long term trends, the erosion of subscribers is not surprising – the growth rate has been falling continuously since february, and has now turned negative – a worrying trend for those that depend on paying customers in the walled garden of cyber delights. It appears that a combination of outlawing gambling in-world, and a continuing outrageous level of frozen/crashed/abnormally terminated sessions for 6 months is leading some to conclude that their entertainment dollars can be better spent elsewhere.
How much impact this has on Linden Lab's actual behavior is an open question – previous resident protests had little effect, and it is telling that the Lab is no longer prominently featuring population numbers on the front page of their web site. Instead, the Second Life Grid concept is being hyped. While the marketing materials look slick, it is interesting that no service levels are mentioned – a surprising omission for what is claimed to be a platform that can scale to millions of users. Could the Lab's marketing be running a few miles ahead of its technology?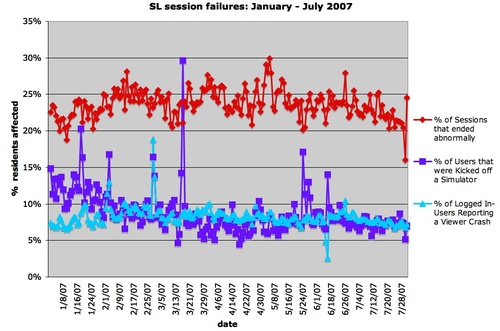 Even Meta Linden crashes has sessions terminate abnormally
If we take the Lindens at their word, they have been laboring mightily to stabilize the world – but there has been no real progress to date. Will SL ever be stable? It may not matter – if the goal is to create a corporate-sponsored advertisement world, perhaps getting resident crash rates down to 20% will be good enough – unless residents crash before they can absorb the sponsor's message.
---
Does stability matter to advertisers?
---
After listening to over a year of breathless new media marketing "experts" telling us that it just totally makes sense to advertise in Second Life, perhaps some koolaide is in order. Look on the bright side: 3 out of 4 resident are not going to crash on any given session – and innovative new approaches can work around SL problems. Consider the captive account creation site that Reuters and Acura have here.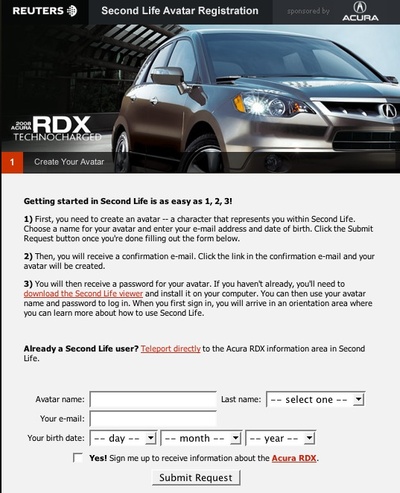 Reuters planning hard hitting investigative journalism about Acura and Second Life?
The page and "sponsored orientation area" seem to serve several purposes – to sign up new metaverse residents giving the sponsor a collection of e-mail addresses to be spammed at will. Seen in this light, it does not matter if SL works because the real point is getting e-mail addresses and expression of interest in a product along with some demographic information. Frequent Second Life crashes could also help customers appreciate the value of airbags, so perhaps the metaverse is good enough as is.
---
Billing problems? Really? Imagine that!
---
While Meta Linden is reportedly spin doctoring the decline in subscribers as being caused by "billing problems", could the cause of some of those "billing problems" be customers deciding they don't want to be billed for a broken game adverworld? On the other hand, perhaps a company that cannot field a product that works more than 75% of the time would accept similar performance from a billing service. The question is – why would anyone else?