by jimbo on 02/09/07 at 7:58 am
Jimbo buys presidential quality hair
by Jimbo Quality
After my last article, I sensed that there was something missing from my campaign to become President of Second Life. I sensed that the people had expectations of me that I wasn't meeting. My team hit the streets and conducted extensive research to find out what my fellow residents want in their leader. [Don't be fooled, this just means Jimbo finally read some comments - the Editrix].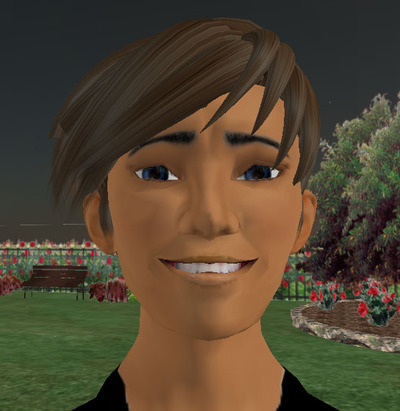 a candidate prepares for extreme presidential makeover
What I learned is that my people don't think I'm good looking enough to be President. It was a tough thing to hear, but I am nothing if not eager to please, so I set out to fix this. I decided to part with some hard earned lindens and go skin shopping.
I knew I would need help, so I asked our fashion writer, Tenshi Vielle, to help me. She was thrilled.
Tenshi is a very busy avatar. For what seemed like a month, maybe two, I stood by her desk waiting for her to return. Finally, I IM'd her and amazingly, she had just logged on for the first time in weeks! It was like fate had brought us together.
I immediately went to my favorite shopping place, Odds&Ends in Wagaland, because they have good freebies. I sent Tenshi a TP and then I saw it; "Hair for There."
This is a place that sells pubic hair, you know, "hair" for "there." Don't worry if you don't get it right away, it took a while for me to get it too. You'll see it's very funny because they sell "hair" for "there." Don't worry if you don't get it, it took me a while, you see…[We deleted several pages of variations of Jimbo explaining the name of this place. The Herald staff thinks this may be the first "clever" name he's understood and he seemed very excited about it - the Editrix].
I finally understood what it was I had been lacking as a presidential candidate- Second Life needs an avie with a little chili releno on his huevos if you know what I mean. [Uh, no, but that's ok- the Editrix]. I immediately stripped and looked to see if they had demo pubes. For some reason Tenshi, who'd just rezzed, ran away screaming. [If you see her and she's still running, please tell me because then I win the office pool - the Editrix]
I looked at the selection of pubes and threw up a little in my mouth when I saw the ones in the bottom right. I mean, I find these broadly offensive. Can we get a Linden to do something about this?
I browsed. I saw that each box was L$50 and tried not to think about how many hours in a camping chair that was. Then I realized that it's pubic hair for girls and started wandering away when it hit me that the monster bush would make for some rocking chest hair and I blew my L$50 like it was nothing. Talk about impulse purchases! I didn't even realize the hair is just painted underwear until after I'd bought it.
I immediately pulled my wild pubic bushwoman underpants up as far as they would go, right up under my armpits, and for the rest of the day I sported the best chest hair anyone has seen this side of 1977.
I never knew fashion shopping could be this much fun, so I kept going. I found a thing that makes me laugh and cry and smile and stuff. It was just sitting there in the bottom of a box of freebies! When I smile I look just like motivational speaker Tony Robbins, so I gave up trying to find a new skin. Tony Robbins is so smart they gave him his own infomercial. If I'm in that class I could be President easy.
I quit on skins, but I did find a place that sells a slick looking layer of oil. I figured I was on a spending spree anyhow so I popped the L$10 they were asking for it and walked around all oily looking a while. Even my pubic chest hair looked oily. I kept trying to get people to touch me so they could see I wasn't really oily, just wearing a clever suit, but for some reason they wouldn't. Their loss.
Eventually I went back to the Herald and they made me take off my pubes and oil and put my clothes back on. As Editrix Pixeleen kept saying "It takes the lotion off the skin or it gets the hose again!"
Hey, why don't you come down to the Herald office and buy some of my presidential t-shirts and signs. I think they cost L$1. I need to make some Linden space buck e-monies to go shopping again.