by wendell on 03/10/07 at 3:07 pm
Absurdly detailed and nearly poetic descriptions of rape – a lot like writing a horror novel
by Wendell Holmer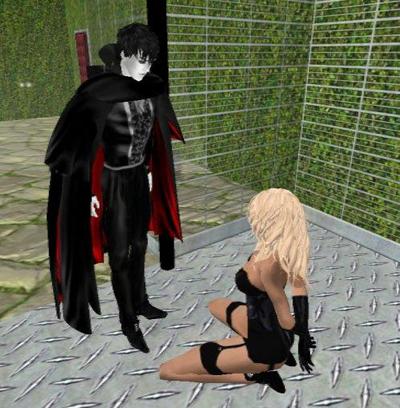 "Now let me get this straight," I said to my pretty friend. "Guys chase you around this maze, and you have to undress before they set you free?"
"That's pretty much it," she said.
"How do I not know about this?"
On the surface, Capture Roleplay ("CARP") is a game of sex-tag. But in the hands of talented players, it can go very, very dark.
You pick up a label that describes you as predator or prey and then wander through a hedge maze looking for action. Let's say you're a predator. When an attractive victim walks by, you run after her. Some are very athletic and can do leaping somersaults over your head, but eventually you'll bump into someone. That makes the prey freeze. A menu will appear, which can force the prey into submissive positions.
The usual thing is to request an article of clothing, release the prey, and chase her down again. When you've obtained sufficient laundry, roleplay begins. The predator may lead the victim to a private room. Or they'll engage in a public dialog, drawing vivid word pictures everyone can read.
CARP is not just a virtual panty raid. Roleplay Mentor Cody Woodhen logs in fourteen hours a week and is bored by guys who are just looking to get her clothes off. "Good RP is imaginative and literary," she says. "Bad RP is 'top plz.'" (Translation: take off your shirt.)
If she's stuck with a dull pred, Woodhen will simply unfreeze herself and find someone else. She avoids average looking guys, who are the least creative, in favor of furries, demons, and other unusual partners.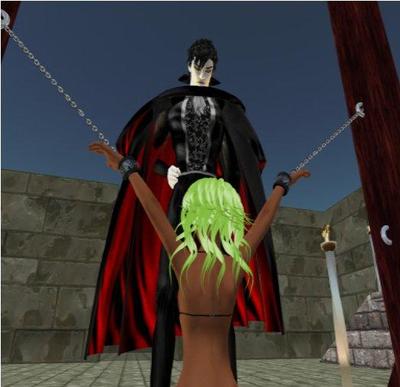 The typical dynamic involves a wicked predator and a terrified, helpless victim, who finds herself submitting to his depredations with increasing relish. Here's how it usually goes (reprinted with permission):
---
Prey: p..pp … please Sir….
Predator grins. "Why hello there…. are you afraid of me?"
Prey glances over the spikes and thorns … "y.. yes.. Sir. pl..please don't.. hurt me.. Sir…."
Predator smiles and strokes your cheek with the back of his fingers, the claws on his hand coming very close to your skin. "Now now… I have no intention of 'hurting,' you, my dear … unless of course…. you want to be." *he grins*
Prey: n.. no Sir! pl.. please Sir! please.. let me go!
Predator: Why would I want to let such a beautiful catch go…. without anything in return?
Prey: i…. but.. but i …. i don't… have anything.. Sir…..
Predator grins and trails one of his fingers along your cheek, down you neck and in between your breasts slowly. "Oh you have much to give, my dear."
Prey gulps and looks down.
Predator smiles as his hand goes further down before it stops at your crotch, pressing on the fabric lightly against you. "How are you feeling right now my dear?"
Prey closes her eyes tight but doesn't shy away… "i'm… a little excited Sir.. and.. and… curious."
---
The villainy is good natured, almost cartoonish. You can see where it's going: a happy ending every time.
Experienced players like Woodhen sometimes go very dark. While anyone can stop a roleplay instantly merely by saying, "safeword," there are times when players intentionally drive each other deeper into the vortex. Woodhen once allowed herself to be savagely raped by an animal, his claws rending her clothes and skin as she wept and pleaded. The ordeal lasted four hours. "We typed absurdly detailed and nearly poetic descriptions of the rape at each other," she said. "It was my first time going that dark, going that hard, so trying to keep up the level of detail with someone with years of experience is a huge blast. It was a lot like writing a horror novel."
On another occasion, she taunted a man until he attacked her with a club. "We kept the give and take going as long as we could, every sentence becoming harsher." Finally, she received an IM: "You sure you want me to hit you with this?" Violence, without express consent, could have gotten him banned. Whitehen kept needling him.
"He swung the bat, and knocked out one of my knees. I slumped against the wall. I hinted that I felt tremendous pain, trying to hide it under thick layers of smartass. This kept the RP going, because now it wasn't just about exacting revenge for my insults. It was about trying to crack me, to see me suffer. He kicked me hard in the chest. I coughed a little blood. He smiled, another job well done, and left me crying and broken, in the corner of a maze, waiting for an opportunistic predator, who's tired of words like, 'No.'"
Whitehen got no sexual pleasure from that episode. But creating collaborative fiction with a stranger was tremendously exciting. That's the thing about CARP. You never know who you'll run into.