by justine on 30/11/07 at 11:59 pm
[Note from Justine- I heard from two different friends that I had to meet Angelita Pierterson, a gorgeous and talented Second Life DJ. I made my way to one of her gigs and wasn't disappointed. She is a charming person, a great entertainer and as you can see, a striking beauty. I hope these pictures do her justice.]
I have been many many things in my life. I've been a willing harem girl, an exotic dancer, a DJ, a friend and yes even a lover. I've learned a lot about who I am and what I'm comfortable with about myself. I have found pride in the fact that I am a fur and strength in my beliefs about myself. I honestly never thought that I would have the courage to pose for pictures like this. My pride in being a fur and the knowledge that you might find it pleasant are the reason I've done this. Much love to each and every one of you.
I spend a lot of my time on second life as a DJ. Coming from a very musical family it's in my blood. I dabble in creation of music. In addition to that I'm a regular DJ at the Rainbow Tiger, as well as a couple of other clubs. My sets tend to come as mixed up in style as they come, though I am a metalhead and a child of the 80s at heart. One of my mottoes as a DJ is "A steady diet of anything gets boring." If you are interested in hearing my sets IM me and we'll talk about it.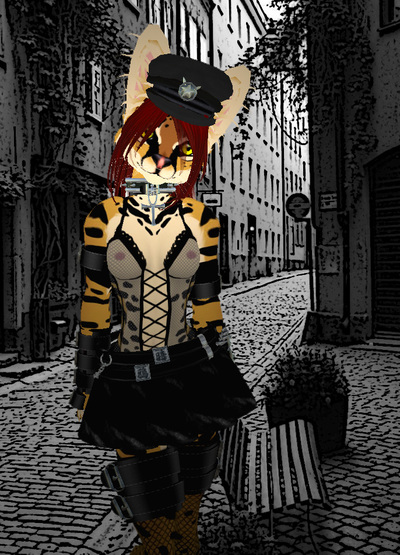 If I'm not playing music at a club, then I can usually be found shopping. I'm a horrible horrible shopaholic. Fortunately I've learned how to do so cheaply, but I shudder to think of how many lindens I've spent on clothing over the years. I pride myself on knowing where the best outfits for the best price are.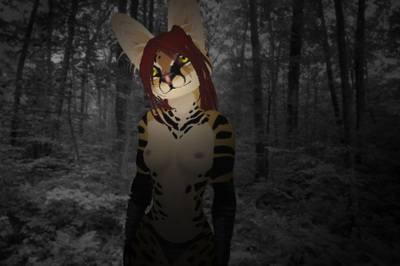 I don't feel too terribly comfortable spilling my life's intimate details where anyone who cares to look can see it. But I am a nice person, don't worry. I will gladly talk to people who are interested in me. If you have honest questions about what being a fur is, then I am more than willing to answer them.