by Pixeleen Mistral on 13/11/07 at 8:46 am
Class action lawsuits or direct e-mail to Philip Linden may be our only hope
by Pixeleen Mistral, National Affairs desk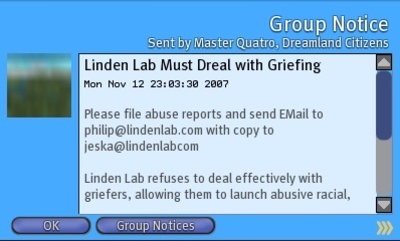 Anshe Chung's Dreamland virtual land business today advocated "a massive outpouring of disgust against this apathy or a class action lawsuit" in attempt to motivate the Lindens to do something to protect their virtual paradise from "abusive racial, ethnic and gender attacks against everyone in second life". These strong words came in a group notice sent by Dreamland honcho Master Quatro to Dreamland's customers.
Like many other landowners in Second Life, Dreamland's virtual land business appears to be in some pain after as long series of PN griefings, culminating in a number of attacks over the weekend. How much pain the land baroness is feeling is apparent Master Quatro incendiary note.
In the message, Master Quatro advocates direct appeals to top lab staff – including the game god himself – Philip Linden. Strangely Robin Linden was not included in Master Quatro's list – does he know something we don't? With the current abuse report mechanism widely believed to be ineffective, and a strangely silent Lab, resident frustration is likely to increase further. Whether the Lab cares or not is another question altogether.
The full text of the Master Quatro's notice is after the jump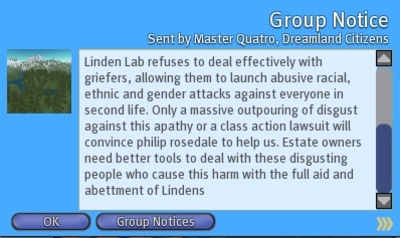 ---
Group Notice From: Master Quatro
Please file abuse reports and send EMail to philip@lindenlab.com with copy to jeska@lindenlab.com
Linden Lab refuses to deal effectively with griefers, allowing them to launch abusive racial, ethnic and gender attacks against everyone in second life. Only a massive outpouring of disgust against this apathy or a class action lawsuit will convince philip rosedale to help us. Estate owners need better tools to deal with these disgusting people who cause this harm with the full aid and abettment of Lindens