by Jessica Holyoke on 29/11/07 at 7:48 am
LL shows how not to run a press conference – and co-opt a noisy critic
by Jessica Holyoke, post-Prokofy FIC watch bureau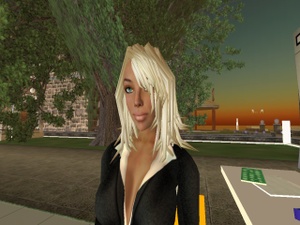 On Monday, the Lindens held their first in-world press conference and the Herald, being at the forefront of Metaverse media coverage was there to cover it all. Except we weren't.
The Saga for me started at the Robin Linden Office hours of November 20th. Its been some time since I had a chance to go to one of these meetings. I sat down and Robin asked if anyone was from the Press. I took it as nothing significant because Robin once told Eric Reuters from Reuters at an office hour that these events were *not* a press conference and the hard hitting questions would not be answered. But the office hour is when Robin revealed that there would be in-world press conferences with the SL media invited. I asked if Prokofy was invited and was told yes. I asked if the Herald was invited and was told yes, they were. Too bad the Herald editors – Urizenus Sklar, Walker Spaight, and Pixeleen Mistral – couldn't find any invitations
The Lindens have decided to restrict in-world press access to either Lewis PR or these upcoming press conferences. I found this out by reading Prokofy Neva's personal e-mail – posted on his newspaper, the Second Life Record. The post in question is called "Lindens are Circling the Wagons." (Protip: if Prokofy talks to you in any way or form, or if you e-mail him, he'll keep an SL Record of it, so that he can quote you out of context at a later date.)
Of course, people posted the transcripts from the Office Hours on-line and fanboys started criticizing me because I didn't understand that you have to be *ask* to be invited. Unfortunately, you had to know the event existed in order to *ask* to be invited. Also, there's two invites: the initial e-mail invitation with the email of presscontact@lindenlab.com and then the group invite after the newspaper RSVP's. So to get a to the event, a newspaper has to know about the event in order to ask to be invited, and you learn about the press conference because it was posted on the SL Record. Surprisingly, without much fanfare, this must mean that the SL Record is the *official* media outlet of the Lindens because Prokofy is doing the Linden's job for them. Is LEWIS PR sure they want this particular virtual spokesmen taking over their function? If you read the Office Hour transcripts, you will find that the Press Conferences were all Prokofy's idea because he's been advocating and pushing for them since 2005. Never mind the real reason for the press conference, which will be discussed below.
Being curious as to what the first ever in-world press conference would be like, I asked my editor who was going from the Herald. That's when Pixeleen said, "what are you talking about? " You see, the three editors, Uri, Walker and Pixeleen were not informed about these press conferences. Pixeleen did ask for an invitation, thanks to the SL Record report and not Linden Lab official channels, and was told on Monday morning that the first conference would be held in three hours. With a prior engagement, and nobody else available on the Monday morning after Thanksgiving, the Herald was unable to attend, along with Reuters, Massively, and presumably other SL media outlets.
So after not receiving an initial invitation after being told they were invited, then learning there was an event invitation that did not include a time or date like normal invitations in the real world, I was finally able to read an abbreviated transcript on SL Reports for the Herald.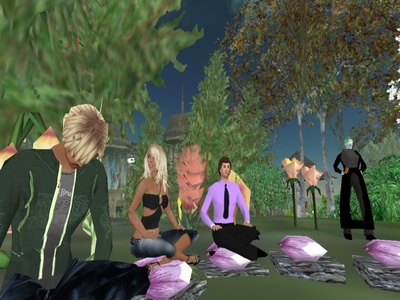 Formerly fussing and fuming, now feted fanboi struggles to stay awake at Robin's office hour
Prokofy Neva and Linden Labs would have you believe that this Press Conference was about making information more available to the Press. Except it was actually about how the Lindens changed Search and how the traditional gaming of Classifieds with punctuation and spacing would no longer happen in this brand new web-based search. (Residents pay for a classified ad with L$s a way to get their store or business more noticed – and now this is not allowed because its somehow bad or ugly? Using the Linden's tools?) This Press Conference wasn't about "responding to the community's needs for information." It was about "we have a new feature and we would like for you to market it for us." It was not held to help the community gain access to information, it was held to help out the Lab. Not surprisingly, due to the way the date- and time-less invitations were distributed, there were many more Lindens than reporters at the Press Conference, so things were able to run smoothly on that most stable of SL features, SL Voice. (Transcript unavailable.)
I went to the November 27th Robin Linden Office hours to ask about the lack of Herald invitation where I was told by Robin that it was Walker Spaight that was invited for sure, but that she would check on it. After some more insults from Prokofy Neva, the Feted Official Linden Media Mouthpiece, I asked the big questions relevant to what I write about – why did Linden Labs refund L$30 million to L&L trust bank when other residents are told too bad, so sad when they are victims of a scam and what happened to the typist of Betatester Allen, and would a Linden at these press conferences be able to answer these types of questions. Those questions were left unanswered.
At Robin Linden's office hour we did learn the times of these press conferences will be different in the future, with morning and afternoon sessions to get help people who are not professional journalists or stay at home moms. When I asked if there were sim limits involved in how many people could attend and how would cuts be made, I was told the Lindens would figure out something. Official Linden Media Mouthpiece Prokofy Neva responded in a later blog post that there would never be more than 40 people interested in coming to these press conferences, as there are fewer than 40 blogs or bloggers that write about Second Life and that would come to these Press Conferences. Now that Prokofy has achieved his long-time dream of becoming an official part of the FIC, we'll take this as gospel, and await further official announcement from the Lab's loudest fanboi.
I asked if the press conference invitations would be handled better in the future and was told to contact either Jeska or Catherine Linden. However, the rumor is that Melissa Linden will be the one managing the Press Conferences in the future.
And so it goes. The irony of Mr. Neva's move from forum-banned Lab critic to official media mouthpiece is probably lost on him. Or perhaps the psychic benefits from getting on the team are worth the loss in credibility as the FIC theorist enjoys the insider access he has long warned against.