by wendell on 08/11/07 at 4:39 am
Advice from designer Joel Eilde
by Wendell Holmer
It's a good thing you can't sweat in Second Life, or I wouldn't have any friends. I go a month without changing my clothes. Eventually, someone says it's time to burn my outfit and takes me shopping.
It never occurred to me that you could design a look the way an architect designs a house. But I finally met someone who does just that, and I was blown away. Makeover artist Joel Eilde deconstructed my avatar, piece by piece. He shared his likes and dislikes and his favorite resources. If you want your av to look like a real person, you'll be interested in what he had to say.
I was visiting a fashion writer named Harper Beresford when Joel dropped by. Harper is so put-together, so classy and precise, I had an impulse to take her down a peg. I challenged Joel to evaluate Harper's look. Here's what she looked like that day.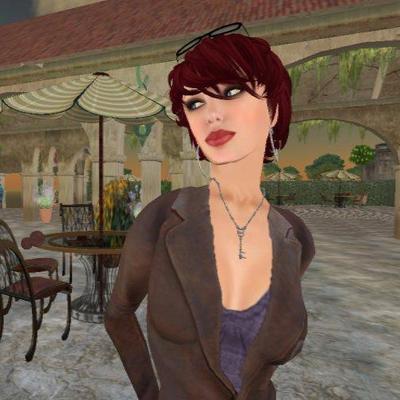 Does Harper Beresford need a makeover?
"There are very few women in SL who I don't have any advice for as far as their look goes," Joel said, "but Harper is one. All the basic building blocks are there: She's got a great shape, a great A/O, a great skin and great hair. And, most importantly, great eyes… which are the thing people tend to undervalue. She doesn't go to extremes: her breasts are neither too big nor small; she's not too tall or short; her hair is not too physically improbable."
She blushed.
"Harper has a really good sense of color," Joel went on. "When she wears something, she asks herself how it works with everything else she's wearing. She understands her clothing has to work with her hair and makeup and nails. She also has a very good sense of accessories, which is pretty rare.
"She knows when to stop," Joel went on. "Instead of piling on every single 'extra' she can find or, conversely, not adding any extra flourishes at all… she uses them like spice… to accent the meal but not be the meal itself. And she uses a facelight, which is something that should be law in SL."
"A facelight?'
"Lighting is the very foundation of making things look real," Joel said. "Nothing is more telling. Your great skin and great shape and great eyes lose some of their impact when you get shadows falling on your face because of the dynamic lighting that illuminates the polygons you're made of—and you get hard shadows that don't look human. The facelight takes those away, cleans up the shading and makes you look so much better. Softer. I would say all the skins need it equally."
Here's what Joel looked like, facelight and all.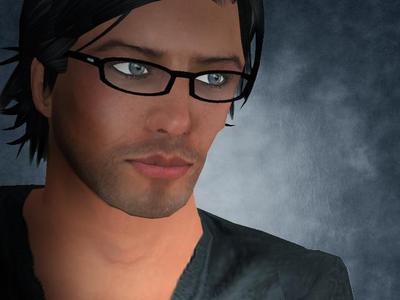 Joel Eilde looks better than you do
"How about me?" I asked bravely. "Any tips?"
Joel was reluctant to reply—in part because he charges L4,000 an hour—but with some prodding from Harper, he agreed. Here's how I looked that day: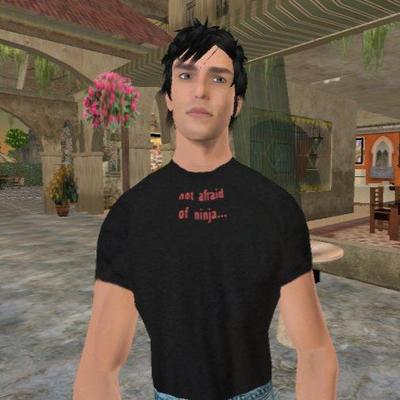 self-made Wendell: before the makeover
"Would you like a belt to bite down on?" he began.
"Just give me a slug of whiskey and a bullet, and do your worst," I said.
"OK," he said, looking me up and down. "You're a few notches above the "noob" look, but you could go further. You should start thinking about your av as a whole and not a collection of pieces." He proceeded to dismantle me, piece by piece.
Skin:"Your skin is decent, but I am not impressed with the shading. It's a bit pale. It gives you a powdery look which is further exacerbated by the black shirt and the black hair. Never get the darkest or lightest tan shade.There are few male skins that I really like in SL. I would suggest the Gabriel or Dante from Naughty. They're a bit common, unfortunately, but they are rock solid and you can really build a good look around them. I do not recommend the Naughty skins for women, by the way. Another option for skins is RaC. Their skins are what I'd call 'pro level.'"
Shape:"The reason your shape doesn't work for me is because your legs are very thin, like an adolescent boy, but your arms look like you could bench press a car. And that, to me, says, 'steroids.' The one thing I get the most grief over is when I suggest that someone change their skin, hair or shape. They take it personally, like I'm telling them they're ugly. Skin and hair and shapes in SL are just accessories. You can have several. I start people off at Dalian. They have a nice, inexpensive, moddable shape collection. They have a nice range of faces there. I find their shape called Derrik is a good neutral staring point, but follow your gut. Never get a non-moddable shape, no matter how good it is. Given the fact that people change clothes, skins, hair, etc… you need to be able to tweak it. When you're editing your own shape, do it in small, small steps. Here's the trick. Edit no more than 5 points a day. Get used to the changes. Then edit more."
Eyes:"The brain makes its first decision about whether you look real based on whether it believes your eyes. If you have unrealistic eyes, the brain thinks you're a mannequin. If you have believable eyes, you're a person. The light reflectivity of your eyes isn't too bad (though not awesome), but the color is going to ruin the realism of your entire av. The best eyes I've seen are from Naughty—Amby makes them. The tones are right and the reflections are perfect Not all the colors are great, but I like forest green, deep blue and mysterious brown."
Hair:"That hair is good, Wendell. There's a myth that there isn't a lot of good hair out there for men. You can get hair–just not a lot of different looks. You have to hunt. If you are a guy who wants long hair, then forget the male styles and go straight to the female ones. Long male styles are usually identical to female ones anyhow, so why waste your time? Wrong has a really good long style (Style 4) that holds its own nicely. It's a good style and the colors are sharp. Petrelli is a designer I like. People knock Naughty hair a bit. Not without good reason: Their line needs refreshing and they have three or four styles which are ubiquitous, but you can't argue: the styles are good."
Clothing:"Ok. Your freebie shirt. You gotta lose it. Even if it's a good shirt, all the SL vets know it's a freebie. And it labels you as a noob.
"The shoes are really good. I have a pair of those myself: the flare oxfords from Shiny Things. They're versatile. They do casual and formal really well. As you know, the Shiny shoes come in various sizes. Men tend to just pick the size they think they are and not even consider what it looks like on their av. Some men are like 8 feet tall and built like oxen. And then they put on these ballerina shoes. It's just weird.
"Your jeans are decent. The texture is good. A huge mistake you are making right now is that the jeans have no belt. Totally inexcusable. Sorry. Either wear a longer, untucked shirt or get a belt and use it."
"Darker jeans tend to be better because they hide any problems with the texturing, and they don't look like your wife dressed you. A good option for jeans is Wrong. They have a chart where you can choose the precise color you want and the kind of distress you want, i.e. ripped, paint-splattered, faded, etc. Redgrave has excellent denim textures. I would recommend that any men, who want a good pair of jeans, get it from Redgrave."
Animation override:"The three cornerstones of your look are the eyes, the facelamp, and the animation override. That, of course, is a script that controls how your av stands, sits, and walks. You're A/O, from Abranimations, is generally good. Some of your stands are decent, but it's a bit fidgety. The timing is a bit fast, so it makes you look like you have to pee. Animazoo is one of the best ones I've found. Their basic male A/O is great."
After an hour of deconstruction, I was ready to head back to Orientation Island and start over, but Harper bucked me up. She took me shopping, and we picked out a new body, skin, and clothes as Joel had recommended. The changes are subtle, but I think it makes a huge difference. Here's what I look like now.