by wendell on 19/12/07 at 8:55 pm
Answers to your questions about love and sex in the metaverse
by Wendell Holmer, virtual advice columnist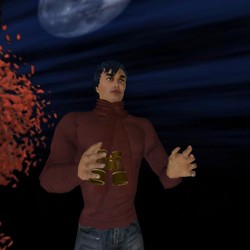 Q: Several months ago, I met an attractive woman in the club that I manage and we began cybering, I convinced her to host in my club and other associated clubs and now we were partnered. This has been a very good arrangement for me. She has changed her RL schedule to be available to me for cybering any time I ask and she has solved several of my host problems at the club.
I think, however, that this woman has become confused. She believes we are in love in RL and she wants to meet face to face. I am a married man and a minister. The woman has convinced herself that there is no love in my RL marriage. She also seems to believe that she can come here, my wife will step aside, and she can take her place next to me in front of my congregation.
This is completely out of the question. I've been trying to tell her this, but she hears or reads what she wants to hear or read. I went as far as to try and leave SL a few weeks ago. She became so deranged that I was afraid she'd show up at my home or congregation unannounced. I'm sure that she's used the details that I (now regrettably) have told her over these months to Google exact information on me.
I continue to stay with her and cyber to keep her happy and away from my RL, but I am worried that I'll soon receive a phone call from her saying she's here and checked into motel in my town.
How do I rid myself of this unbalanced woman without wrecking my marriage and my career as a minister?
–Reverend Lee
A: Ask her if she's seen the Herald today.
It's easy to fall into the trap of thinking that Second Life is a game, where your actions have no consequences. It is really just a medium in which you interact with other people, and the bonds you form here can be intimate and powerful, as you've discovered.
You are a married man who regularly has sex with another woman. If she is confused, it's because you encouraged or permitted her to develop those ideas. You obviously told her you loved her and went as far as entering into partnership. You combined your social and work lives. You probably shared a fantasy in which you would meet in real life (everyone does). You let her think there was a deficit in your marriage that only she could fill. You painted an attractive picture of the rose covered manse you inhabit. Naturally she wants to move in. It's time you entered Wendell's six-step program.
First, stop fucking her. Gentlemen do not have sex with "deranged" or "unbalanced" women.
Second, tell the woman as directly and kindly as you can that you are ending the relationship. Budget a couple of hours for this conversation, and be prepared to own up to your part in creating impossible expectations. Explain that you were swept away, just as she was. You initially felt you were playing a game. Your guard was down, and you both experienced feelings of an intensity you could not have anticipated. But you are married, and you are going to stay married, and this has to end now.
Third, get the hell out of Second Life. Cold turkey. Just delete the program. You can't handle it. As for the club, give it to her and let her run it herself if she wants.
Fourth, most denominations have some sort of counseling available for ministers with personal problems—whether they relate to substance or sexual addictions. These sessions are confidential, and you should absolutely make an appointment. There are also online resources. I can't tell from your letter whether you are capable of having an affair with a member of your congregation. You need to find that out, or you may do some real harm.
Fifth, if you really believe this woman may find you in real life, you'd better tell your wife. Budget substantially more than two hours for this. You don't want her to be surprised, and you don't want to go through this alone. You'll probably need marriage counseling so your wife can come to terms with what happened and learn to trust you again.
Sixth, you don't need to let this end your career. There is no reason to make a public confession. You don't know how this is going to play out. Your lover may not pursue you into real life. If she does, there is still some effort involved for her or your church to obtain your records from Linden Labs. For now, keep your head down and hope for the best.
Meanwhile, folks, keep sending your questions towendellholmer@aol.com.