by wendell on 11/12/07 at 9:45 pm
Answers to your questions about love and sex in the metaverse
by Wendell Holmer, virtual advice columnist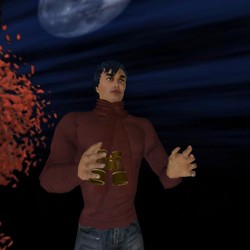 Q: I've had many lovers in Second Life—men, women, and otherwise. I have gotten very turned on doing things that would shock most people. Now I've been served with divorce papers. My husband says his lawyer is going to subpoena my records from Linden Lab. Please tell me those private conversations are not going to turn up in court!
A: I wish I could. But Linden Lab is not going to do anything to protect your chat logs. "It is terrifyingly easy to rip off the cover of anonymity," attorney Daniel Leipold told the Los Angeles Times. "Increasingly, Internet firms are being subpoenaed for electronic records in divorce proceedings," the Times reported. USA Today advised spouses facing a divorce, "Avoid chat rooms and Internet forums. Many people mistakenly believe they're anonymous in forums and chat rooms. However, when you post messages online, your computer address is recorded. Anything you write is traceable to you."
You're probably wondering why no one mentioned this before. Actually, they did. According to the Terms of Service, "You acknowledge and agree that Linden Lab, in its sole discretion, may track, record, observe or follow any and all of your interactions within the Service…. Linden Lab can (and you authorize Linden Lab to) disclose any information about you to private entities, law enforcement agencies or government officials, as Linden Lab, in its sole discretion, believes necessary or appropriate to investigate or resolve possible problems or inquiries, or as otherwise required by law."
Peter Gray, an account executive at Lewis Global Public Relations – the PR firm which represents Linden Lab, said the company does not provide identifying information about users but cooperates with the legal process "consistent with policies and applicable law."
And what are those "policies"? During office hours last August, Robin Linden said that, when LL gets a subpoena, they'll "look at each request for information and evaluate it very carefully." In other words, it's totally discretionary. There are no standards. Bottom line: LL is not going to pay lawyers to run into court and defend your right to talk dirty.
Eros, LLC sued an avatar named Volkov Catteneo (or John Doe, as the Court documents have it) for violating the copyright to their SexGen bed. Eros sent a subpoena to Linden Labs, seeking Catteno's identifying information and his chat history as well. LL promptly complied. PayPal and AT&T rolled over too. Now the world knows that the defendant is a Texan named Robert Leatherwood. The great irony is that Leatherwood would have been a great name for a sex bed manufacturer, or a porn star, come to think of it.
Even though LL won't protect your erotic exchanges, you do have some rights. You'll get notice when the subpoena is served. Then your lawyer can go into court and oppose it. The only reason your husband wants those chat logs in the record is that they make you look bad. So a judge may find the request to be too broad, irrelevant, or prejudicial. He may quash the subpoena entirely, limit its scope, or seal the records and examine them privately.
I'd like to examine them privately myself. Don't forget to send me copies. And next time you have cybersex, do it in voice – voice recordings tied to your avatar and internet address are a real crowd pleaser in the courtroom.
For the rest of you, please keep sending your questions on sex and romance, your chat logs, and your dirty stories to wendellholmer@aol.com.