by Jessica Holyoke on 18/01/08 at 8:34 am
by Jessica Holyoke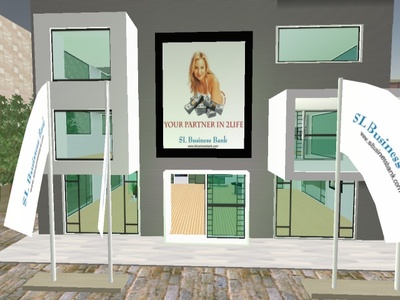 A week after the announcement of the upcoming Linden Banking Ban, Lindens and residents are reacting in different ways. The Linden reaction is that "payment of interest", the main prohibition on offering a bank goes both ways. Paying interest on deposits is prohibited, but according to some Lindens that responded in writing, receiving interest on loans or credit cards is also prohibited.
Various banks are coming up with new business plans. While BCX Bank and SL Investor's Bank are exploring new possibilities, some banks like Bank of SL are no longer going to be paying interest on balances.
Other banks, like SL Business Bank, have disappeared from Search. JT Financial is transforming to an Avatar to RL Merchant exchange service called SL Wallet. All cash balances will be transferred from JT Financial to SL Wallet, presumably under the Arbitrage Associates LLC name.
BnT is looking to the Middle Ages for a solution called "Contractus Trinium" where the depositor agrees to deposit a sum of money in BNT Financial for zero interest on a daily, monthly, quarterly, or annual period, the depositor agrees to purchase, from BnT, insurance against default in an amount of 2.5 L$ per 1000L$ deposited, per day and then the depositor, agrees to sell to BnT, all rights to profit from use of this capital, for the amount of 10L$ per 1000L$ deposited, per day. At the same time, BnT is registering as an LLC. (source: www.ancapex.com)
Two banks with trustworthy reputations are going two different routes. SL Bank, a small quiet contender on the financial scene, as featured on Virtually Blind, is closing its doors after offering instant withdrawals for all of its customers. L&L Trust, known for its reasonable interest rates, is chartering the entity as a credit union and will be able to offer similar financial services as before.
Ginko Financial was supposedly the cause of the ban, while other frauds unmentioned include Jasper Tizzy's The Bank, where Tizzy just disappeared, and Dylan7679 DeCosta's Banca d'Italia, which was rumored to have illegal off-grid currency auctions.
In Ginko bailout news, Shaun Altman recently announced the sale of Ginko owned land netting L$300,000 for the Ginko depositors, now on record with the on-hiatus WSE. Altman is currently waiting to unload Ginko's holdings of BnT stock, which is being restricted so that the market is not flooded with shares.